A dream to recreate the shopping experience in a traditional Mexican market, with its incredible cultural richness of flavors and colors, is finally coming to life in Costa Mesa, California. On November 17th, the first Mercado Gonzalez will open its doors, bringing a unique and vibrant shopping experience to the local community.
This new Hispanic grocery megastore concept will take shoppers on a culinary adventure that will take them on a journey through the heart and soul of Mexican cuisine.
To learn the details of the new Mercado Gonzalez, Abasto interviewed Oscar Gonzalez, the co-president of Northgate Gonzalez Market, one of the largest Hispanic grocery chains with 43 stores in Southern California.
"We intend to recreate an authentic market like they have in all Latin American countries where there are food stands and a great cultural atmosphere," Gonzalez said.
In 1980, Don Miguel and Doña Teresa Gonzalez started the business by opening the first Northgate Gonzalez Market. Today, the company has 43 stores, owned by a family of 13 Gonzalez siblings and now run by the third generation.
"This has been many years in the making, and it finally came together. We are very grateful for Northgate's leadership and excited because this is a family's third-generation project, which is very equipped and eager to continue growing. It is something that gives us a lot of pride to see this new generation taking risks and opportunities and adjusting as we know it has to be done," Gonzalez noted.
The new Mercado Gonzalez, which will open on November 17, is located at 2300 Harbor Blvd. in Costa Mesa, California.
Supporting Local Entrepreneurs
The co-president of Northgate Gonzalez Market expressed his enthusiasm that the new Mercado, through its Community Kitchens, will provide an opportunity for local entrepreneurs who want to showcase their delicious recipes.
"Our community, including our associates, are going to have access to our Community Kitchens where they are going to be able to create their recipes and sell their products," Gonzalez said.
"We are doing this because we realize that there is a lot of passion for food, and especially there are a lot of people who have tremendous recipes from their states, from their village. We are going to allow them to recreate those recipes, those products, and obviously begin to be entrepreneurs and create their businesses and eventually raise the standard of their cuisine," Gonzalez added.
He emphasized that "it's something new for us, but we think it's a way to help our community and enhance and help the company as well."
What the Mercado Gonzalez in Costa Mesa Has to Offer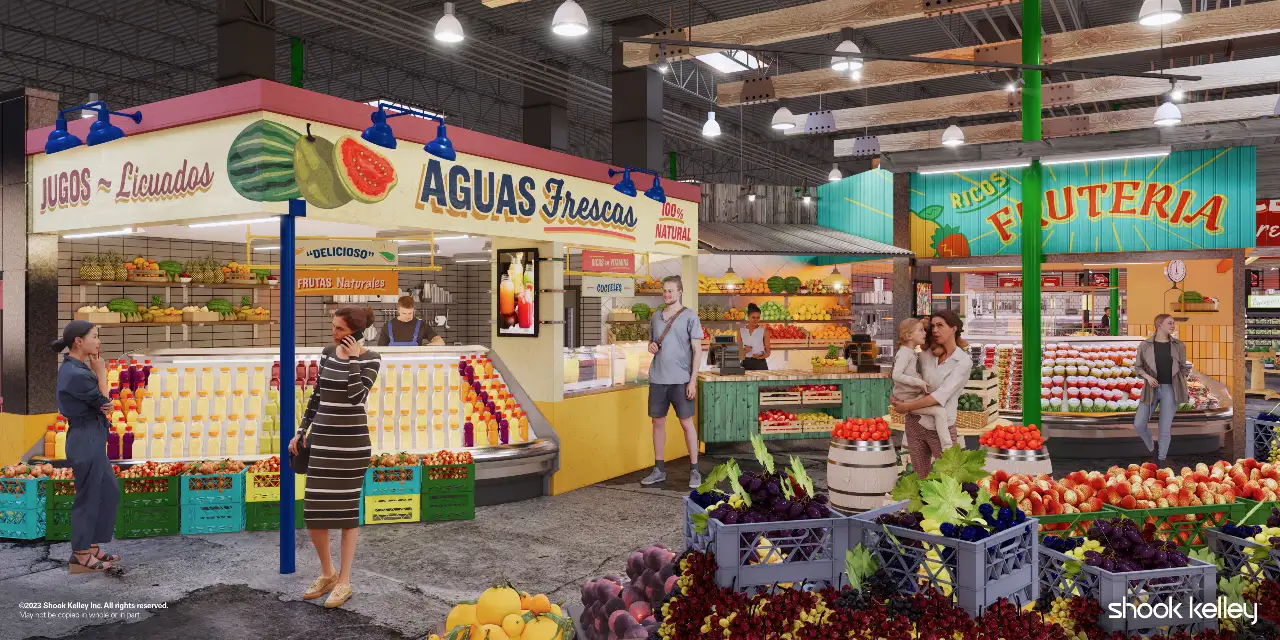 Influenced by typical markets such as Mercado de Coyoacan, Mercado de Abasto Mexico City, and Mercado de Artesanias in Oaxaca, the new Mercado Gonzalez has approximately 70,000 square feet of space. It will offer shoppers an extraordinary Mexican culinary experience that transcends the ordinary grocery shopping trip. 
The new store will also feature murals by renowned Mexican artist Claudio Limón, known for connecting with the color and joy of Mexican culture in each of his works.
More than 20 Food Stands: Explore a variety of flavors at the Food Stands, where each stand offers a unique culinary adventure. Shoppers can savor sweet churros and seven types of hot chocolate from Mexico City's famous churrería El Moro. Indulge in crispy and succulent Carnitas Don Miguel. Savor Torta Chiva from the Albarrán Family and enjoy Los Guichos Tacos from the Zenteno Family. They will have meals to please every palate for breakfast, lunch, and dinner.
Maizano (Alta Cocina): Jorge Salim and Javier Hernandez Pons, a duo from the team behind beloved Los Angeles restaurants LA Cha Cha Chá in the Arts District and Loreto in Elysian Valley, are opening a new restaurant in Costa Mesa.
The two, originally from Mexico City, will introduce Maizano, a concept that will be an homage to revered Mexican culinary and social traditions and, as the name implies, Mexican corn.
The restaurant will highlight dishes such as mole, Lima soup, and a variety of memelas and tetelas, which are corn dough snacks. Known primarily for their hospitality, Salim and Hernandez Pons will bring a vibrant new dining destination to Orange County.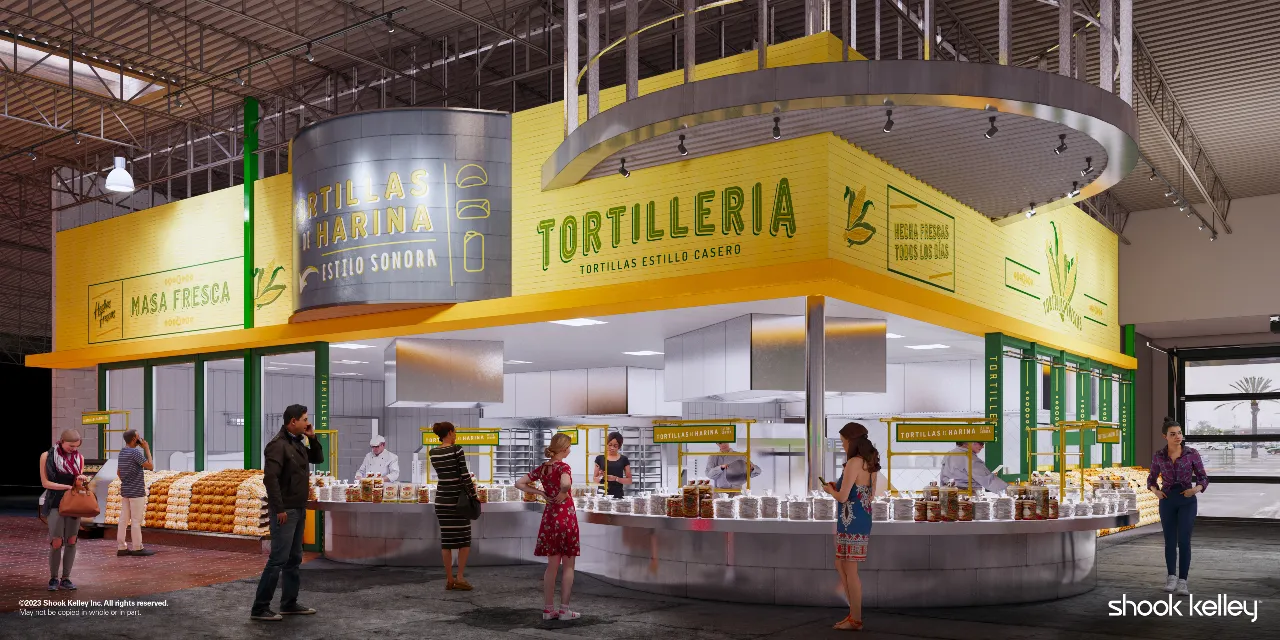 Artisan Products and Unique Mexican Products: Mercado Gonzalez will also offer a significant sampling of artisan products, unique Mexican products, high-quality meats, cheeses, produce, and much more. The colorful aisles will be brimming with spices, sauces, and ingredients that will transport visitors to the streets of Mexico.
Community Kitchens: Supporting local entrepreneurs, Mercado Gonzalez will provide the community with a platform to showcase their culinary talents. The Mercado Community Kitchens will guide them to get food safety certificates, know how to cost out items, and support them in their overall growth and success.
Bar Entre Nos: This is a 6,000-square-foot outdoor bar adorned with tropical vegetation. It offers a similar vibe to LA Cha Cha Chá, their first U.S. outpost, located in the Arts District of Los Angeles. Here, you will find a variety of drinks, from micheladas to a wide selection of mezcal, tequila, and Mexican beers.
Live Music: Mexican music adds to the vibrant atmosphere that makes Mercado Gonzalez a place to relax and enjoy.
Indoor and Outdoor Seating: Whether you prefer a cozy indoor setting or the fresh air outside, Mercado offers the perfect setting for sharing memorable moments with friends and neighbors.
Authentic Mexican Food and Drinks: Visitors can enjoy authentic Mexican dishes with traditional Aguas Frescas. There will be a full-service liquor store with various imported beers, wines, tequilas, and mezcals. 
Related Article: FMI Names Northgate Gonzalez Market Among Eight 2022 Community Uplift Award Winners
In addition to birria or menudo, there will always be freshly-made tortillas from Tortilleria "La Gonzalez." Pastries from Pastelería "La González" and sweets from Dulces Artesanos.
Gonzalez expressed confidence in the success of the new Costa Mesa Mercado Gonzalez as a gateway to the authentic flavors, traditions, and stories that make Mexican cuisine exceptional.
Therefore, Northgate Gonzalez will continue to deepen its Mexican authenticity to grow and conquer new generations and other segments of the population that love Mexican food.