Coresight Research released a Custom Report called "The US Retail Media Market: Understanding the AD Buyer's Perspective in CPG." It explores the shortfalls and opportunities in the retail media market, including personalized promotions, from a brand advertiser's perspective. It discusses their implications for retailers and the overall market of consumer-packaged goods (CPG).
Coresight Research Custom Reports are produced as part of commercial partnerships with leading firms in the retail, technology, and startup ecosystems. The report is produced in partnership with NIQ.
NielsenIQ is the world's leading consumer intelligence company, delivering the most complete understanding of consumer buying behavior and revealing new pathways to growth.
The Market Scale and Opportunity of the Retail Media is something to consider.
It is a fast-growing market with almost two-digit billion incremental opportunities. For 2023, it might represent a 20% growth. While in 2021, the US retail media market size was $35.3 billion, by 2022, it increased to $43.3 billion. Coresight Research estimates that the US retail market will reach $51.9 billion by the end of this year.
Related Article: Advanced Technologies as Marketing Tools for Stores
About the Retail Media Market
There are a lot of factors driving the growth of the market, said Steven Winnick, Senior Analyst at Coresight Research to Abasto Media.
On the brand advertiser side, with the continued growth of e-commerce, over 2/3 of shoppers are starting their purchase journeys online.
"If you think about advertising, you want to be in front of shoppers at their moment of intent, the moment of decision, right, whether in the store or online," said Winnick.
Retail media is the digital opportunity for ad buyers to reach their target.
The adoption of retail media continues to surge. Still, ad buyers increasingly expect more from retailers' retail media networks (RMNs), including more personalized and targeted ads.
The Custom Report indicates that they explore the U.S. retail media market from the perspective of brand advertisers to understand how retailers can improve their offerings and gain a competitive edge. It is based on a recent Coresight Research survey of advertising decision-makers at US-based CPG (consumer packaged goods)/FMCG (fast-moving consumer goods) brand manufacturers.
"The future is providing a holistic offering across both where you have tools and capabilities that provide ad buyers with both on-site and off-site capabilities and that they work together in this journey where you're engaging shoppers, you're meeting them in the market, and then you're converting," said Winnick.
Personalization is critical if we talk about in-store.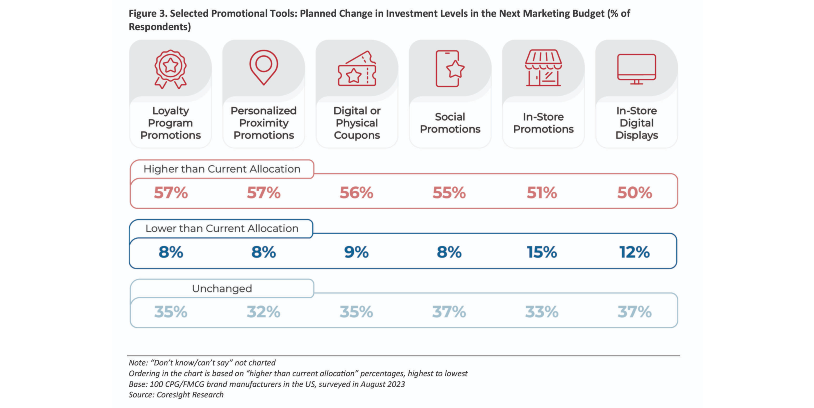 Coresight Research's Report Results
The survey found that brand marketers are shifting some of their trade and brand marketing budgets to digital advertising through retail media:
94% of respondents reported that they would fund retail media advertising with trade marketing dollars in their upcoming marketing budget.
The most popular method of doing so is to reduce case rates (discounts at which a manufacturer sells product crates/case to retailers), cited by 68% of respondents that plan to reallocate funds, followed by reducing fixed trade budgets (59%) and reducing in-store merchandising expenses (57%).
The top two tools brand advertisers expect are digital/physical coupons and social promotions, each cited by around two-thirds of respondents.
Even though holistic retail media includes different digital and in-store tools, the report reveals that brand advertisers expect holistic retail media in the following order:
Digital/physical coupons
Social promotions
Loyalty program promotions
Personalized proximity promotions
In-store promotions
In-store digital displays
How Retailers are Using Retail Media Network
Dollar General's retail media arm partnered with Meta in March 2023 to enable advertisers to leverage the retailer's first-party data to reach 90 million unique customer profiles through various placements on social media platforms Facebook and Instagram.
Walmart announced the expansion of its in-store advertising capabilities in August 2023 to include more ads on in-store displays and 30-second radio spots, which the retailer plans to make available to brand advertisers by the end of 2023.
Kroger announced in June 2023 that it is building an in-house advertising platform that will be available to all its brand advertising partners by the end of 2023.
CVS is providing ad opportunities through Snapchat and different streaming audio services.
Albertsons is piloting circular ads on Facebook and Instagram.
Gopuff added search banners to they're on site. They are sampling off-site opportunities as well.
Sam's Club is improving its in-store advertising opportunities.
DoorDash is enhancing its off-site search.
Best Buy is increasing on the reporting side, the reporting capabilities for on-site, and they're improving the metrics they provide to reach the brand advertisers.
Well-positioned retailers in the retail media market are those with large store footprints that also incorporate digital platforms in their retail media channels and focus on diversification in their RMNs.
Winnick said that there are a lot of different ways you can monetize your in-store experience and selling. For example, people can add them under shopping carts. Also, refrigerator dividers can be an ad. There are many ways to monetize the in-store setting.