As the age of technology continues to dominate our world, it only continues to increase within the grocery industry. From cashier-less stores, in-store robots, online grocery shopping, online delivery options, apps and partnerships with delivery meal-kit companies, supermarkets are evolving to meet consumer trends. Among these competing players, which include Walmart, Target and Amazon, is Kroger, who has a mobile shopping app, meal-kits, partnership with Instacart and now, a new wellness app for consumers.
Today, Kroger introduces OptUP, a data-driven app that helps customers make more informed, healthier purchase decisions as a part of company's Wellness Your Way platform, which supports the Restock Kroger initiative, according to Colleen Lindholz, Kroger's president of pharmacy and The Little Clinic.
"Kroger's new OptUP app is transformational for the food retail industry," said Lindholz. "The app puts nutritional information at your fingertips and makes finding and buying better-for-you products easier and simpler."
The Opt-UP app includes receiving personal product recommendations, scanning and searching items to find nutrition facts and product alternatives, adding better-for-you options to your digital cart for curbside pickup or delivery and "scoring" groceries you buy using nationally-recognized dietary guidelines.
Kroger's OptUP scores are based on a nationally recognized dietary standard
How does it work? According to the company, the app's scores are based on a nationally recognized dietary standard enhanced by Kroger's registered dietitians. The product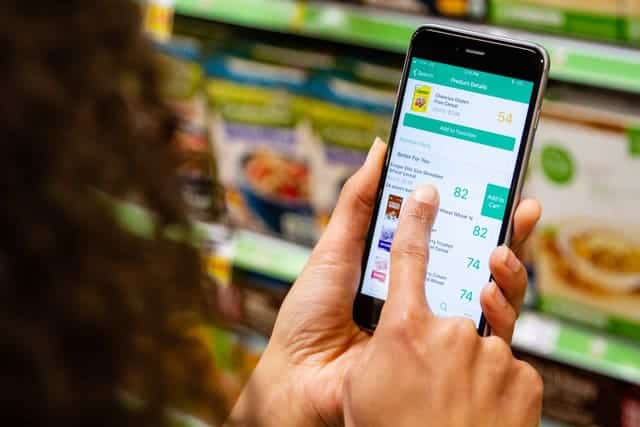 score range is between 1-100. Products in the green category score 71 or better and are lower in saturated fat, sodium, sugar and calories and may be higher in fiber, protein, and fruit/vegetable, or nut content. Products scoring between 36 and 70 fall in the yellow category, while the red category ranges from 1-35. Kroger's registered dietitians recommend customers have a cart mix that is at least 50 percent green category products.
OptUP scores range from 0-1000, reflecting a customer's purchase history over the past eight weeks. The ideal score is 600 or better.
"OptUP is a collaboration among our health, tech, digital, and 84.51° teams," said Yael Cosset, Kroger's chief digital officer. "The data-driven app creates a more transparent and educational experience for our customers, continuing our commitment to help Americans shop, eat, and live healthier on their terms."