In an official ceremony, Krasdale Foods and local authorities in the Bronx (New York) celebrated the start of the installation of solar panels atop its warehouse at the Hunts Point Food Distribution Center. This renewable energy project is the largest ever undertaken in the Bronx and will help nearly 300 families in the area reduce their electricity bills.
The event took place on September 30 at Krasdale's warehouse, located at 400 Food Center Drive. In attendance were Krasdale Foods leaders and employees; Ruben Diaz Jr., Bronx Borough President; Amanda Septimo, Assembly Member for the 84th District of the New York City Council; Rafael Salamanca Jr, Council Member for the 17th District of the New York City Council; Rachel Loeb, President and CEO of the New York City Economic Development Corporation; and Lucie Dupas, Vice President of Implementation for PowerFlex.
National renewable energy infrastructure provider PowerFlex, commissioned for the work, began installing more than 6,500 solar panels on the roof of the Krasdale Foods warehouse. According to the company, the system will generate more than three million kilowatts of solar electricity, equivalent to offsetting 5.3 million pounds of carbon dioxide.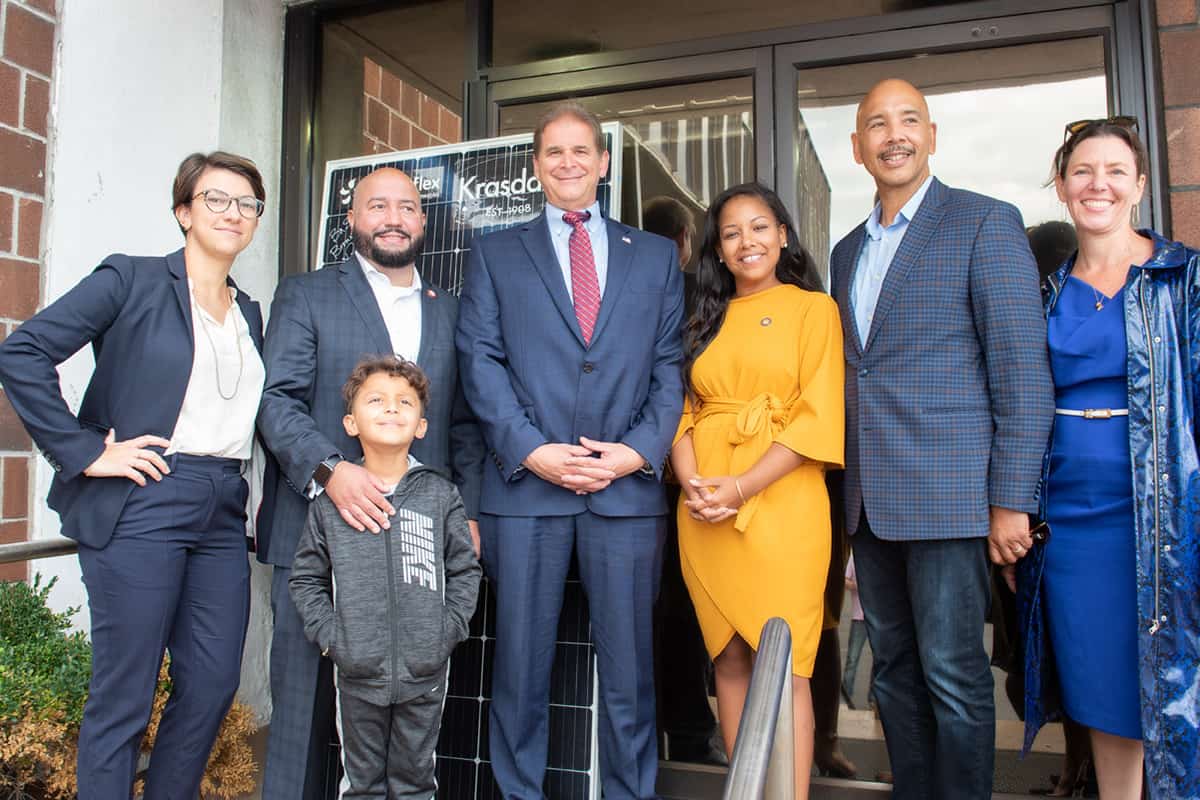 At the groundbreaking ceremony, Gus Lebiak, president and COO of Krasdale Foods, said this project did not happen overnight, nor was it a one-person job, the Bronx Times reported. Lebiak highlighted the support received from the New York City Economic Development Corporation, which owns the Hunts Point Distribution Center, Bronx Borough President Ruben Diaz Jr., and Council Member Rafael Salamanca.
Related Article: Cynthia Ramos: A Latina Making Giant Strides in the Food Industry
"I'm thrilled to finally be together to commemorate the start of this landmark installation that will be the largest in the Bronx and one of the largest in the five boroughs," said Lebiak.
Meanwhile, the Bronx Borough President said he hopes these solar panels will help reduce emissions, help Bronx residents breathe easier, and make it more affordable. It's a step in the right direction, and other companies should follow suit, the Bronx Times reported.
"To have Krasdale, who has been here for so long, make this announcement about solar panels warms my heart," Diaz said. "I hope today is not just about an announcement and a groundbreaking, but I hope it becomes contagious."
PowerFlex expects the solar panel installation process to take approximately nine months from start to finish and will be completed next year.
The Hunts Point Food Distribution Center is the largest entry point into New York for the more than 19 billion pounds of groceries consumed by the city each year, processing approximately 4.5 billion pounds. Krasdale Foods has operated out of the same Bronx warehouse since the early 1970s and was one of the first companies the city recruited for the Hunts Point Food Distribution Center.