Sedano's supermarkets in Miami, Krasdale Foods' CTown Supermarkets in New York, and Northgate Gonzalez Market in California are taking advantage of the holiday season to hold food giveaway events in the communities they serve.
In addition to their Thanksgiving community initiatives, throughout December, Sedano's customers will have the opportunity to win free groceries to help local customers with their holiday expenses.
Sedano's will give five families $500 worth of groceries the week of Dec. 6 through sweepstakes on the retailer's Facebook and Instagram pages.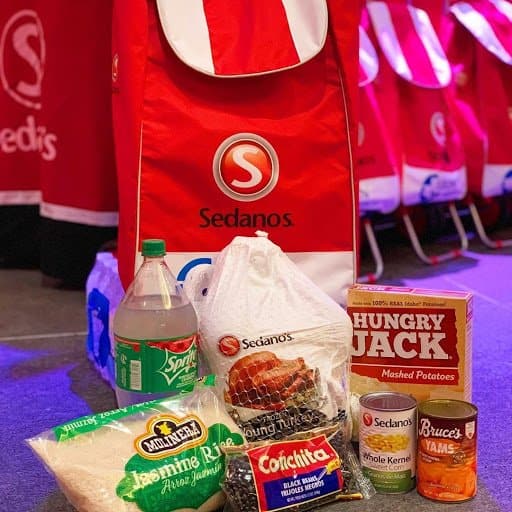 "We recognize that the last 20 months have been a difficult time for everyone, so for this year's gift activations, we want to impact our customers' finances directly," said Javier Herrán, Director of Marketing for Sedano's Supermarkets. "Miami already knows our tradition of giving back to the community during the holidays, and we hope these initiatives will spread even more holiday cheer in the city," he added.
Sedano's is also conducting a series of activations for its customers. For example, from now until Dec. 12, customers can visit www.SedanosSanta.com to register for a chance to win a Sedano's gift card or a virtual visit with Santa Claus. In addition, on Dec. 9, customers who shop for groceries at Sedano's will have the opportunity to have the company cover their total cost at the checkout line.
The Hispanic grocery chain recently held two Thanksgiving giveaways, including holding a drive-through event in partnership with the city of Hialeah that provided turkeys and pies to 500 families in need, and another Orlando-only event, where the grocer gave away 150 frozen turkeys.
Krasdale Foods Celebrates the Holiday Season
Meanwhile, in the Bronx, New York, Krasdale Foods and its CTown Supermarkets chain held a significant giveaway event of 3,000 grocery bags in conjunction with hip-hop artist Fat Joe and Bronx Borough President Ruben Diaz Jr.
In front of the UP NYC location on 3rd Avenue in the Bronx, which Fat Joe owns, the artist explained that he partnered with Krasdale and the borough on this Thanksgiving food giveaway event because "we're investing in the community to bring back business [and make it] look like it's 5th Avenue in the middle of the Bronx in front of the projects."
For his part, the Bronx Borough President thanked Fat Joe, who recently opened several UP NYC locations in the Bronx. "You have given us jobs and have proven to be an example that I hope other celebrities can model. If most did, we'd be in better shape." Here he is, he had a big week and could be anywhere on the planet, and today he's with us."
Northgate Gonzalez Market Donates Thousands of Turkeys and Gift Cards
On the West Coast in Southern California, Hispanic grocery chain Northgate Gonzalez Market partnered with Oportun and Hyundai to help families by donating more than 5,000 vouchers for turkeys, groceries, and cash gift cards to provide some holiday season relief and cheer.  
"We recognize that many people are hurting, and through our non-profit and business partnerships, we are honored to be able to provide much-needed relief during the holidays," said Northgate Gonzalez Market co-president Oscar Gonzalez.
The 41-year-old grocery store chain, which serves the Hispanic community, has donated more than $1 million to local food banks and other charities since the start of the pandemic.
In addition to Hyundai and Oportun, Northgate Gonzalez Market has partnered with more than 65 non-profit organizations, schools, and elected officials this year to identify families in need. Over the pre-Thanksgiving weekend, about eight food distribution events were held in Los Angeles, Orange County, Riverside, and San Diego.
"We know that there are families who are still struggling to recover from the impacts of COVID, and we are grateful for our community partners at the Bresee Foundation, Familia Gonzalez Reynoso Foundation, Orange County United Way, Hyundai, and Northgate González Markets for their commitment to making their holiday season more meaningful," said Ezra Garrett, Senior Vice President of Public Affairs and Impact at Oportun.
"Too many families in Southern California and across the country are experiencing food insecurity and other health, social and economic challenges made worse by the ongoing pandemic," added Dana White, director of communications for Hyundai Motor North America. "That's why we are proud to partner with Northgate Gonzalez Market and amplify their critical efforts in the community to help increase access to healthy, nutritious food."