Heineken and the International Champions Cup (ICC) are taking to the pitch for another year to bring retailers and consumers the best of beer and soccer. Heineken is kicking off the 2018 season with an engaging retail sweepstakes with exclusive prizes, all geared to drive in-store traffic and encourage purchase. As the exclusive beer sponsor of ICC, retailers can stake a claim with the Heineken ICC 2018 program and profit from kickoff to final whistle.
Since 2013, the annual ICC presented by Heineken has become a highlight on the global soccer calendar, stoking some of the most intense rivalries in world soccer. This season Heineken is bringing some of the world's most popular and famous clubs to the United States allowing fans to enjoy unprecedented access to the action. And Heineken aims to elevate the game day drinking occasion every step of the way. "Heineken drinkers are passionate about all things soccer and ICC," says Bjorn Trowery, Director, External Communications at Heineken USA, noting that Heineken drinkers are 60% more inclined to view FIFA championships, are 71% more likely to view Spanish League Soccer, and that "Just Hanging Out" social occasions, including watching sports with friends, comprise 30% of total beer volume. "Enjoying a cold Heineken on game day enhances the experience and leads to greater consumer engagement," he added, and Heineken has seen uplift in volumes within markets that activated ICC at retail last year, offering strong encouragement for retailers to support the partnership with ICC. "We are building on this momentum in 2018 with an even bigger program," Trowery says.
Heineken USA: Coalitions and Collaboration Key to "Brewing a Better World"
High impact national and regional POS will drive the connection between Heineken and the ICC viewing occasion to attract more valuable shoppers, maximize bas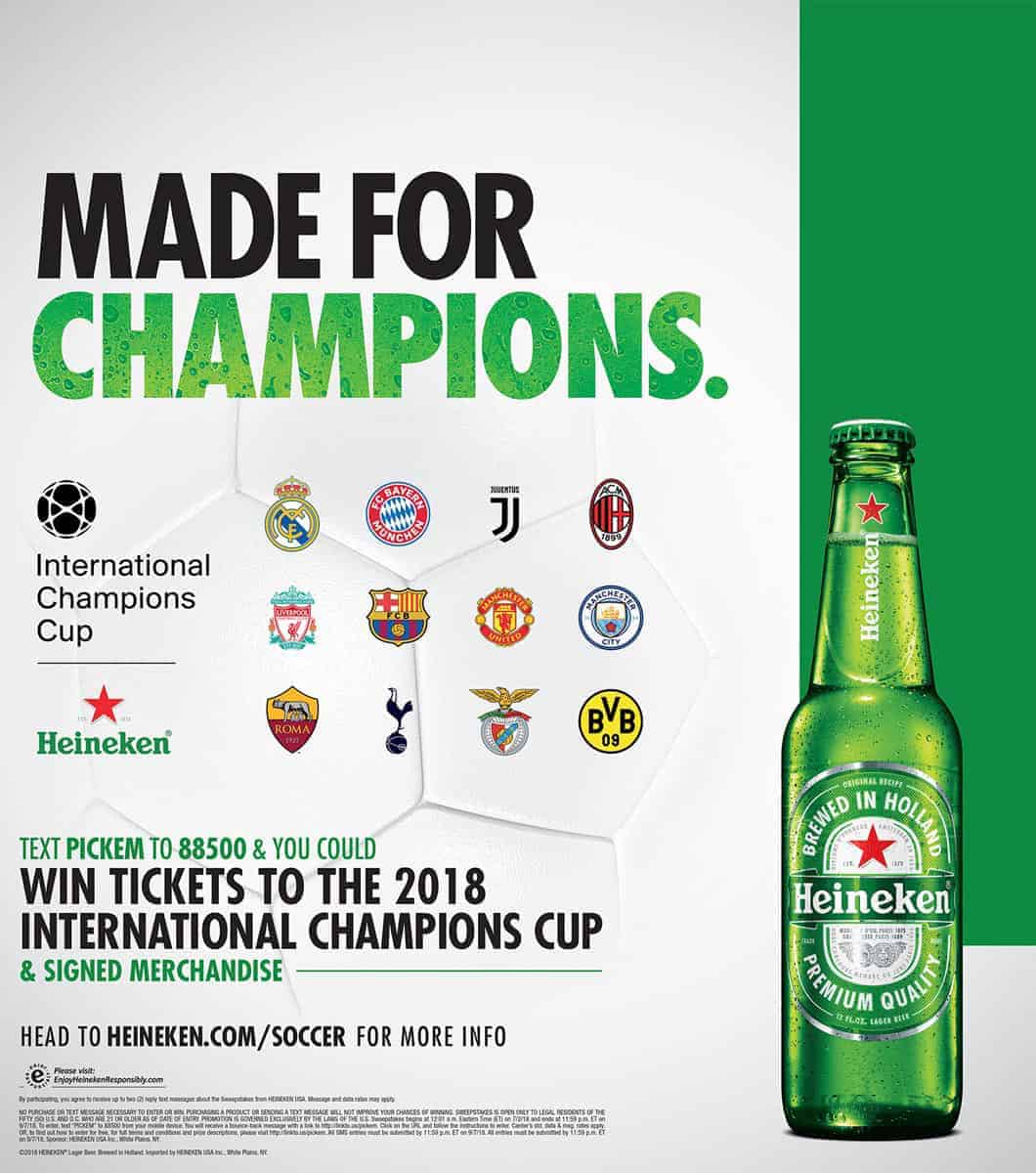 ket rings, and drive conversion and incremental drinking occasions. A sweepstakes offering consumers a chance to win exclusive prizes and experiences, including "Fan of the Match" will be augmented by media running throughout the ICC season to deliver billions of consumer impressions.
Heineken shoppers shop more and spend more versus the average beer shopper with 18% more trips and an 18% higher buy rate. With beer lovers shopping for Heineken this summer and soccer fans looking to enhance ICC viewing occasions, retailers who get behind the program can score -and win- with higher sales and profits all season long.