The supermarket chain H-E-B is expanding its new HEB Go app program, to seven stores in Austin, Texas with plans of expanding it to more stores nationwide in the near future.
To learn how the app works and where is available keep reading!
HEB Go App: How does it work?
To use the service, you must first download the H-E-B Go (available for Android and iOS). Through the smartphone app that was released in early 2018 at two H-E-B stores in San Antonio, all HEB customers have to do is scan any item in the store they wish to purchase and place them in their carts.
Once you are done shopping, if you have set up your credit card into the app, simply hit the checkout button on your mobile to end your trip and pay on your phone.
When you complete the transaction, you'll be prompted with a confirmation screen which you will show to the H-E-B associate as you head out of the store.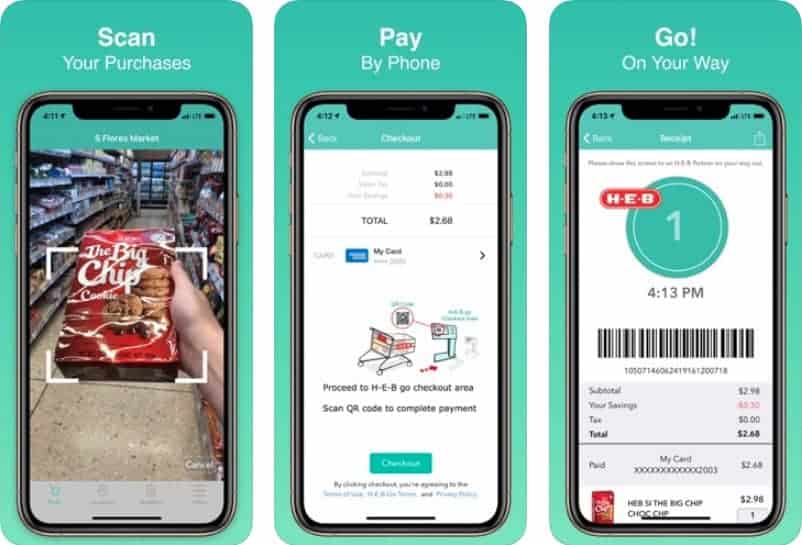 If you don't have your credit card set up on the app, all you need to do is stop by the H-E-B Go kiosk near the supermarket exit and scan the app's QR code to make your payment.
Surprising Innovations at The New Multi-Level H-E-B Houston Store
If you are shopping for alcohol and/or cigarettes, you will have to stop at the kiosk so you can prove you are old enough to purchase them.
HEB Go stores locations
The store chain plans to expand the H-E-B Go program to more supermarkets in 2019, but for the HEB go app is available at the following HEB Go store locations:
651 N. US Highway 183, Leander
250 University Blvd., Round Rock
2000 RR 620 S., Lakeway
1700 E. Palm Valley Blvd., Round Rock
14028 North U.S. 183, Austin
500 Canyon Ridge Dr., Austin
5401 S. FM 1626, Kyle
2965 I-35 North, New Braunfels
5000 Gattis School Road, Hutto
516 S. Flores St., San Antonio
12777 IH 10 West, San Antonio
HEB Go app makes grocery shopping a breeze
Here is a quick look at how the HEB Go app works and why you should use it if you shop at HEB.
"Grocery shopping is certainly changing and evolving and H-E-B is keeping pace with every way that our customers want to shop," said Leslie Sweet, Director of Public Affairs, according to the news channel.
The application registers the total price of what the buyers pick while grocery shopping at HEB's, allowing them to review the amount of money spent to stay within a budget.
When the customers finish their grocery shopping, they can skip the checkout line saving them valuable time. Whether you are pay through the mobile app or at the kiosk, the process takes 10 to 15 seconds.
Many other retailers besides H-E-B have scan-and-go technology, including Kroger and most recently, 7-Eleven. Earlier this year, Kroger announced it's expanding its Scan, Bag, and Go technology to 400 stores in 2018. Just last week 7-Eleven, the largest convenience store in the nation and a Texas native, began piloting a mobile self-checkout feature in 14 of its stores, according to Mobile Marketer.