Goya Foods, the largest Hispanic-owned food company in the United States, announced an $80 million expansion of its manufacturing and distribution facility in Brookshire, Texas.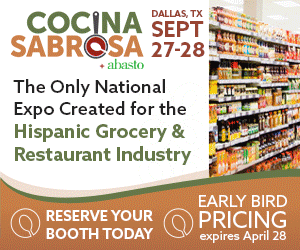 The expansion includes the purchase of new, state of the art food processing equipment that will enable the company to double production capacity in order to meet the increased consumer demand for its products.
"Goya is committed to meeting increased consumer demand for our products from all consumers across the United States and abroad. We are grateful for the overwhelming support of the Goya brand and we are fortunate to be able to give back to communities around the globe donating millions of pounds of food through our Goya Gives program," said Bob Unanue, President and CEO of Goya Foods.
Related Article: The NSA Show 2019 Names Goya Foods Company of the Year
According to the company, this investment supports the production of Goya's authentic, high-quality, and nutritious product line including the company's expanded organic offerings.
In 2018, Goya Foods completed the first expansion of the facility, adding 324, 000 square feet of production warehouses, production office, and auxiliary buildings, and 29 new dock doors for domestic and international distribution.
Goya's Texas facility that sits on a 130-acre farm has served as the prime hub for the manufacturing and distribution of Goya products in the West and provides key access to a skilled workforce, a favorable business climate, railroad transportation, and a launching pad for global export.
The campus includes several satellite buildings to house water pumps, boilers, processing, refrigeration equipment, and hydrostatic cooking tower. It also has a quality control lab, a technologically advanced test kitchen, and a dry bean room.
The production plant in Texas is also used by Goya to send its products to northern Mexico, where they are distributed by La Moderna company. In an interview with Abasto, Goya Foods senior vice president Joe Pérez said last year that they planned to continue expanding in other regions of Mexico. "Our expectation is to expand, although we do not yet have a set deadline, we are going to create a larger organic portfolio that includes grains, beans, beverages, we are going to have something for everyone."