For more than 85 years, Goya Foods has been on a mission to put Hispanic food products on the shelves of nearly every grocery store and supermarket in the United States, not to mention its growth in Latin America, Europe, and Asia. Now, through Goya Cares, the company is working on an initiative that goes beyond the marketing of groceries by seeking to feed the soul and protect children and youth at risk of being victims of human trafficking.
Bob Unanue, CEO of Goya Foods, leads this humanitarian initiative of Goya Cares. Since launching the project in July 2021, Unanue has stressed that society cannot ignore this serious problem, and they have to act to stop the trafficking of minors.
Unanue reiterated this appeal, responding to some questions from Abasto Media about Goya Cares' commitment.
"Human trafficking affects 40.3 million victims worldwide. Every 60 seconds, two children are trafficked, and more than 100,000 teens and children are exploited in the United States each year. No community, school, or demographic is immune to the threats of human trafficking, and more often than not, the victims are women and children."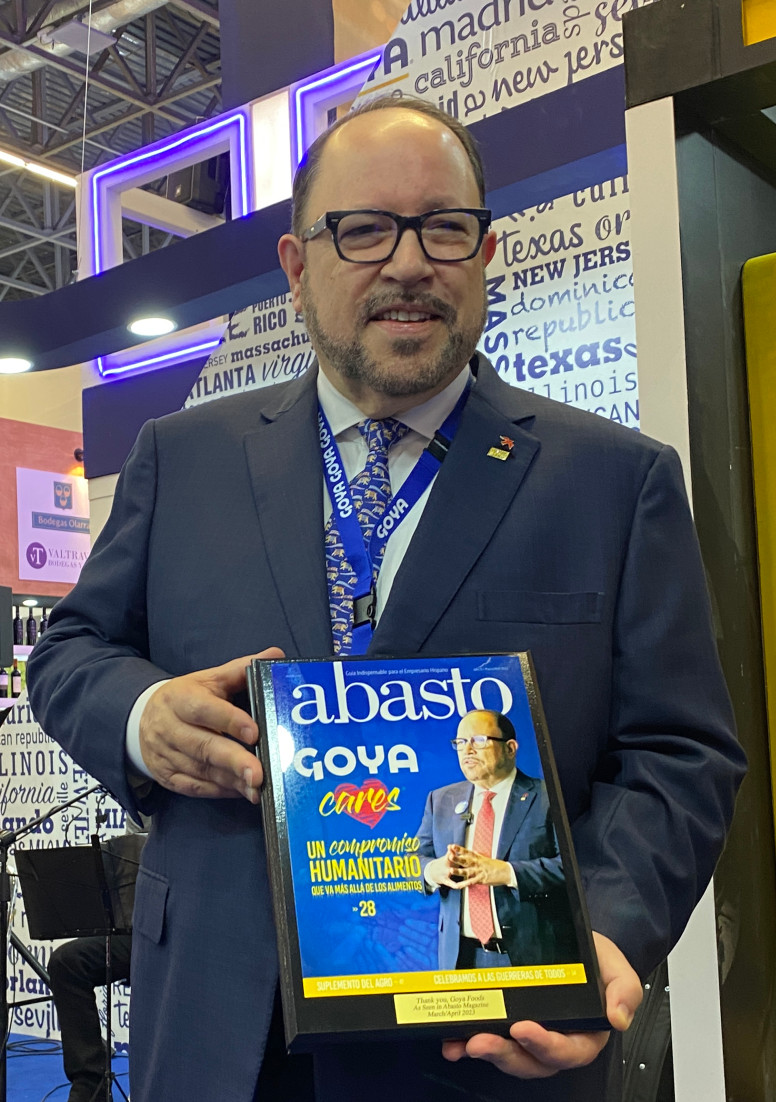 Goya's CEO emphasized that "every child deserves the opportunity to live in a world where their life is valued, and their freedom is a reality. If you can, imagine something as horrible as your child being trafficked or bullied online or at a party he or she attends at school or while in college. Unfortunately, this can happen to your child because it is happening right here, in our communities, and we have to come together to eradicate this act of evil from our world."
Unanue warned that this is a multi-billion dollar business in the U.S., and the U.S. is the largest consumer of this service provided by traffickers; human trafficking makes more money than drug trafficking.
Referring to creating the Goya Cares initiative, Unanue said, "the need for education and prevention, and bringing the community and businesses together is imperative to eradicate child trafficking. History has shown that the efforts of one person can change the world. Now imagine all of us working together for this cause. We truly believe that together we can make a difference and ask everyone to get involved in the fight against human trafficking."
The first step taken by Goya Cares was to donate $2 million to organizations that fight human trafficking to support the launch of Sound of Freedom, a film produced by Eduardo Verástegui to inform and raise awareness about this serious problem.
According to law enforcement statistics, one out of every three victims of this crime is a child. The primary states for child trafficking routes are Georgia, New York, Texas, Florida, and Los Angeles.
Related Article: Goya Foods Receives the Rotary Lombardi Humanitarian Award
Likewise, the CEO of Goya Foods shared with Abasto his personal experience during this first year of the Goya Cares initiative.
"It has been incredible to work with our partners in the Goya Cares coalition, who are doing amazing work. I can see firsthand the impact of the campaign and how it is helping to educate the community. Since its inception in 2021, our Goya Cares team has worked very hard to raise awareness of this important issue. We have supported events and non-profits across the country to raise awareness. We have created an educational series for middle and high school students on the dangers of trafficking and what it can entail, including online recruitment and manipulation, organized school and community events to educate parents, teachers, and youth, as well as creating online content for social media, and continued to work with national and local media to raise awareness."
During a press conference held in New York on January 11 in support of Human Trafficking Awareness Day and Month, Unanue announced the launch of Phase 2 of the Goya Cares initiative, which includes the expansion of the Goya Cares Coalition.
Members of The Goya Cares Coalition
The Goya Cares Coalition comprises various organizations and businesses supporting the fight against human trafficking: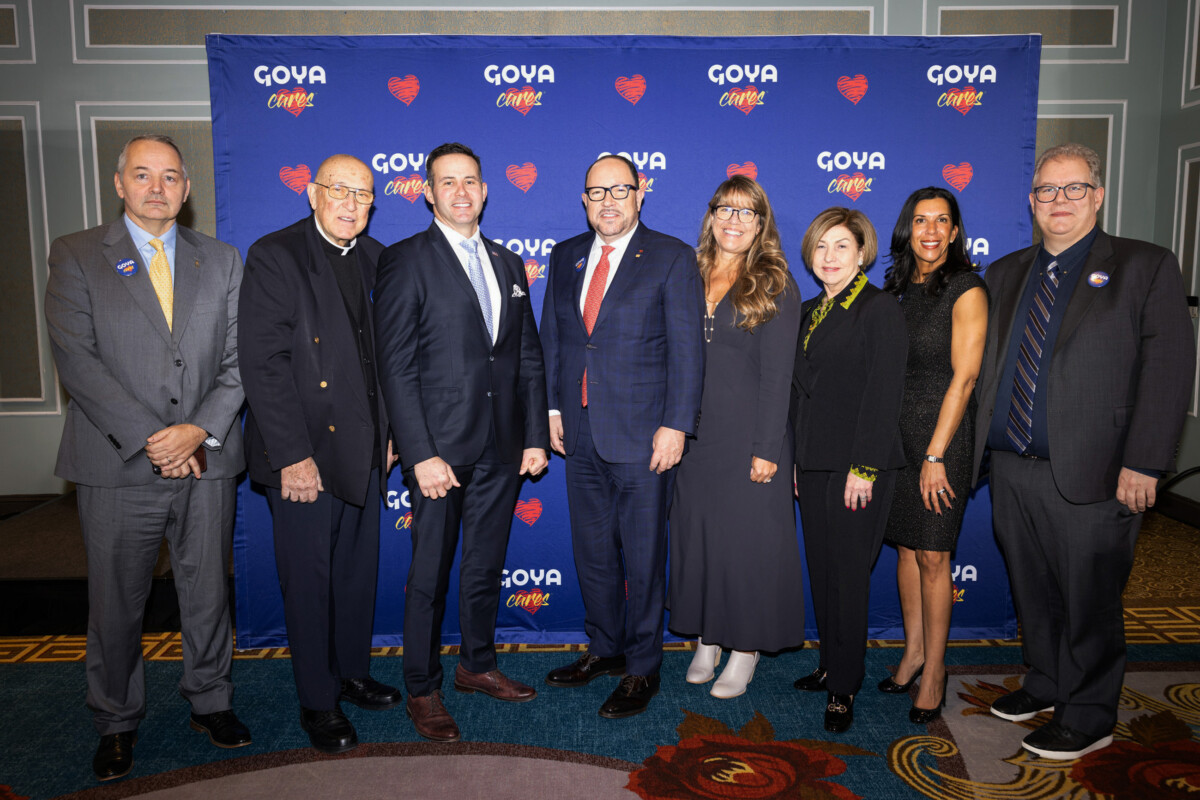 The International Center for Missing and Exploited Children (ICMEC); the Monique Burr Foundation; the National Supermarket Association (NSA); SOMOS Healthcare; New York City Schools; Croatian Relief Services, Inc.; Face of Justice; Catholic Charities of San Antonio; NYC Hotel Association; Covenant House; U.S. Homeland Security for Investigations; New York City Department of Education; Jersey City Public School District; Newark Public School District and the Center for Safety and Change; Operation Underground Railroad; Aerial Recovery; Knights of Columbus; Maestro Cares Foundation; Cornerstone Institute; Hope Rising; Salt & Light Coalition; Center to Counter Human Trafficking; Wonder Girls USA; Kristi House; Eyes on Me; The Eric Chase Foundation; YMCA of Greater Houston; Northwell Health and Fight for Us.
"This coalition comprises organizations and businesses that want to unite to show solidarity and eradicate child trafficking. We are using our platform to raise awareness and prevent this from happening in our communities. The coalition is also made up of organizations across the country that are in the trenches every day to rescue, rehabilitate and re-educate victims of child and human trafficking," said Unanue. 
Phase 2 of Goya Cares also includes the placement of a Goya Cares QR code on 30 million cans of the best-selling Goya beans, which leads to the Anti-Human Trafficking Hotline on goyacares.com, the development of new content and videos for social networks, seeking to reach a younger audience and are working with the National Supermarket Association and other coalition partners to launch a marketing campaign related to the cause.
Tanya Ramos Puig, Executive Director of the Monique Burr Foundation, expressed the importance of joining the initiative. "We are honored to partner with Goya Cares to offer the Monique Burr Foundation for Children's evidence-based, trauma-informed curriculum to nearly 25,000 students. The curriculum educates and empowers children and adults to keep them safe from abuse, bullying, online exploitation, and human trafficking. Together, we will educate and protect our most vulnerable citizens."
Finally, Bob Unanue shared with Abasto his vision for Goya Cares in the near future.
"Our mission is to reach as many people as possible to educate them about the dangers of trafficking. Studies show that preventative education helps prevent it 100%, so the more we talk to our children, which starts at home, the more they will be able to stay safe both on their phones and in potentially uncomfortable environments."
Visit GOYACARES.COM to learn more and find out how you or someone you know can get help if you are being abused or trafficked.