Being an Asian woman president, Di Di Chan is leaving her mark on the world in an area where not many U.S. minority women presidents exist: technology. Her company Future Proof Retail, co-founded with partner and CEO Will Hogben, is a mobile platform that lets customers get the best of online shopping offline.
To further explain and break that concept down, Chan told Abasto that they wanted to focus on something that was customer-eccentric and eliminated as much wasted time as possible. They built a basic platform that was a customizable solution to a problem. What was the problem to begin with?
Future Proof Retail was founded in 2014 by two people who met in a philosophy class. The story is, Chan and Hogben wanted to work philosophically on something that aligned with their beliefs. On a trip together, Chan was unable to purchase a bottle of water before her flight because there was a long line and she did not have cash with her. On the plane ride, the two discussed these every day frustrations of having to wait in line and wasted time until at one point, Hogben said he could create an app to solve this problem. Chan told him to prove it. Within two weeks, he made a demo and as Chan researched the field, she realized that there was a much bigger opportunity at hand.
Chan told Abasto in an interview that they decided it was the right time to combine their talents, philosophy and passion to eliminate wasting time, thus officially creating and founding Future Proof Retail.
Future Proof Retail brings the personalization and convenience of online shopping to physical stores. It is an app that allows the customer to skip time waiting in line and offers mobile self scanning, ordering, recommendations and much more. The company also offers the shopper app, which is supported by a separate application for store staff with roles for marketers, ops, managers and cashiers. The staff application works across all common phones, tablets and computers and provides visibility into and control over how shoppers use the platform.
On the current, thriving business, Chan said, "We want to create a win/win ecosystem in how we live and work… We are not here to tell retailers how to do their business. We made our solution very customizable. We build a basic platform. We can come to retailers and say, what does your business need, how can we help?"
She continued, saying that they had wanted to create something that was 'partner-centric' because any end to end solution was really an ecosystem of different partners and different pieces that support the retailer when put together.
"They have a different point of sales system and a different payment system…that you really have to work with. So, we made our solution from day one to be very easily connectable into different systems. We are part of the platform rather than coming in as a single app that's trying to be a superhero."
When asked about goals, Chan said that an important goal for the company is to take care of the customers, the retailers, their partners and most importantly, to work in a way that is sustainable, that's positive.
"We want to provide a net-positive that kind of maximizes the human potential. So, the way we treat our team, the way we work and what we do, we want to be aligned," Chan said.
The Future Proof Retail platform is available in El Rancho and Fresh markets
The tech company's mobile platform is currently available at El Rancho markets and Fresh markets in California. Their most recent availability is with Fairway Markets in New York and have a few in the workings.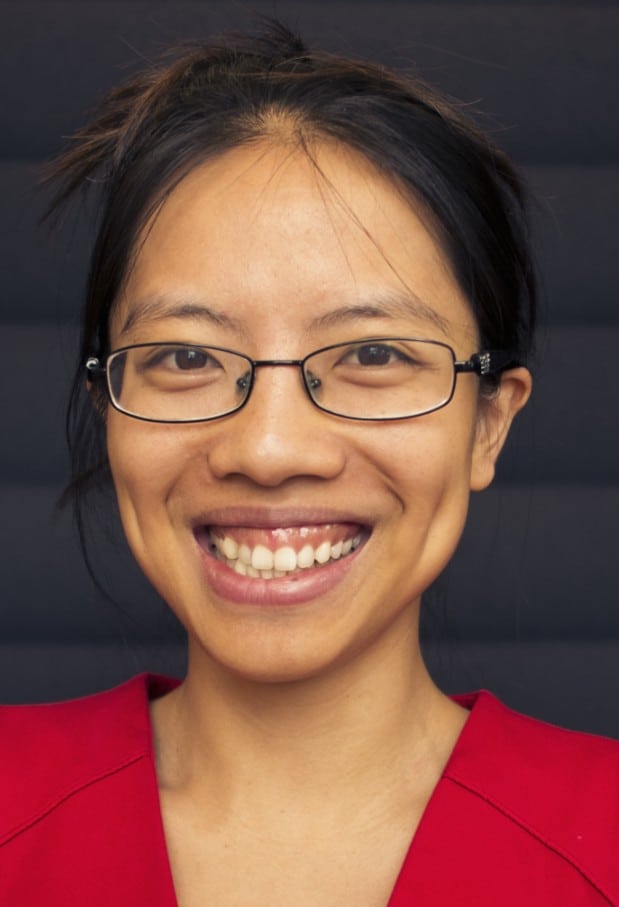 Although Future Proof Retail started in the grocery segment, Chan expressed their goal to be the universal mobile shopping platform for all retailers. They are looking into airports, convenience stores, big box and café food trucks. Currently, they are available not only in grocery, but in fashion, micromarket and stadiums.
"Our business motto is that we want to create something that is simple, that's easy, that anyone can use. We just want to do the platform piece and the checkout piece," she said.
When asked about her experience as president of the company, Chan joked that it's been crazy. She explained that when a person sees the face of the company and the way they handle the company, they are often seen as a 'superhero.' However, she went on to say that it doesn't matter what the idea is or how great it is because it takes a really good team, a really good network and a lot of people coming together to make a solution work.
"The feeling I have when I think about being President of the company is that I feel really grateful. I feel grateful for my partner, we work well together. I'm grateful for my team, I can't imagine a better team. I know everybody says that, but I really do feel like I have the best team and grateful for the network of ecosystems that we built. It's not so easy coming in as a startup and I think taking it from a philosophical approach has given us that advantage."
Chan said that what added to her experience as president of her company and what made it unique in her situation was coming into it as a woman co-founder because she knew that there were not many women founders or co-founders in technology. Attending many women networking events, she learned to believe in herself, be confident and be simply be the boss.
"I think all girls should just be the boss," she laughed.