Supermarkets actively seek to expand space for fresh food departments and have identified them as crucial priority development areas for 2022. The State of Fresh Food 2022 report released by the Food Industry Association (FMI) underscores grocers' plans as part of the soon-to-be-released The Food Retailing Industry Speaks 2022 analysis.
Retailers surveyed detailed investments in in-store fresh food departments and reported increased fresh food sales online. FMI President and CEO Leslie Sarasin offered details of the report during a keynote address at the FreshForward event held in Denver, Colorado.
"The pandemic has changed the shopping and cooking habits of Americans, who now enjoy more meals at home with family members," Sarasin said. "These large-scale changes especially affected fresh food departments, and even as we shift to more in-person activities, shoppers still rely on their grocery stores for fresh food. Retailers and food suppliers are responding to consumers' increased interest in fresh food with improved and affordable in-store and online offerings."
According to the report, grocers are prioritizing expanding and remodeling spaces for freshly prepared foods, particularly takeout and fresh produce, over the next two years.
Related Article: How Consumers Are Responding to Food Inflation
"When looking at fresh food departments, it's important to see where companies are investing and how the food industry is responding to changing consumer trends," shared Rick Stein, vice president of fresh food at FMI. "Two important areas stand out. First, the fact that fresh food departments generate 40% of online sales suggests a major shift from previous trends. Second, it is significant to note the emphasis retailers place on the foodservice and prepared foods departments."
Key findings on fresh food departments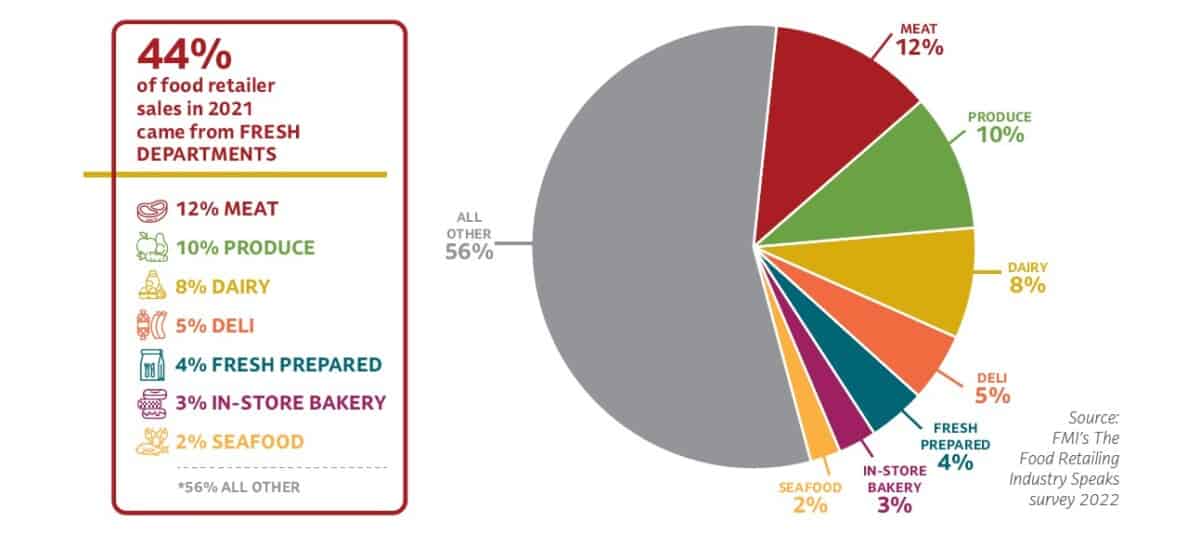 Retailers are significantly focusing on fresh foods or perimeter departments to enhance store differentiation strategies.
Most food retailers are planning to increase the space they allocate to foodservice aspects, such as fresh food-to-go options.
Some are planning to increase labor allocation in foodservice and specialty help by department, such as hiring in-store butchers, produce butchers, cheese makers, and trained or certified cooks.
Fresh or perimeter produce departments now account for an average of about half of total supermarket online sales.
Meat and produce continue to lead in sales per labor hour.
Fresh food offerings are becoming significant players in e-commerce. Fresh or perimeter produce departments now comprise 40% of all online sales, rivaling online dry food sales (41%) and surpassing online frozen sales (11%).
More space and staffing for food service
Supermarkets are rethinking fresh food departments with increased space allocation and more staff. Eighty-two percent plan to increase space allocation for prepared-to-go options, while others increase space for a la carte chef-prepared food stations (35%) or self-service prepared food (29%). Retailers are also increasing foodservice staffing (44% of retailers are planning to do so), trained or certified chefs (22%), in-store canteens (20%), and bakers or pastry chefs (18%).
Supermarkets experimenting with foodservice experiences
The supermarkets surveyed are getting creative with their service differentiation strategies by experimenting with new consumer touchpoints, such as in-store dining (51%), a coffee shop (39%), online ordering and pickup/delivery of foodservice offerings (33%), catering services (30%), a juice bar (20%) and a full-service restaurant (13%). However, the success of these programs has been mixed. Retailers report a success rate of up to 60% for juice bars and up to 13% for online ordering and pickup/delivery of foodservice offerings, revealing an opportunity for retailers to explore other specialized options.
To learn more about the performance and evolution of fresh food departments, download The State of Fresh Foods report.