The International Fresh Produce Association (IFPA) welcomed produce suppliers, foodservice innovators, award-winning chefs, K-12 professionals, menu planners, and more to Foodservice Conference this week. The record-breaking crowd took over Monterey with approximately 2,200 registered attendees and wrapped on Friday afternoon with a bustling Expo sold out for weeks.  
Not only did this year break attendance records, but the event boasted a 1:1 ratio of buyers and suppliers. For every supplier, there was one buyer registered for the event. Between the Buyer Sourcing Meetings and 5 ½ hours on the sold-out expo floor, suppliers were bound to make many meaningful connections with the over 930 buyers on site.
"It was only a few short years ago when much of the foodservice segment was shuttered overnight," said IFPA CEO Cathy Burns. "Not only has the segment come roaring back, but we are back with high energy and clear intentions to transform how people eat and experience food and fresh produce." 
"As this conference grows, it becomes more diverse, inviting more members from across the eating experience. From restaurants to hotels to health care and higher education, the foodservice segment was strongly represented this week in Monterey, which means that our consumers were represented here as well," Burns emphasized.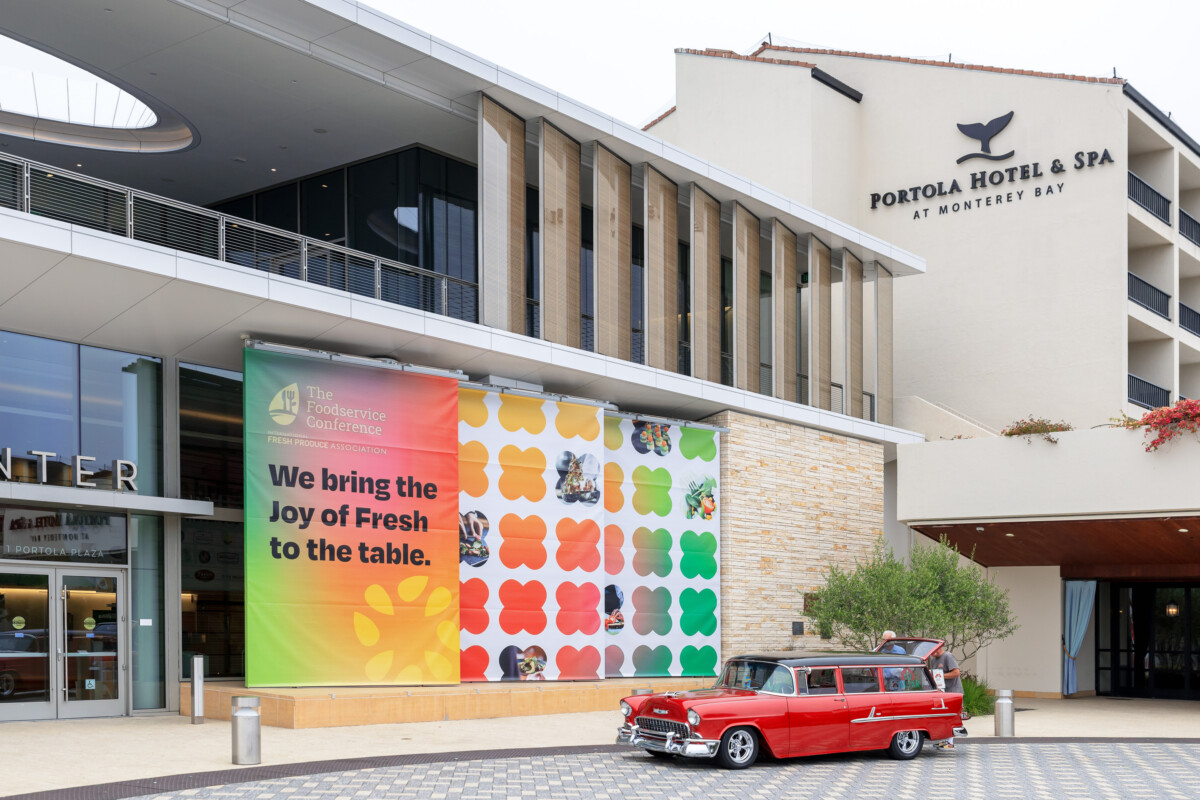 The conference opened on Thursday with the Monterey Bay Live! General session.
Designed like a fast-paced talk show, Monterey Bay Live! brought Art Kilmer from P.F. Chang's, a chef demo (with samples), and more. Friday's general session, with a consumer trends expert from Technomic, was followed by the dynamic "Pick your Path" segment, where attendees could choose from one of four breakout sessions. 
The breakouts featured insights from some of the Excellence in Produce Foodservice Award-winning chefs, K-12 professionals working to bring produce to the plate in schools, and sessions on supplier diversity, inclusive procurement, and sustainability. 
Related Article: The Elements of FoodService For Store Success
USDA Chief Food Distribution in Program Integrity and Monitoring Branch, Kathy Staley, also spoke to an invite-only session focused on the USDA-DoD Fresh Fruit and Vegetable program – all before the start of the Expo on Friday morning.
"We know that foodservice is often the place where consumers are introduced, intrigued, and inspired by our products," said Chief Education Officer Doug Bohr.
"The connections made at the Foodservice Conference help us bring more variety, flavor, and innovation to the plate in all foodservice sectors. Attendees were making more than business connections. The conversations – whether they were taking place on Field Tours with our K-12 Foodservice Forum or in education sessions – were about ensuring our businesses not only succeed but thrive in today's world," Bohr added.
The Expo was buzzing with excitement with almost 200 exhibitors, including nearly 30 first-time exhibitors, 25 Fresh Idea Showcases, and more than 30 exhibitors specifically offering at least one kid-friendly product. 
The K-12 Foodservice Forum also broke records in its second year, including around 100 large-volume foodservice buyers who attended the conference and participated in field tours and networking. 
The Expo is truly the star of the Foodservice Conference, with so many hands-on, flavor-forward, produce-focused products to showcase. 
IFPA took time at the end of the show to recognize winners of the annual Expo Awards. This year's winners include:
Best of Show Winner – Rijk Zwaan
Best of Show Runner Up – Sun Orchard
Best Product Promo Winner – Califresh of California, Green Chickpea Hummus
Chef's Choice Winner – Ocean Mist, Risotto of Baby Artichokes
"Congratulations to our Expo award winners who continue to bring creativity and innovation to the foodservice community," said Burns. "As diners and consumers grow their palates, the fresh produce industry is there to offer new flavors and tastes, driving to our rightful place of half the plate. It is always an honor to celebrate this powerful segment of our member community each year."