Leading food industry organizations remarked on the USDA Food and Nutrition Service's announcement to modernize the WIC program as very positive.
USDA's Food and Nutrition Service proposed changes to modernize the Special Supplemental Nutrition Program for Women, Infants, and Children, known as WIC, allowing for a permanent increase in fruits and vegetables for program participants, as well as flexibility in package sizes for certain foods.
According to the USDA, these science-based revisions incorporate National Academies of Science, Engineering, and Medicine (NASEM) recommendations and the Dietary Guidelines for Americans, 2020-2025.
"WIC is one of the crown jewels of our nation's nutrition programs, and the announcement means that WIC children and families can truly access fruits and vegetables in amounts consistent with the Dietary Guidelines for Americans," said Cathy Burns, CEO of the International Fresh Produce Association. "The fresh produce industry celebrates the increased emphasis on fruits and vegetables and will continue to provide families with delicious and nutritious fresh fruits and vegetables for families so their children can grow and thrive."
The WIC food packages are specifically designed to supplement the foods, and beverages participants already consume and fill in key nutritional gaps to support healthy growth and development.
The National Grocers Association (NGA), the national trade association representing the independent supermarket industry, expressed their support for the modernization of WIC food package to provide flexibility for independent grocers and families.
Related Article: Grocery Leaders Urged to Support Creation of Nutrition Incentive Program Solutions
NGA Vice President of Government Relations Stephanie Johnson said: "It is critical that the WIC program works for both retailers and families. An updated food package that includes foods that families want to eat will lead to improved consumption of the nutrients needed by moms, babies, and young children and support retailers' participation in the program. NGA is pleased to see the inclusion of a permanent increase for fruit and vegetables and pack size flexibility for certain foods. We appreciate the USDA's work on this proposed rule and look forward to further analyzing it as we work with our members to provide comments on the needed improvements to the WIC food package."
Food and Nutrition Service (FNS) is proposing changes to align the food packages with the latest nutrition science and support equitable access to nutritious foods during critical life stages.
"USDA is committed to advancing maternal and child health through WIC, helping mothers, babies, and young kids thrive," said Agriculture Secretary Tom Vilsack. "These proposed changes will strengthen WIC – already an incredibly powerful program – by ensuring it provides foods that reflect the latest nutrition science to support healthy eating and bright futures."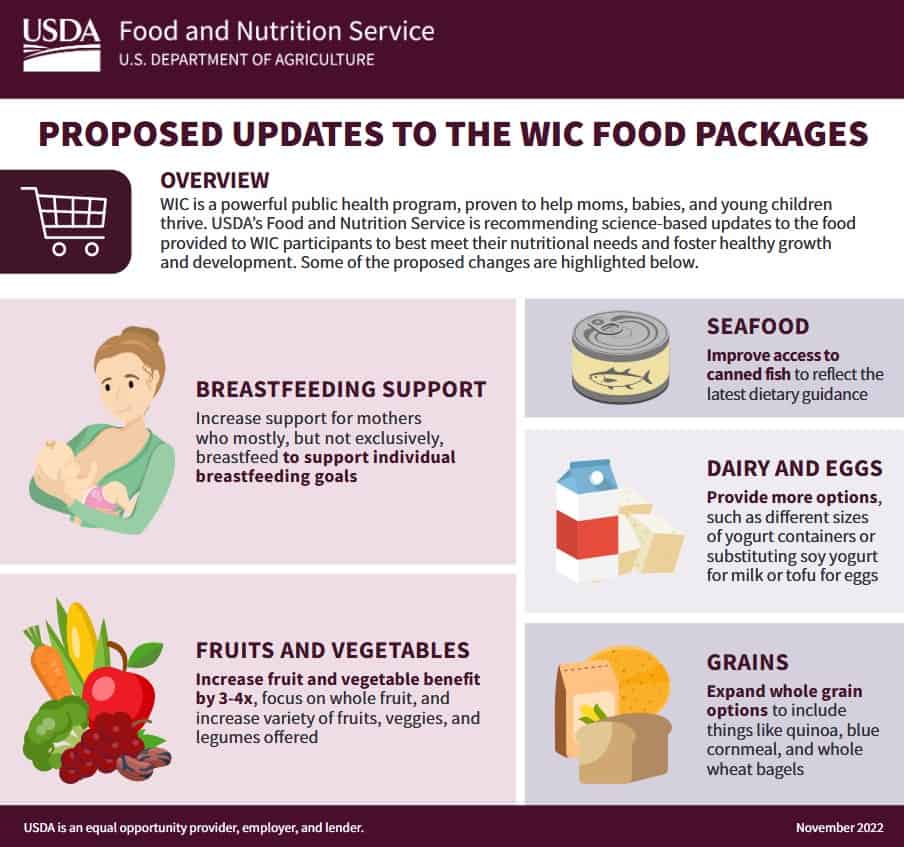 The changes will increase the current level of assistance while providing WIC state agencies with more flexibility to tailor the packages to accommodate personal and cultural food preferences and special dietary needs and increase variety and choice for WIC participants, making the program more appealing for current and potential participants, said the USDA in a press release.
For its part, FMI – The Food Industry Association joined the organizations that support improving the WIC program.
Jennifer Hatcher, FMI's Director of Public Policy, said, "FMI supports flexibility and choice in the WIC Food Package, and we are pleased USDA is proposing to modernize the program in a meaningful way. It is vital that the WIC program reflects consumers' needs and preferences, provides for commercial accessibility to align with product size and availability that helps both consumers and retailers, and is consistent with the Dietary Guidelines for Americans".
"We support the expanded fruit and vegetable benefit outlined in the proposal to give WIC families greater access to nutrient-dense fruits and vegetables. We are also pleased to see the agency providing additional flexibility for package and container sizes that better align with current products on the market, such as whole wheat bread, oats, and yogurt," Hatcher added.
The proposed revisions support fruit and vegetable consumption by increasing the amount provided and the varieties available for purchase.
"For the more than six million moms, babies, and young children who participate in WIC – and the millions more eligible to participate – these proposed revisions have the potential to make positive, life-long impacts on health and well-being," said Stacy Dean, deputy undersecretary for food, nutrition, and consumer services.
Congress previously implemented a significant but temporary boost to the benefit provided to WIC participants for purchasing fruits and vegetables. FNS proposes making that increase permanent, providing participants with up to four times the amount they would otherwise receive. Also proposes revisions that give participants a greater variety of fruits and veggies to choose from and adjust the quantity of juice to reflect nutrition guidance, which emphasizes whole fruits and vegetables.
Other proposed changes include, but are not limited to:
Expanding whole grain options to include foods like quinoa, blue cornmeal, and teff to reflect dietary guidance and accommodate individual or cultural preferences.
Providing more non-dairy substitution options such as soy-based yogurts and cheeses – and requiring lactose-free milk to be offered.
Including canned fish in more food packages creates more equitable access to this under-consumed food.
Requiring canned beans to be offered in addition to dried ones.
Adding more flexibility in the amount of formula provided to partially breastfed infants to support individual breastfeeding goals.