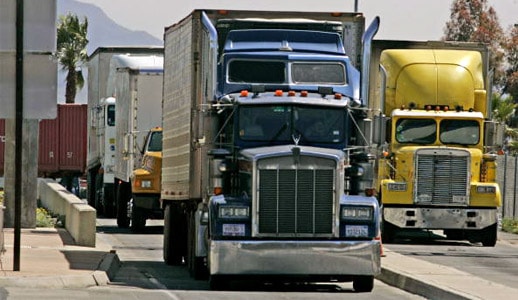 The US government began accepting Mexican carriers' applications for seeking authorization to make long journeys across the border, based on the North American Free Trade Agreement (NAFTA).
This policy change comes after the implementation of a three-year pilot program to evaluate the safety of Mexican trucking companies that ended in October.
The strategy involved 15 companies who crossed the border more than 28,000 times in total and traveled over 2.4 million miles on US soil.
The pilot program showed that long distance Mexican carriers are as safe as US transportation operations and Canadians, said in a statement the Secretary of Transportation United States, Anthony Foxx.
"Opening the door to cross-border transportation system with Mexico is a major step towards strengthening our relations with the third largest trading partner," Foxx said.
United States did not respect its commitment to open this service since 1995, but after Mexico won a panel under NAFTA, which in September 2007 began a demonstration program that aimed to allow, from August 2010, the free passage of trucks after assessing 100 companies' operations per country.
But unilaterally, in March 2009, President Barack Obama canceled the program. The government of Mexico questioned why there was no reason for it, because until then there had been over 46,000 crosses, "without registered incidents of importance." In the same month, Mexico imposed retaliations to 89 US products (53 industrial and 36 agricultural).
Then that list was changed in August 2010, when 99 products (54 agrifood and 45 industrial) tariffs were risen to a range of between 5 and 25%, whose total imports from the US were worth 2,600 million.