Deoleo is the world leader in the olive oil market, and its brands are the top sellers in countries like Spain, Italy Mexico and the United States. Carbonell a brand of Deoleo, is not only the leading brand in the olive oil market in Spain; it is also the Spanish olive oil brand with the highest sales in the world.
Ever since it was founded almost 150 years ago, Carbonell has always had a clear focus on quality and innovation, which has made it a staple in the kitchens of thousands of consumers in more than 70 countries.
Carbonell is not only a great olive oil, it is also a brand that promotes a healthy lifestyle by supporting the uses and consumption through typical dishes of Latin America.
Carbonell Ambassadors
Working towards their commitment of a healthy community, the company has put into play their "Carbonell Ambassadors" program. With this innovative program, community leaders are certified to instruct on the usage of the different types of olive oil (Extra Virgin, Pure and Extra Light) and thus spread the benefits to customers and consumers.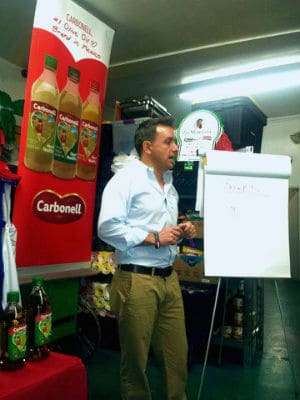 These Carbonell Ambassadors then are able to go out to other communities, spreading their new-found knowledge of the benefits of olive oil as well as offer healthier alternatives in their home recipes.
This week 70 ambassadors were trained in Los Angeles, Bell and Commerce, California. The mission of this program is to carry a healthy message and healthy alternatives with the excellent cooking ingredient that is olive oil.
The main purpose of the Carbonell Ambassadors is to support the traditions of Latin cuisine healthily.
Juan Ramon Garcia commented "We are cooking traditional dishes of our countries without changing the recipe, just changing one ingredient, vegetable oil for olive oil, and thus bring healthy ideas without changing our food culture."
Abasto Media was present in these training programs as Deoleo's media partner, where the message of their famous olive oil is spread to owners, corporate buyers, stores, and final customers.