Statista's Global Consumer Survey shows that 63% of Americans consume bottled water regularly, placing it ahead of coffee, which only 57% said they drink with some frequency.
Nearly as many – 56% – said they drank a soft drink regularly.
Alcoholic beverages, on the other hand, were less popular among those aged 21 and over. However, beer still beats wine, with 25% vs. 24% popularity.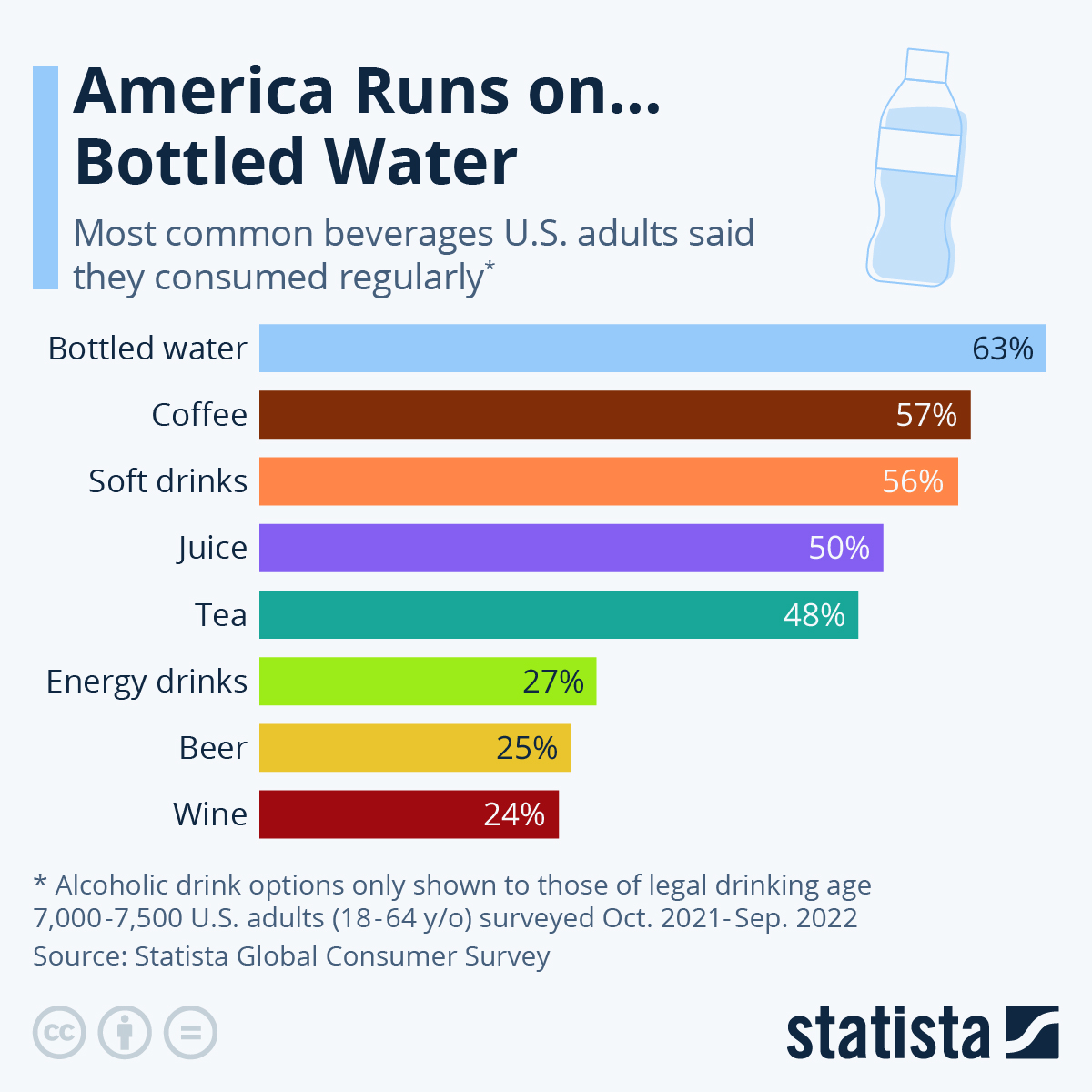 Why do Americans buy bottled water?
One-fifth of U.S. adults who buy bottled water say they can't drink tap water at home because it is unfit for consumption, for reasons such as being contaminated or chlorinated, according to a survey prepared by Statista.
The survey, conducted as part of the Consumer Insights Special on Sustainable Consumption, asked respondents why they chose to buy bottled water.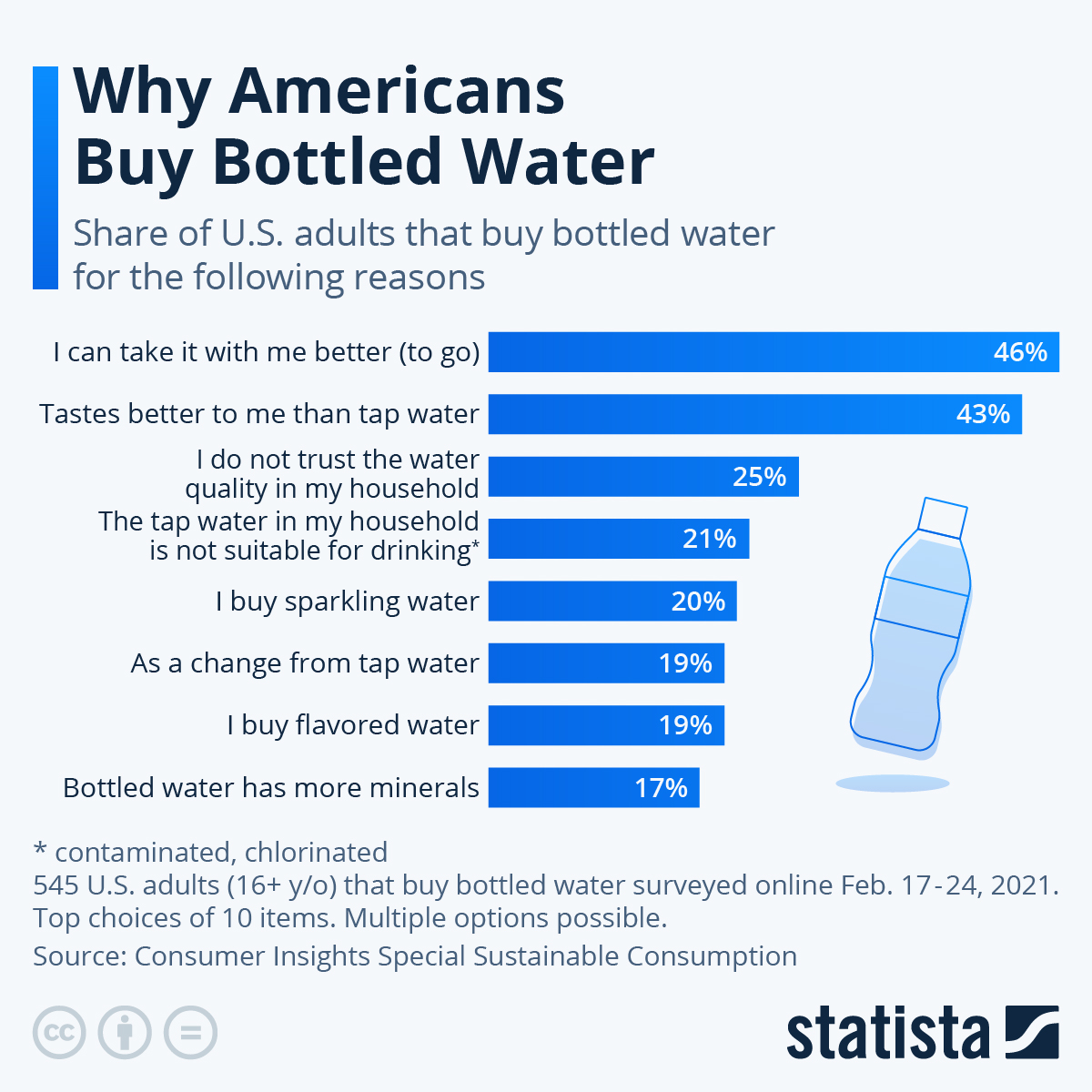 Of those who participated, most said they bought bottled water for convenience because it was better to take on trips (46%) and because it tastes better than tap water (43%).
But, as the chart prepared by Statista shows, the subsequent two most common responses are related to concerns about the water quality, with 25% of respondents saying they don't trust that the water they use at home is safe to drink.
Related Article: Novamex Partners with Anheuser-Busch to launch Cantaritos Hard Sodas
Sales of bottled water in convenience stores in 2020 by type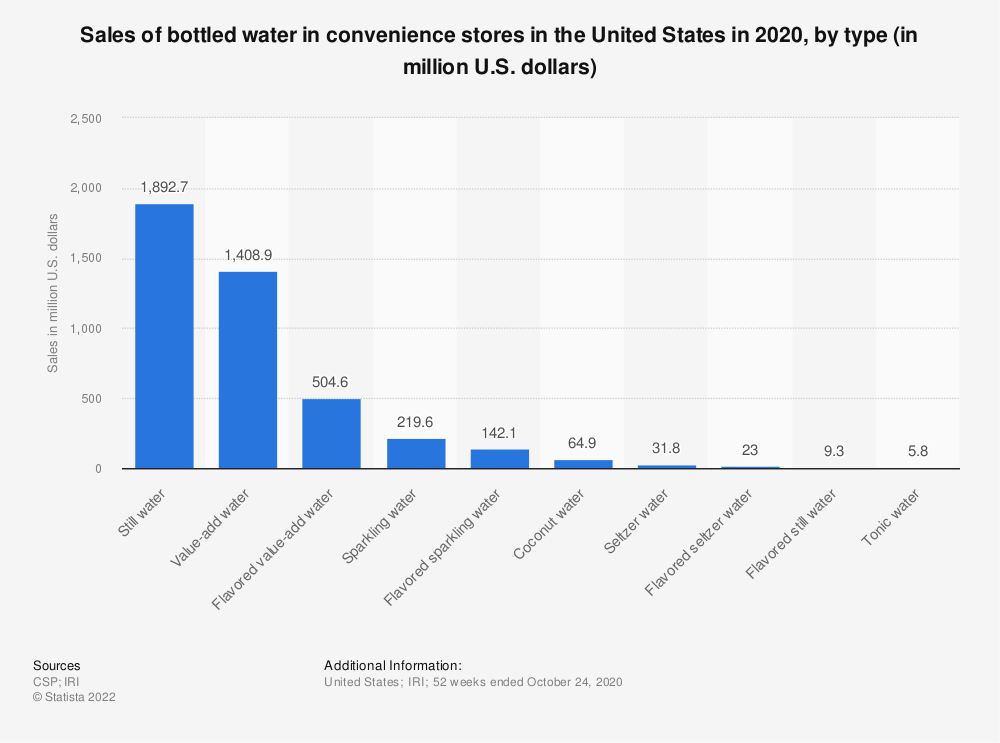 For the 52 weeks ending October 24, 2020, non-carbonated bottled water generated sales of approximately $1.9 billion in U.S. convenience stores.
In comparison, flavored still water had sales of only $9.3 million.
What are the top-selling mineral water brands in the USA?
Another Statista survey of sales in the mineral and sparkling water categories in convenience stores in the U.S. revealed that two Latino brands are among the top five preferred by consumers.
For the 52 weeks that ended Dec. 26, 2021, Perrier was the top-selling sparkling bottled water brand in U.S. convenience stores by units, with nearly 26.8 million units sold.
Topo Chico ranked second, with sales of about 21.7 million units, and Mineragua from Jarritos with 4.1 million units.