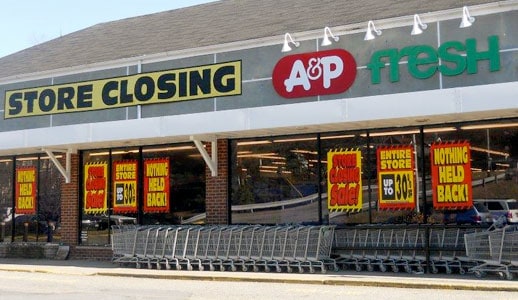 The supermarket chain Great Atlantic & Pacific Tea Co., better known as A&P, filed for Chapter 11 bankruptcy law for the second time in five years and announced the sale of 120 stores and the closure of 25 more.
The company with a tradition of over 156 years which owns Best Cellars and Superfresh Pathmark Stores, has suffered in sales because of competition from discount stores like Walmart and high-end supermarkets such as Whole Foods.
During its heyday decades ago, A&P was operating more than 15,000 stores. First, it went bankrupt in 2010. It re-emerged two years later as a private company after obtaining financing from investors including Goldman Sachs.
A&P, which now has 296 stores, has assets and liabilities amounting to $1 trillion. The company was considering a bankruptcy filing among its options to reduce costs.
Through a statement, A&P said it is selling about 120 stores for about $600 million and will close 25 stores due to lack of interest from consumers and operating losses.
According to court documents, the company said it is in talks with Acme Markets Inc, which owns Albertsons and Safeway, Stop & Shop Supermarket Co. LLC and Key Food Stores Co-operative Inc., to sell its assets.
Reportedly, A&P hired Evercore Partners, an investment bank specializing in the sale of assets. The company has already received $100 million funding by Fortress Credit Corp.
Double-digit store sales declines in the past two years, debt and high portfolio made the business untenable.