Avocados From Mexico began celebrating its first ten years in September in Dallas, Texas. However, the brand has reasons to continue celebrating during this and next year.
Creating a culinary laboratory, college football, and health sponsorships will be the main ingredients of its celebration.
The United States is the number one consumer of avocados. This fruit comes primarily from Mexico, mainly from Michoacán and Jalisco.
Avocados From Mexico is a wholly owned subsidiary of the Mexican Association of Hass Avocado Importers (MHAIA) that has worked to keep avocados in season all year round.
In an interview with Abasto Magazine during The Global Produce and Floral Show last October, Alvaro Luque, president and CEO of Avocados From Mexico, discussed its anniversary and other dates and milestones. The International Fresh Produce Association (IFPA) organized the event.
How Avocados From Mexico Celebrates Ten Years
"We are in a very important moment of celebration. We started with our celebration party, with our Board, which we had a month ago in Dallas," said Luque.
Then, in early October, he launched Avocado Lab, an avocado laboratory in Dallas, Texas, with Mexican chef Pati Jinich. It has three sections: culinary innovation with chefs, an avocado university with training, and mixology for cocktails and smoothies, which have grown in the United States. The idea of this laboratory is to make avocados a culinary experience.
Health Campaigns
Their focus, for now, will be supporting the fight against breast cancer, awareness, and research. So far, they are betting on health with a Super Good campaign. The promotion launched within the organization Susan G. Komen has been a success.
"Normally, in a seasonal promotion, we manage to sell two million, two and a half million bags every time we promote this. Susan G. Komen brought us over four million bags. We have had incredible support from retailers. It makes us feel great because we are selling more avocados but doing good," he said.
Avocados From Mexico plans to continue celebrating its first ten years over the next year. By March, they plan to launch their second event focused on health and wellness under their Super Good slogan, but this time in California.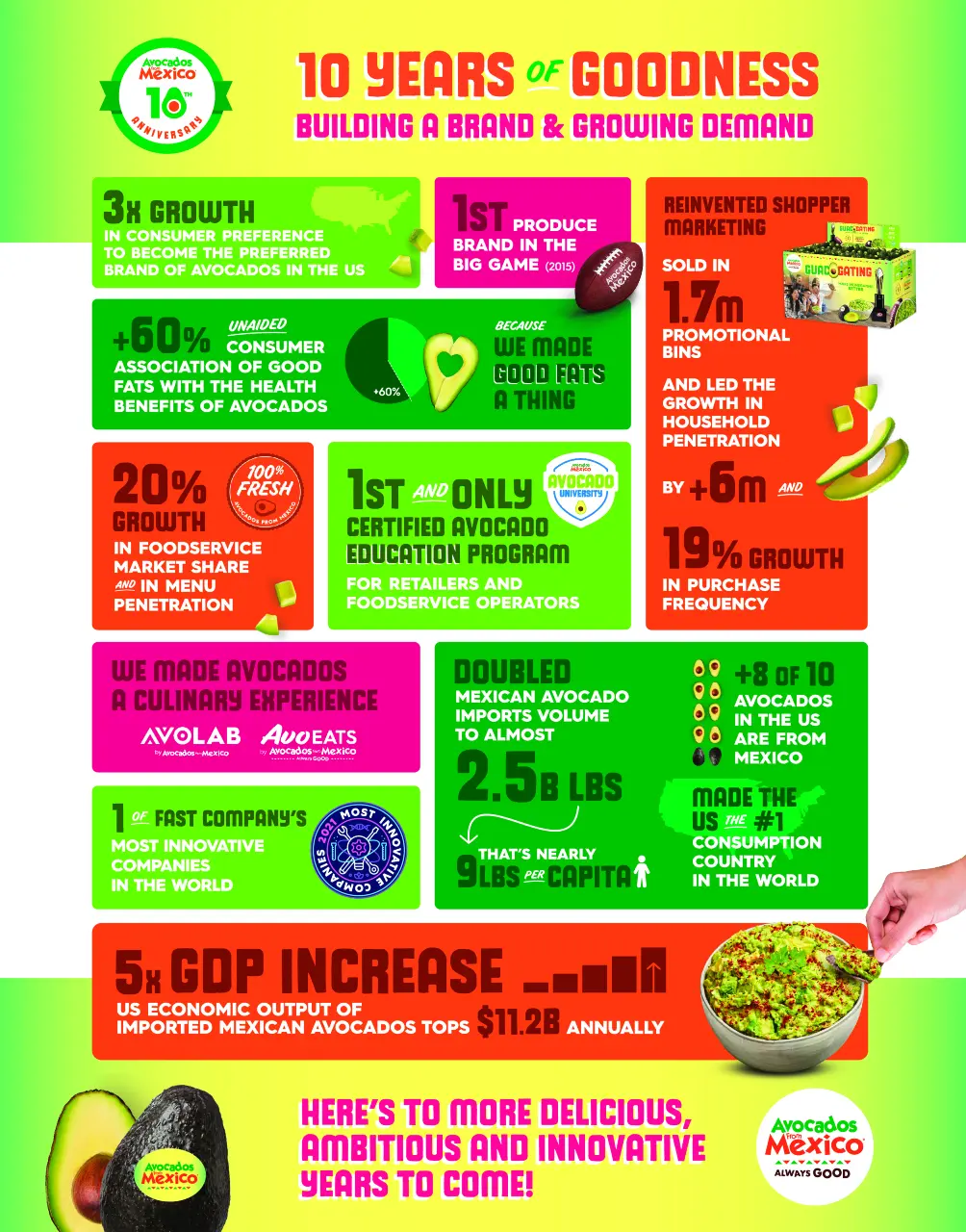 College Football
Recently, Avocados From Mexico launched a campaign to support college football.
"We have a new commercial just dedicated to College Football, which is coming out right now," Luque said about AVF's sponsorship of the College Football Playoff, launched with ESPN. They will be the first produce brand to create this type of partnership.
Since guacamole and avocado became the number one produce brand during the Super Bowl 2015, this sporting event is key.
This year, for example, they created Better Bowl and a partnership with Justin Palmer to keep this category growing for the future. However, by 2024, they will be missing from the commercials for the Big Game.
Related Article: Avocados From Mexico Sets a New Record by Importing 2.47 Billion Pounds of Avocados
Avocados at every meal all year round
Avocados From Mexico's plan is to continue promoting the consumption of avocados in every meal. In fact, during its exhibition at the IFPA event, the brand's booth created different moments so people could experience a variety of avocado and guacamole recipes, mostly customized.
AvoTacos: tacos with different ingredients as a base, such as carne asada, carnitas, chorizo, or sweet potato. These were followed by a sauce bar with avocado-based sauces, but customizable to each person's taste, with different avocado spiciness and intensity.
Guac Heaven: guacamole was prepared according to one's personality or taste. There was spicy, delicious, or sweet.
Guac Cones: guacamole combined with pesto, prosciutto, fresh corn, bacon, and grapes.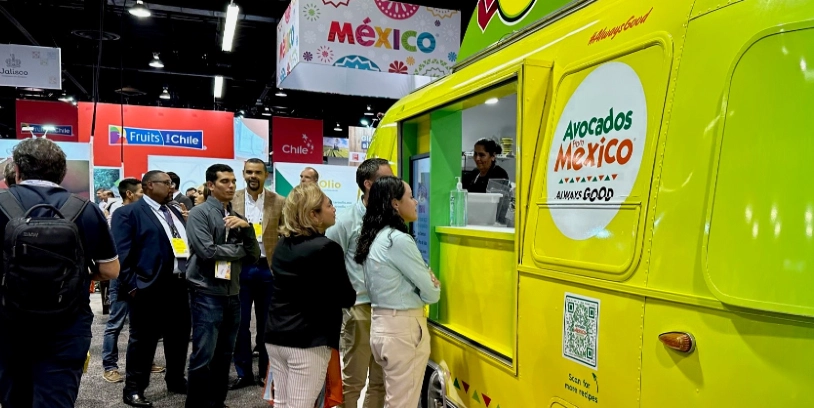 Some different dates and seasons set the pace for the consumption of the avocado fruit.
"We have three seasons right now that are strong in promotional development. What we call OND, which is October, November, December, Super Bowl and 5 (de Mayo)," Luque said.
They are looking for their fourth season and are already working on it: summer.