The U.S. online grocery market captured $8.9 billion in sales during December as over 69 million households shopped online to satisfy grocery-related needs, according to the Brick Meets Click/Mercatus Grocery Shopping Survey fielded December 29-30, 2021.
December's strong results helped annual online grocery sales reach $97.7 billion for 2021 as more than 70% of U.S. households (93 million) received one or more orders during the year. This ongoing national-level research has been conducted by Brick Meets Click since 2016 and sponsored by Mercatus since May 2020.
Even though most grocery retailers used third-party delivery platforms when they began selling online, the U.S. is a Pickup-dominant market. That dominance continues across markets of all sizes, except in some of the largest urban markets where Delivery overtook Pickup for the first time in December 2021.
Full-year results for 2021 showed that the Pickup segment grew its share of online sales to 45%, up 5 percentage points versus 2020, while Delivery's share remained relatively unchanged at 33% and Ship-to-Home's dropped 5 points to 22%.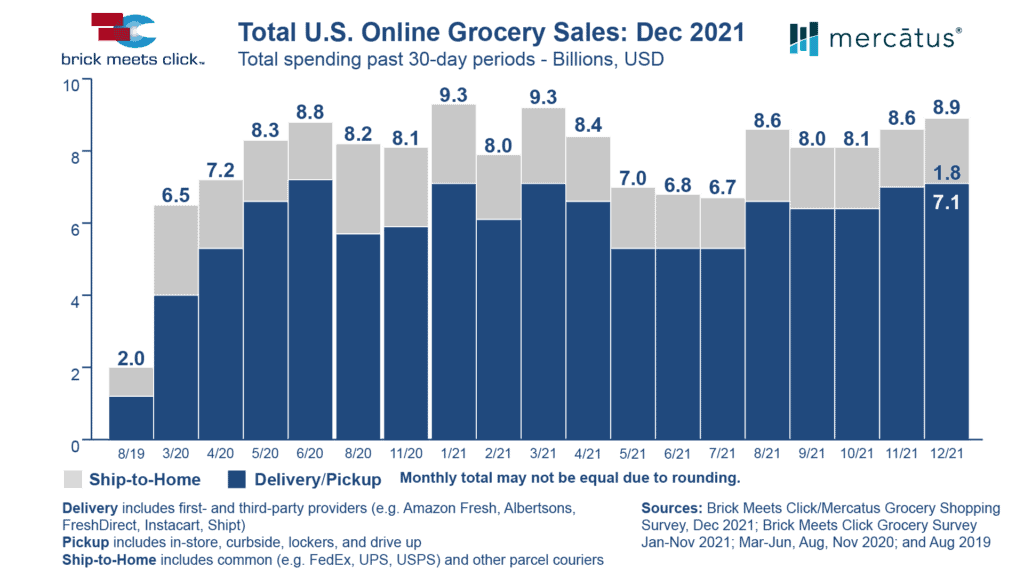 "If retailers are surprised by these results, it's likely because they are missing a broader view of how and where customers are shopping online for groceries," said David Bishop, partner at Brick Meets Click. "Even before the pandemic started, Pickup was preferred over Delivery. Then in April 2020, Pickup took the top spot away from Ship-to-Home, and it's kept that spot ever since."
Related Article: Automation to Drive Innovation and Operational Cost Savings
For 2021, the average number of orders placed by Monthly Active Users (MAUs) held relatively steady at 2.74 per month, down just 1% versus 2020. However, the volatility in 2021's monthly order frequency dropped 60% versus 2020 levels, signaling that buying patterns are becoming more entrenched at a level that is 35% higher than pre-COVID levels.
Online's annualized share of total grocery spending for 2021 was almost 13%, up nearly two percentage points from the previous year. Adjusting 2021's online share to exclude Ship-to-Home, since most grocers do not offer this option, reveals that the combined Pickup and Delivery segments captured 10% of total grocery sales, up 2 points from 2020.
During December 2021, the share of Grocery's monthly active users who also placed at least one online order with Mass jumped to 29.1%, setting a record high for this shopper metric. For these households, cross-shopping with Target rose sharply while Walmart dipped slightly and the gap between the two retailers shrank to only two and a half percentage points, the smallest it has ever been.
"The state of online grocery in the U.S. today underscores not only the need for grocers to compete online for sales but also the imperative to develop and implement more sound strategies that improve profitability as sales growth becomes more challenging," said Sylvain Perrier, president and CEO, Mercatus. "In this regard, putting customer satisfaction at the center of the shopping experience is paramount and requires implementing an operational process that is not only efficient for the retailer but also caters to customers' demand for quality and convenience."