There is nothing more gratifying than enjoying a good meal prepared by expert hands, such as those of Chef Enrique Luis Piñeiro, a recognized master in the culinary arts. And what about being able to savor everyday dishes seasoned by this expert in Puerto Rican and international cuisine?
After decades of perfecting his culinary knowledge, Chef Piñeiro decided to share the secret to the flavor of his recipes. He created his own line of products, including seasonings, sofrito, and ground garlic, to reach the kitchens of every Hispanic home.
Piñeiro was 11 years old when he discovered his passion for cooking, although initially, he did it out of necessity.
"I grew up alone with my mother, and among many things I helped with at home was cooking. I did it because my mother worked during the day and studied at night. Besides, both my grandmothers were great cooks and cooked for the whole neighborhood," recalls the chef in an interview with Abasto.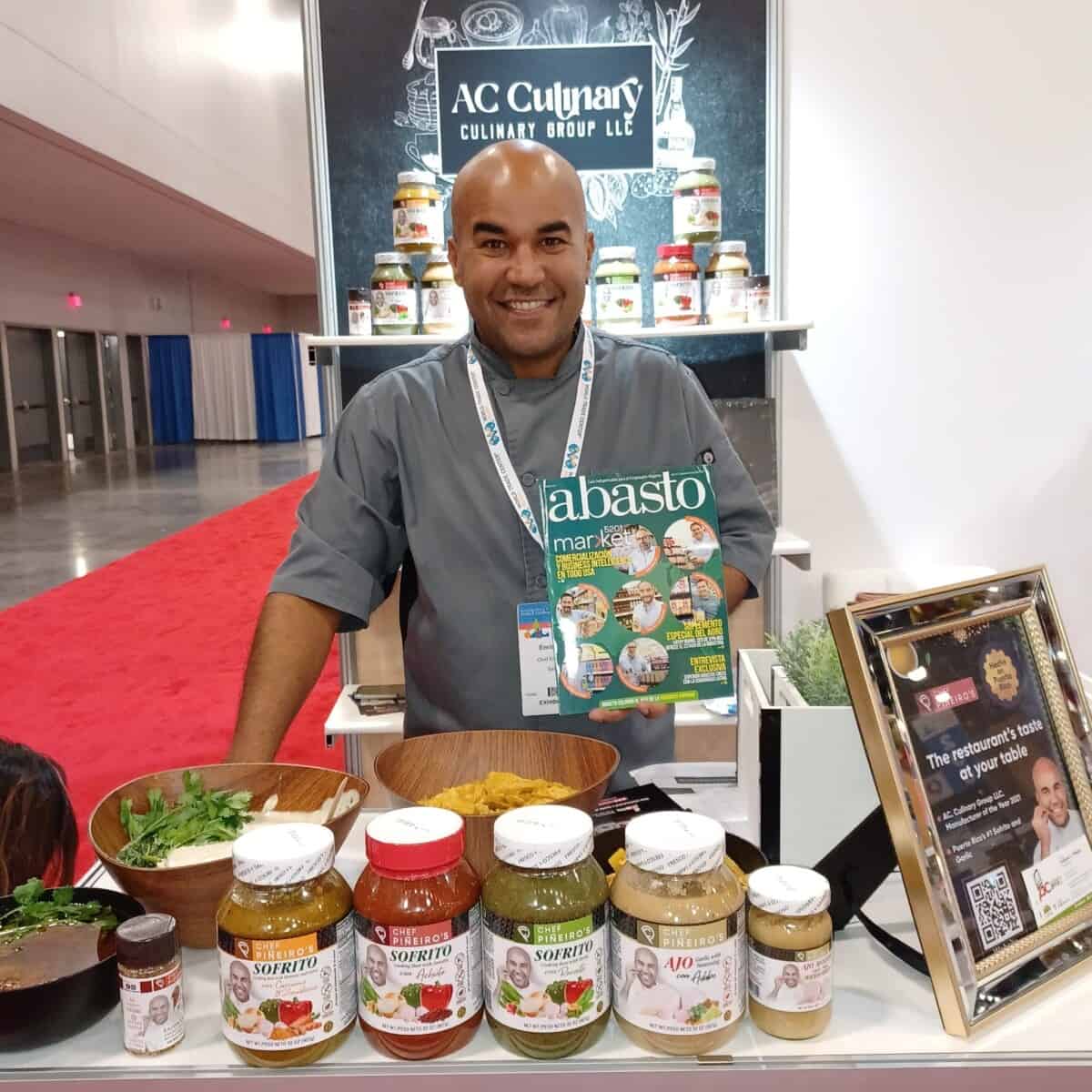 At 18, he had his first experience in the professional kitchen when he worked at Hotel San Juan Grand Beach Resort & Casino in Puerto Rico. His desire to learn was so great that in his free time, he worked for free at the Italian restaurant Mangere in Dorado.
Piñeiro understood that he needed to formalize his culinary studies and traveled to New York, where he entered the prestigious Culinary Institute of America.
"During that time as a student, I remember how hard it was because I had no money, but at the same time, it was a great experience and, above all, a spectacular cultural exchange. One of my greatest achievements in this process," said Piñeiro, "was working in a three-star Michelin restaurant in Barcelona, Spain.
Back in his native Puerto Rico in 2003, he was offered a job as Executive Chef of the Madrid-San Juan restaurant at the Caribe Hilton Hotel and ended up putting down roots on the Island of Enchantment.
"In Puerto Rico, I managed to do many things on a professional level, from being on the PR National Culinary Team, being a teacher, setting up my first restaurant, and winning a reality show called Operación Chef on the Telemundo network, which allowed me to make myself known to the masses," says Chef Piñeiro.
In addition to his passion for cooking, Piñeiro saw the possibility of growing his business by sharing the flavors that have made him famous. In 2007 he created his line of food products bearing his name, Chef Piñeiro's.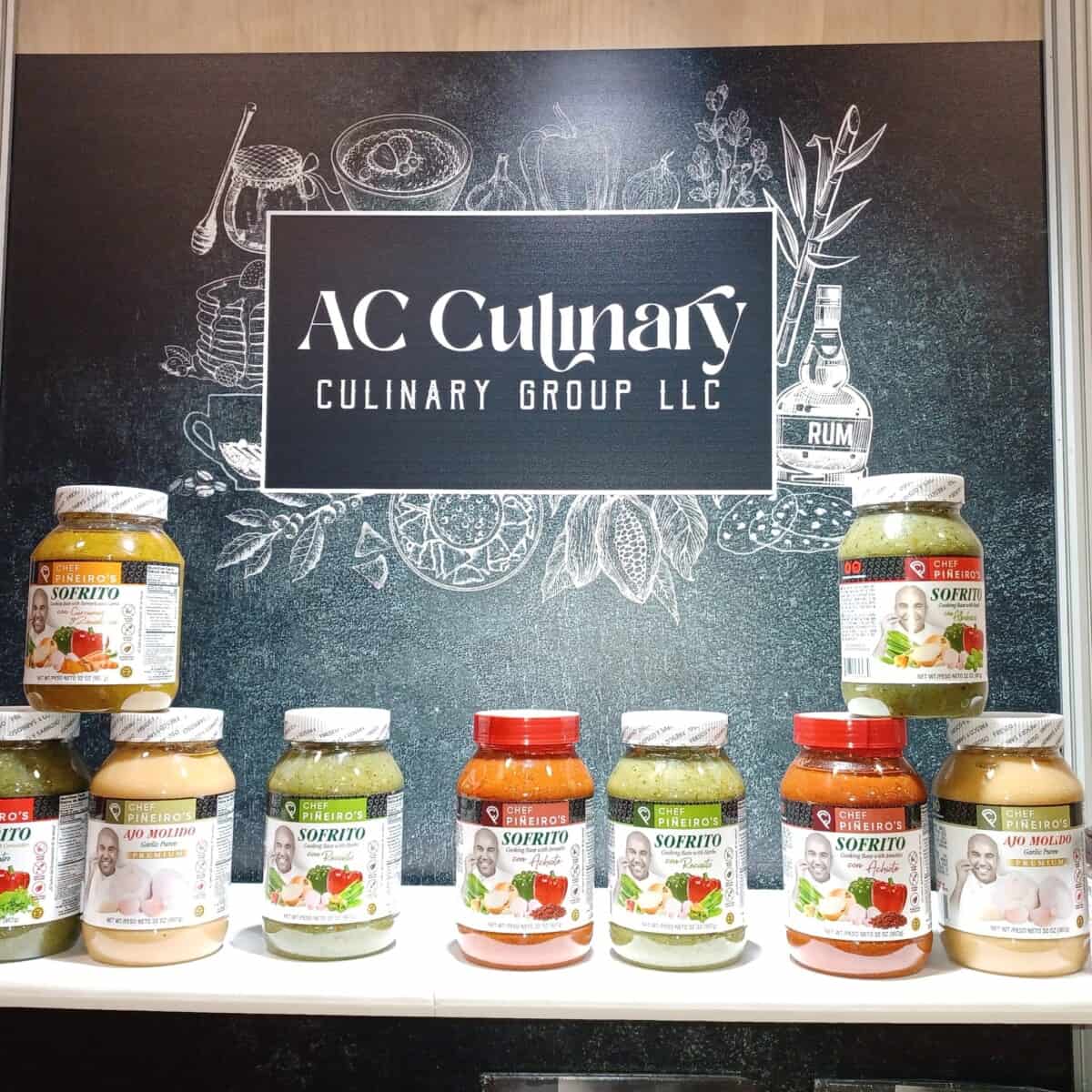 "I have always been a dreamer, and doing things beyond cooking has always been one of my desires. Like everything, it started with an idea, failure, reinvention, and then success."
He now has his 24,000-square-foot production facility, where they manufacture 20 products under their own brand in addition to working private labels. Their condiments are distributed in supermarkets in Puerto Rico and are increasingly found in Hispanic stores in the U.S. mainland.
Chef Piñeiro is confident that his products will be in high demand in supermarkets because "without a doubt, having the experience as a chef and now as a manufacturer has been a combination of success since I give the flavor of the restaurant to all my products, but at an industrial level and super competitive prices."