Chomis Gomis offers chamoy-flavored gummies. Chamoy is a delicious and popular Mexican condiment with a combination of sweet, spicy, sour, and salty flavors deeply rooted in culinary traditions.
Ivan Bugarin created his recipe to achieve that perfect combination of chamoy and added gummies and started a thriving family business named Chomis Gomis.
Table of contents
How Chomis Gomis began
Bugarin is a young entrepreneur born in California to Mexican parents. He has an unwavering determination and has achieved his goals despite challenges.
At twelve, he received a cancer diagnosis leading to his right arm's surgical removal. However, this setback did not stop him from pursuing his dreams of becoming a successful entrepreneur.
In 2016, at twenty, Bugarin partnered with his mother to create a successful ice cream shop. When the pandemic hit, he ventured out to make his chamoy recipe and started selling small batches of chamoy gummies at the entrance of the ice cream shop. They were a hit with visitors.
Soon, people drove up to an hour to buy a fresh batch of chamoy gummies. Seeing its growing popularity, Bugarin decided to jump into the business and bought thousands of gummies. In 2020, he created a company named Chomis Gomis by his mother and his whole family joined to work in the new venture.
Related Article: Hispanic Candy National Association Promotes Latino Brands in the U.S.
He now sells his gummies in 2,000 stores in Southern California, and the distribution includes eight other states: Oregon, Washington, Nevada, Colorado, Utah, Texas, Illinois, and Michigan. Still, they plan to grow towards the East Coast and have already started shipping their products to regions in Canada.
Spicy gummies
Sylmar, California, is where Chomis Gomis products are made daily in small batches with a team of nine people to ensure quality control. Ten flavors are available, and new ones will be available soon.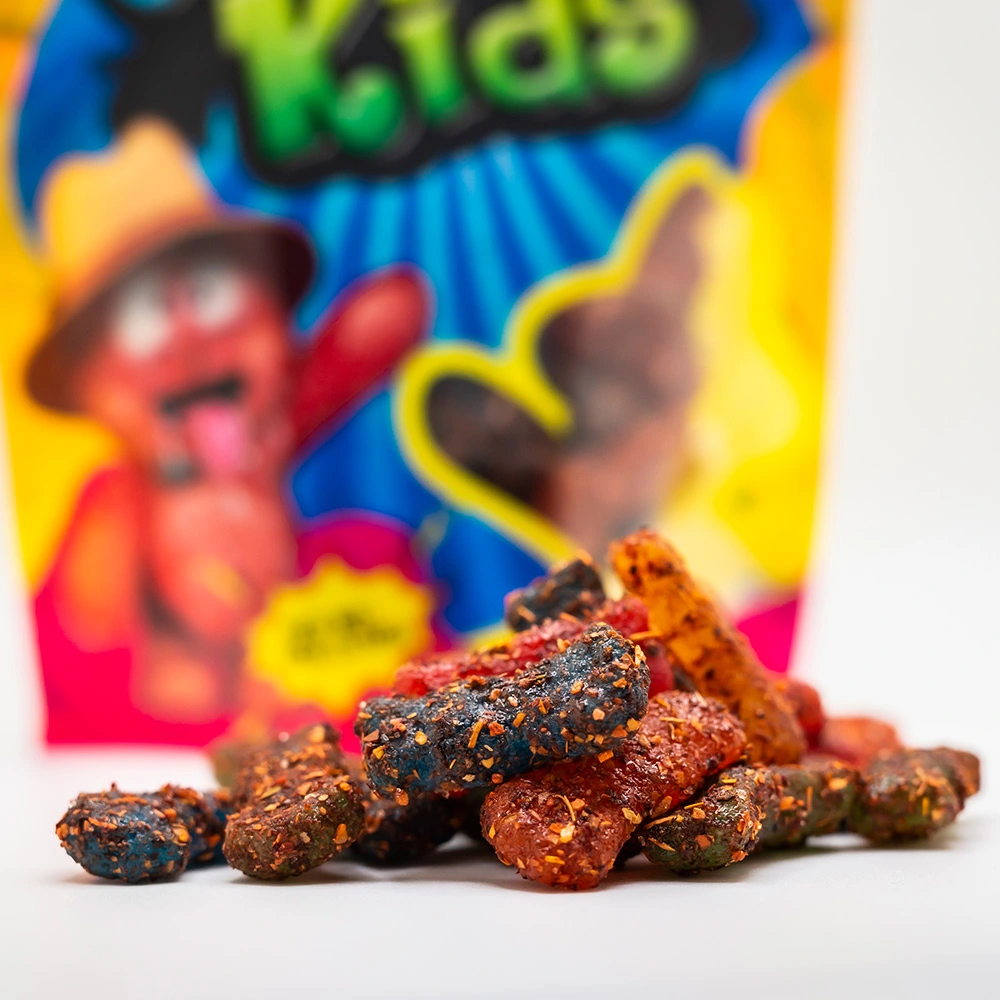 Chomis Gomis chamoy gummies offer Hispanic supermarkets the opportunity to provide their customers a taste of nostalgia and familiarity, connecting them to their heritage and evoking a sense of cultural pride. As demographics evolve and younger generations embrace their cultural roots, they love products like these.
Likewise, chamoy gummies have recently gained popularity among U.S. consumers for the combination of sweet, sour, and spicy notes that offer a delicious and addictive experience. With their vibrant flavor profile and chewy texture, Chomis Gomis has become a favorite treat for those seeking a balance of sweet and savory sensations.
Chomis Gomis in your store
For your store to receive Chomis Gomis products, please contact Christian Bugarin at 818-926-2796. Email, [email protected]