If you have a love for food, you can start your own food truck business.
Whether you know a talented cook or are one yourself, a food truck business is a great way to earn an income.
A food truck business has gained increasing popularity over the last decade mainly because it is a novel alternative to going to a cafe or a restaurant. The service is quick, efficient and delicious. It's perfect for grabbing tasty eats at affordable prices.
What's a Food Truck Business?
Think of a food truck like a restaurant on wheels. It's a truck equipped with a kitchen to cook and serve food. It differs from traditional eat-in places because of its mobility which allows food truck businesses to roam around different locations and cater to various demographics and hours.
Most food truck businesses bring significant annual revenues that can reach up to $500,000. If you have a great cook and offer great service and food, you can expect your revenue to reach higher amounts.
How to start a food truck business?
Before you think about the start-up cost and the menu you will plan to offer, make sure you cover the legalities first. As with any business, there are legal matters you will need to take care of before starting your business.
While it is easier and more affordable to run a food truck business than a restaurant, it does still require paperwork and legal requirement.
Here is a list of the most common permits and legal requirements you will need before starting to operate:
Employer Identification Number
Business License
Vehicle License
Seller's Permit
Food Handler's Permit
Health Department Permit
Fire Certificates
It's essential to meet all the regulatory requirements for your food truck. If you don't, you could be facing fines and closure. Licenses and permits vary by State. You can use the U.S. Small Business Administration website to find a specific permit or license in your area.
Food Truck Guide
Below we outlines the most important steps you need to consider when starting your food truck business:
1. Market research
Starting a food truck requires market research, which is an essential step to know the target audience you will be catering to and the locations (parking places) you will be working on.
The research will help you decide on the menu, prices, quantity of food, quality, packaging and more. Market research is especially essential in a food truck as it can identify sales opportunities and revenue streams, reduce business risks and help build your food truck business plan.
2. Look for available spaces
Aside from getting your permits and licenses, finding a good place to park and do business can be one of the most tedious parts of the job.

In some areas, you may expect to park without a problem, however, most high traffic locations may require a special permit from a lease to rent the spot you will be parked in, to providing toilet facilities.

Your first venture of this business model is to determine the places available for your truck. Over time, finding parking has become more complicated as more food trucks business pop up every day around your city. However, once you've figured the places you can work on, it will be smoother sailing.
When looking for a location, be mindful of the following:
Make sure the place has a high demand for food, specifically for the type of food you will be selling. For instance, if you are the owner of a food truck that sells ice creams and frozen treats, then you might want to be parked to the nearest public park or beach.

Be considerate of other food trucks, restaurants, and food business in the area. A restaurant may not be so fond of you if you set your business right outside their establishment.

There are strict rules and regulations on the streets of most cities. You could be paying high fines if you operate your business without abiding the laws.

Cities such as Los Angeles and New York City have caps on the number of food truck permits allowed due to the high volume of food truckers.
Once you've found the perfect place for your business, over time, you will see growing popularity in your name and brand as people will start to associate your food with your location.
Tips to make sure your food truck is parked in the right place:
Visit your county clerk and request a list where parking is not allowed
Be aware of lesser-known parking restrictions by contacting your local motor vehicle department
Use parking meter to park your truck (when allowed)
3. Choosing a concept
I don't see how you can start a food truck without coming up with a business plan and concept for your food business. You surely need to give it thought!
Here some popular ideas that have worked well:
Ethnic Fusion Concept
Organic / Health Food Concept
Gourmet Sandwiches
Pizza food truck
Regional Cuisine Concept
4. Choosing a name
Start your business by thinking of a catchy name, that is easy to remember and slides right off your tongue. Make sure your business name evokes quality food and that is descriptive of your food and concept so your customers will know immediately what to expect.

Your name will become your business' brand identity. It needs to be unique to avoid violating a trademark by other businesses.
5. Selecting a logo
In addition to the name, you need to create your logo. This is a critical part of your business' identity and it will dictate whether or not people step up to your truck or pass right by.
Your logo needs to stay in people's minds. Remember, your logo is the reflection of what your business is about. It's the first thing your customers will notice. Make sure it's done by a professional so it's memorable and it leaves a good impression with your customers

You could use different logo designers or freelancers to create a unique logo.
6. Food Truck Menu
Forget about the business side of things for a second and start thinking food. This is the most important element and the core of your business. What you offer (its quality and taste) will determine your success.
Your menu items should be in accordance with your research and the audience you are targeting with your business.

When designing the menu board and pamphlets, its layout and design should match your brand and theme. The items listed should create an impact on your customers.
Follow these tips when coming up with your food truck's menu board:
Avoid using the dollar sign. Customers will associate this with spending money and budgets.
If you change your menu frequently or sell out of items quickly, a chalkboard menu might be the choice for you.
Make it easy to read and understand
Include high-quality pictures of your dishes to help your customers make a decision
The text should be legible against the backdrop
Make food description short and simple (use adjectives)
Highlight your best sellers, new items and your specials
If you have some extra budget, use an interactive screen or Panflex to display your menu.
7. How Much Does It Cost to Start A Food Truck?
So as a startup food truck business, your biggest concern might be the up-front cost you will be facing and how to cover them. So how much does it cost to start a food truck?
A food truck business has some particular one-time costs that cover the food truck itself and equipment like fryers or freezers. There are other variable costs like fuel, inventory and more. You should expect to pay for the permit and licensing, food truck, insurance, inventory, equipment, fuel, , marketing, payroll and much more.
Check out this table, based on data from mobile-cuisine.com, that gives you a rough estimate of the costs involved in starting a food truck business: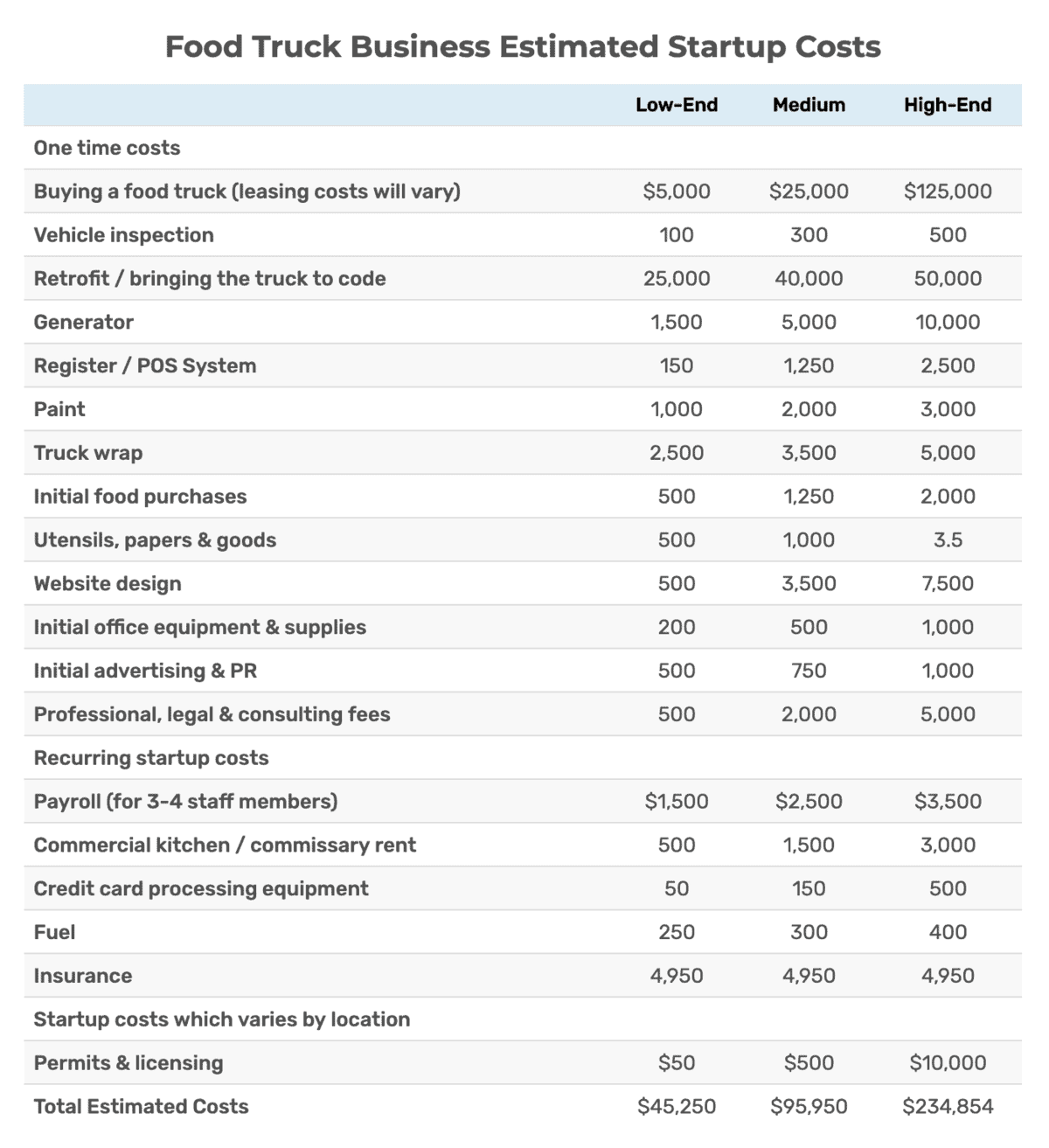 8. How can you cover the food truck costs?
How can you cover the cost of a food truck business? Discuss your business plan with potential investors, leasers, family, and friends. Make the decisions of whether you want to rent or own the equipment you will need. Proceed to calculate the costs and figure out a particular sum you need.
For those who don't have the capital to finance a food truck, their best bet may be to apply for a business loan. The loan amount will depend on your credit score and how much you want to borrow.
Here are some financing options available for aspiring food truck owners:
Crowdfunding. There are crowdfunding options like Kickstarter and other crowdfunding websites that allow you to introduce and pitch your business idea to investors using the internet.

Investors. It could be a friend or family member. These people may be interested in your business but you need to convince them to fund your venture by pitching them your concept and explaining your business plan and how they can get an ROI should decide to invest in your idea.
Leasing. You can lease a used truck with basic equipment. Instead of buying a used or brand new truck, you pay a monthly fee to drive the truck. This will reduce your up-front cost dramatically.
Business Loan or Microloan. Most banks will offer this type of financing. Talk to your bank to see what they can do for you.
9. Marketing
The last step you need to do in starting a food truck is to have a marketing plan. The food truck itself is a rolling advertisement on wheels. However, if you want to create brand awareness and increase the likelihood that more people visit your truck, important channels for food trucks include word of mouth, influencer marketing, and social media marketing.

Start by having a social media presence, where people can follow and look you up easily. Social media is a great tool to communicate with your followers to let them know of lunch specials, attract new customers, post pictures of your food, even for selling or taking orders.
Make sure your customers can find you on Google when they look up the term "food trucks nearby". Be sure to have a website and have your local SEO game on point.

Use Instagram influencers and local celebrities endorsements to increase sales and brand awareness. Invite over influencers for a free meal and in exchange have them post a picture on their social media channels recommending your products.

You can also run giveaways on social media to get people to your truck. Use all the marketing techniques that best fit your niche and you'll start seeing the results.
Last but not least, join annual food festivals and events. You will be exposed to a newer audience and will help you network with individuals in your industry and possibly help you acquire new ideas and partnerships for your business.
Are you ready to start a food truck?
If you are looking at how to start your food truck, then there you have it! Now you have a fully functional food truck, tell us in the comments below what kind of food are you selling!

Add a unique selling point to your food truck that attracts even more consumers in addition to having mouthwatering food. That's the recipe to a successful food truck business.