Empanadillas (or pastelillo) are made by many Spanish speaking countries and it's a standard food in any Puerto Rican household.
If you have a love for empanadillas, there is nothing better than Empanadillas Titan. They are filled with the traditional flavor and ingredients Puerto Rican love. They are crunchy and super tasty.
Don't go anywhere as we will show you why Titan Products of Puerto Rico's products are an excellent choice when it comes to enjoying a delicious empanada and other traditional Puerto Rican foods.
You will also learn why this is a great product to sell to your customers to increase your sales and profits.
See Titan Products's contact information below.
Who is Titan Products of Puerto Rico?
Titan Products Puerto Rico is a distributor of Hispanic products in the U.S. This company was launched to provide local industries the opportunity to bring their products to Central Florida.
Today, Titan has managed to become the main distributor of Puerto Rican food and beverage products in Florida reaching the main Hispanic supermarkets and other chain stores.
Why buy Titan Products?
Aside from the great taste in their products, the rigorousness and quality standards in the production of their goods have led the company to become an important entity in the local market for its performance and good service. That is why demand and customer fidelity keep growing.
Their capabilities of dry storage, refrigerated and frozen and a fleet of modern vehicles ensure proper distribution of the products they represent.
Product list
Let's get to know a few of their products including the delicious empanadillas.
Empanadillas
These Titan empanadillas, or beef turnovers, are discs of pastry packed with meat. Ready to cook. So good. They also come stuffed with chicken.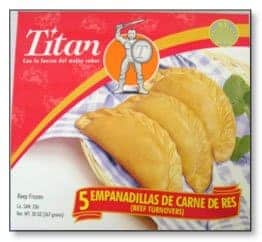 Appetizer sampler
A mix of tacos, empanadillas, sorullitos all in one box.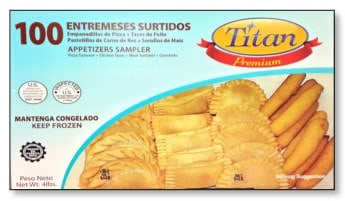 Tacos
Titan tacos come in flavors such as lasaña, shrimp, crab, and seafood. Bite-size snacks! Ready to cook, they are seasoned in a crispy corn tortilla stuffed with the ingredients above.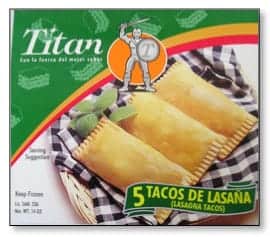 Sorullitos
Sorullitos de maiz (sorullos) are Puerto Rican corn fritters that are crispy on the outside, but soft and buttery inside.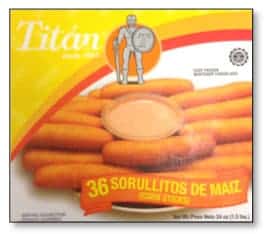 There are many more products under the Titan brand. For the complete portfolio, visit their website with the link below.
CONTACT INFORMATION
If you want to sell or distribute Titan Empanadillas or Titan products in your store, contact us:
Contact: Rafael Julia
Phone: +1 (407) 516-1963
Email: [email protected]
Website: www.titanproductspr.com
Follow them on Facebook and Instagram
EXCLUSIVE PROMOTIONS FOR YOUR STORE!
---
To find out about other "Hot Products" in Abasto, visit our Product Showcase section.