The Kroger Co. announced the launch of Kroger® Mercado, a Hispanic-inspired brand joining the retailer's Our Brands' roster of products exclusively sold at Kroger Family of Stores.
Kroger® Mercado's expansive assortment now offers more than 50 products, including fresh meat, beverages, snacks, sides, desserts, and more.
"Kroger® Mercado embraces Hispanic culinary heritage with the quality and innovation our customers have come to know and expect from Our Brands," said Juan De Paoli, Vice President, Our Brands for Kroger. "We are thrilled to offer authentic products that are accessible and exceptional in quality, creating a brand that fills a void for some customers and creates a cultural experience for others. Kroger® Mercado is Fresh for Everyone."
Kroger® Mercado celebrates the tradition of Latin American foods with authentically inspired products. The line includes various items, including core Hispanic ingredients needed to make a favorite treasured recipe to deliciously sweet and refreshing beverages.
Related Article: Kroger Pledges to Increase Shelf Space For Local Products
Kroger® Mercado products
Queso Fresco and Queso Panela
Oaxaca Cheese Ball
Ready to Cook Flour Tortillas (in the refrigerated section)
Pre-Cooked White Corn Meal (the authentic core ingredient to make traditional arepas)
Chorizo Ground Sausage
Thin Sliced Beef Strip Steak
Pork Stew Meat
Chicharrones en Tiras Pork Cracklin Strips—Original and Red Pepper
Agua Fresca—Tropical Mango and Watermelon Guava
Sodas—Crisp Apple, Watermelon, Tropical Pineapple Guava and Mango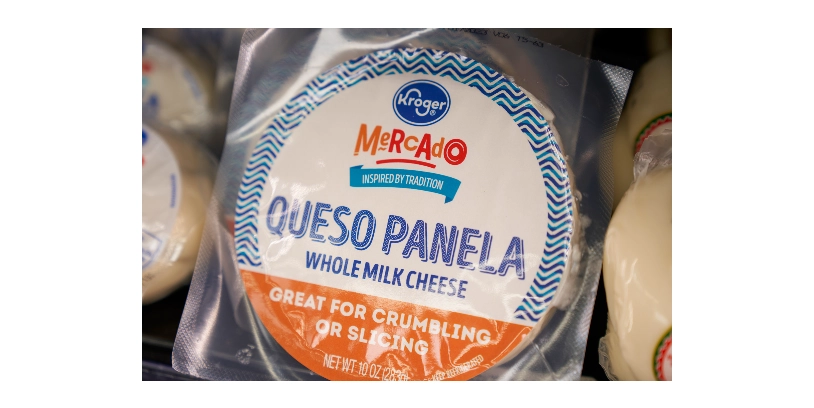 Kroger's Our Brands includes more than 13,000 quality guaranteed items that families know they can trust from customers' favorite brands such as Private Selection®, Simple Truth®, Murray's Cheese, Home Chef®, Smart Way™, Vitacost®, and more.
Kroger® Mercado products and Kroger's Our Brands items can be purchased shopping in-store, through Kroger Pickup or delivered using Boost by Kroger Plus. This delivery membership can save customers up to $1,000 per year on fuel and grocery delivery. Eligible customers can now try the Boost membership with a free 30-day trial and subscribe monthly for as little as $7.99 a month.