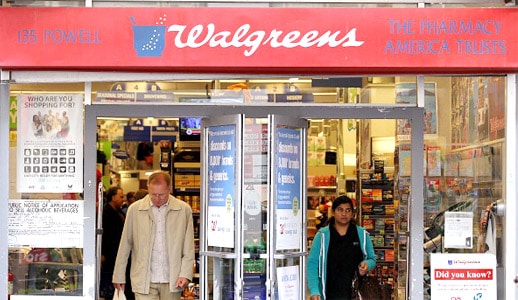 The largest pharmacy chain in the United States, Walgreens announced that it has reached an agreement to acquire the 55% it did not own from the British pharmaceutical and cosmetic group Alliance Boots for about 15,260 million dollars.
Walgreens will pay 5.290 billion dollars in cash and approximately 144.3 million shares, taking into account the closing price of the shares for Walgreens on Tuesday's session is equivalent to 9,974,000 dollars.
Consequently, Walgreens exercised its option to acquire the share capital of Alliance Boots not owned before the date specified in the original agreement, which contemplated that this second phase of the operation would take place between February and August 2015.
The largest pharmacy chain in the United States reached an agreement in June 2012 to acquire a 45% stake in Alliance Boots for 6,700 million dollars, through a combination of cash and shares, and promised to buy the remaining 55% in three years.
Walgreens said in a statement that the headquarters of the Alliance Boots Walgreens group will be in Chicago (Illinois). Commercial operations will continue as Alliance Boots from Nottingham, UK.
The transaction, which is subject to approval by shareholders and regulators and is expected to close in the first quarter of 2014, will combine the two companies to create a new entity that will have over 11,000 stores in 12 countries and be the largest global pharmaceutical wholesale and distribution network
Prior to the announcement of the acquisition, Walgreens had indicated that it will remain in the United States rather than move abroad in order to save taxes, which it had generated much controversy.
The company said it is not in the best long-term interests of its shareholders to move outside the United States.
The chain had considered the possibility of using a tax maneuver — called an "inversion" to take advantage of lower tax rate in the UK.
President Barack Obama and members of Congress denounced this strategy as unpatriotic trick to evade taxes in the United States.
This type of tax maneuver is when an American company joins a foreign company in a country with a lower tax rate, allowing the company to pay fewer taxes.