In the abundant selection of fruits that supermarkets have at their disposal, pears are the secret weapon they use to capture their customers. They sell quickly, are available year-round, have more than ten varieties to suit all tastes, and have significant health benefits. Latino consumers buy them 34% more than the average U.S. shopper.
About 84% of the pears harvested and marketed in the United States are grown in Washington and Oregon. California produces about 15%, and there is a small production on the east coast in New York and Pennsylvania.
The organization entrusted with representing all fresh pear growers in the northwestern states of Washington and Oregon, where some 750 million pounds of pears are harvested, is the Pear Bureau Northwest.
This non-profit trade association, founded in 1931, promotes the great benefits of pears and helps boost consumption throughout the country and abroad.
For the Pear Bureau, the Latino consumer is one of the most important groups for marketing the fruit. According to the trade association, fresh pears are very popular in Latino households, purchased and consumed 34% more than the average U.S. buyer. Their popularity crosses borders, with Mexico being the largest export market.
Likewise, Latino pear consumers are young: seventy-six percent are Millennial and Gen X. These two groups of Latino consumers see pears as a healthy snack in their daily diet. They are an excellent source of fiber and contain vitamin C and potassium. Pears are also a low glycemic index food.
The Pear Bureau has seen great potential for growth in pear consumption among U.S. Latinos, so they have a wide variety of resources and programs available at no cost to Latino supermarkets to help them improve their pear sales.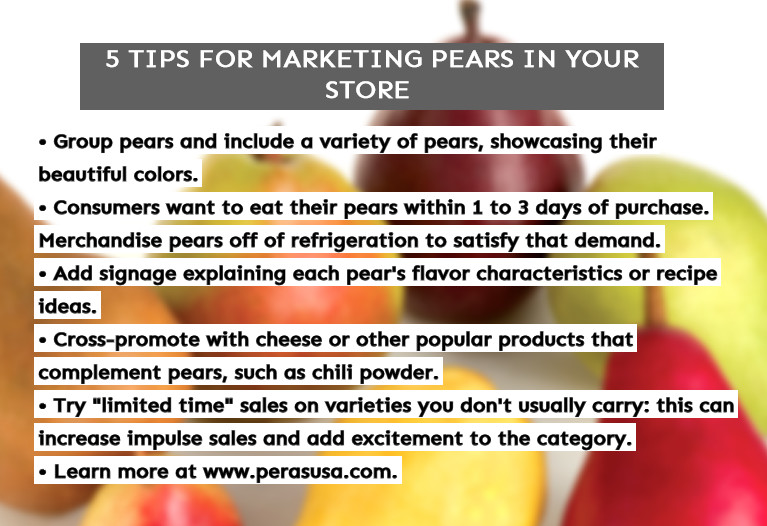 The trade association offers incentives for putting pears on advertising, support for sales, and display contests. They can provide high graphic display bins for merchandising, signage, and consumer giveaways.
"We can also provide valuable research and data about the pear category that can help retailers increase pear sales. We can supply stunning photography, recipes, and other content to use on your website, social media, or other communications to your customers," said Kevin Moffitt, president and CEO of Pear Bureau Northwest.
"Pears are a versatile and popular fruit but not always on consumer's shopping lists. There are a lot of opportunities to increase sales of sweet, juicy, and healthy pears. Contact the Pear Bureau to learn how we can help build your pear category. We can provide promotion programs and materials at no cost to you," Moffitt noted.