As the holiday season approaches, business leaders are facing a variety of challenges. According to a Multimedia Plus survey, inflation, staffing and wages, loss prevention, and safety are the top concerns and priorities of the retail and hospitality industries as they prepare for one of the busiest times of the year.
Multimedia Plus, a training and communications technology company, surveyed more than 100 senior executives in the retail and restaurant industry between October 2 and October 12, 2023.
Major Concerns for the Holiday Season
As the holiday season approaches, business leaders are facing a variety of challenges. According to the survey results, the top concerns for retailers and hospitality professionals are:
Inflation Impact: Over one-third of respondents (35.14%) expressed concerns about the impact of inflation on their businesses.
Staffing and Wage Issues: Nearly 27.03% of participants indicated that staffing and wage issues are their primary concern, highlighting the ongoing importance of having a skilled and well-compensated workforce.
Loss Prevention and Safety Issues: Approximately 14.41% of respondents are focused on loss prevention and safety concerns, reflecting the need to ensure the security of both employees and customers during the busy holiday season.
"As the holiday season approaches, organizations are navigating various challenges, from staffing to training, while keeping a keen eye on economic factors. The survey underscores the importance of well-trained staff, even in challenging times, and the commitment to enhancing the customer experience," said David Harouche, CEO & CTO of Multimedia Plus.
Related Article: Retailers Welcome Lower Debit Card Swipe Fees, But it's Insufficient
Challenges in Staffing Up for the Holidays
When asked about the challenges they face in staffing up for the holiday season, the following issues were highlighted:
Recruiting: A significant 46.46% of respondents cited recruiting as their primary challenge in hiring seasonal associates.
Onboarding New Associates: About 21.21% of participants identified onboarding new associates as a significant challenge, emphasizing the need for efficient training and integration processes.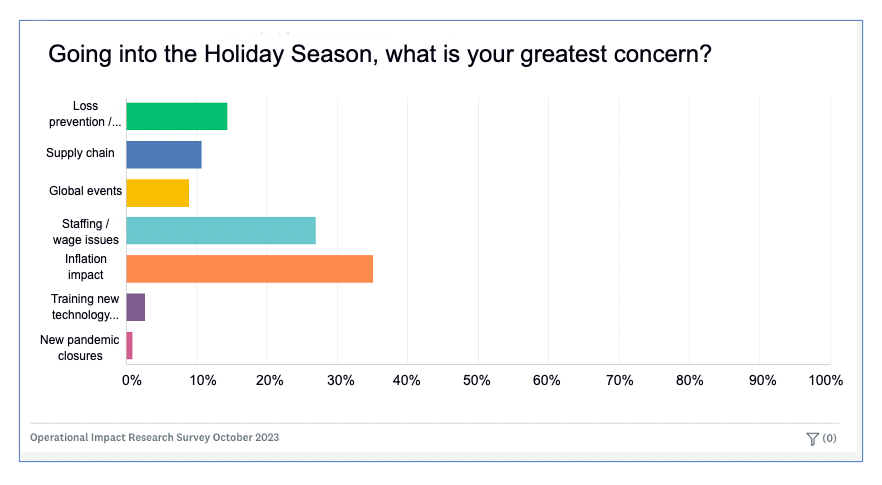 New Initiatives Planned for Q4
Looking ahead to the fourth quarter, business leaders are planning various initiatives to navigate the holiday season effectively. These initiatives include:
New Employee Training & Communications: Nearly 47.56% of respondents are planning new initiatives focused on training and communications to ensure that their teams are well-prepared for the holiday rush.
Task Management: Approximately 28.05% of respondents intend to implement task management solutions to streamline operations.
Product Knowledge: Highlighting the importance of product knowledge, approximately 18.75% of participants are planning initiatives to enhance their teams' understanding of their products.
Training Priorities for the Holiday Season and Beyond
Leadership development and operations training remain top priorities for retailers and hospitality professionals during the holiday season. These priorities are consistent with their long-term goals as well. The survey revealed the following training priorities:
Operations Training: A substantial 33.75% of respondents highlighted operations training as their top priority for the holiday season.
Leadership Development: Approximately 15.00% of participants are focused on leadership development initiatives, emphasizing the importance of effective leadership in delivering exceptional customer experiences.
Looking ahead to 2024, leadership development and operations training remain essential, with 27.27% of respondents prioritizing operations training, 25.97% emphasizing leadership development, and 19.48% citing product knowledge as their highest priority.