Mayra Ornelas and her sister Ruby Ramirez are young; neither are yet 30 years old; they have a great entrepreneurial spirit and love teamwork. And definitely dare to take on big challenges, as they have demonstrated by becoming owners of an independent Grocery Outlet supermarket in La Quinta, California.
The nearly 20,000-square-foot renovated store, which occupied the former site of a Ralphs supermarket in the Village Shopping Center, opened its doors on November 4.
Mayra and Ruby talked about their experience in the supermarket industry in a telephone interview with Abasto magazine. What are their goals in running the grocery store, and how could they fulfill their dream of becoming owners of a business with which they will support their close family members financially.
Despite the long hours, the sisters enjoy every minute they spend with their 20 employees and interacting with their customers. They express themselves as experienced managers who know the business inside out. Listening to them talk about their work running the store, it is hard to imagine that Mayra is 27 years old and Ruby is 22 years old.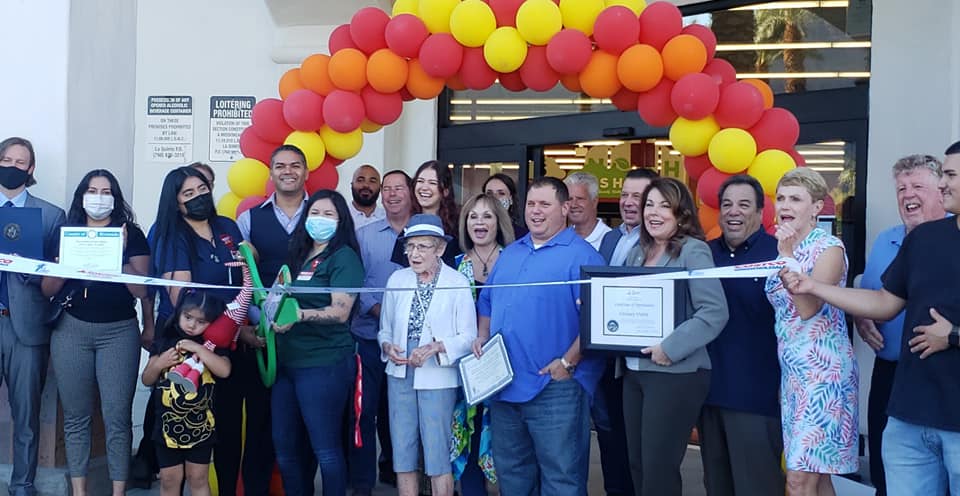 Seven years ago, Mayra started working as a cashier at a Grocery Outlet store in East Hemet, California.
"I worked my way up the ladder and, little by little, I met people and learned about the different opportunities Grocery Outlet had to offer," said Mayra.
After holding various positions at the store, she moved to a grocery store in Rialto, where she took on the fresh produce department manager position.
"I didn't think about owning a business until I was at Rialto, where they gave me guidance," Mayra explained. That motivated her to enter Grocery Outlet's AOT (Aspiring Operator Trainee) program.
The grocery chain began as a family business when it was founded in 1946 and has since added more than 400 stores to the company's portfolio across the West Coast. The business model works with independent operators that are business entities owned by teams of spouses, siblings, and friends who raise their families and run their businesses together.
Photo Gallery of La Quinta Grocery Outlet Store
In keeping with the supermarket company's philosophy, Mayra thought of her sister Ruby when she saw a great opportunity. "I decided to bring my sister in, I thought, why not bring in more family. It was a great opportunity for me, and it would be a great opportunity for her too," Mayra said.
At the time, Ruby was working at a warehouse and had previously been interning as a dental assistant.
"I always knew I wanted to be successful in some way because when we were growing up, we didn't have much, and I knew I wanted to be able to provide for my family. So I was waiting for an opportunity, whether it was as a dental assistant or to get a higher position at the warehouse," Ruby said.
Related Article: What's Next for Category Management Analytics?
When Mayra approached her sister about being her partner as owner-operators of a grocery store, Ruby initially didn't take it that seriously. However, she did start working at one of the Grocery Outlet stores in Beaumont.
"Within the first week I started working there, I genuinely fell in love because it was the holiday season, and we were trying to fill a truck for Thanksgiving for a community pantry. And being able to connect with the clients and tell them about this community event made me feel really good, and I thought, this is something I want to be a part of," Ruby said.
Mayra and Ruby are second-generation Hispanics in their U.S.-born family. They say their grandmother is from Michoacán, Mexico. She is an independent, hardworking woman who raised her children and then helped raise her granddaughters, passing on to these new generations their Hispanic culture, the Spanish language, the value of hard work, and a united family.
The sisters' pride in their Hispanic culture has carried over to their store, where they have an aisle offering Hispanic products. They are also mindful of Hispanic holiday celebrations, such as Dia de Muertos.
"We want to make sure we incorporate all those holidays we celebrated when we were growing up, but we also want to bring in our family traditions to interact with our work teams," Mayra said.
The sisters highlighted the support they received from Grocery Outlet to operate their store to achieve their goals successfully.
"They train you from how to work on the front end to the analytics behind the business. The company gives you all the training and what you need to know to be successful, and I think that's amazing because I didn't have any business experience with me. I went to school and college to study psychology, and both didn't convince me as Grocery Outlet did," Mayra said.
The philosophy they have imposed in their store is to work as a team helping each other, knowing every detail of the supermarket's operation, offering excellent customer service, seeking to help the community.
The supermarket operates every day from 7 am to 9 pm, so the two sisters are fully dedicated to their business growth. They have the great advantage of being young, full of energy, with a philosophy that hard work always pays off.
Mayra and Ruby are possibly two of the youngest Hispanic women supermarket owners in the United States.