Superior Grocers announced the grand opening celebration of its new store in Victorville, California. The event, held on November 15th, signifies an important milestone for the grocery chain as the company becomes a valued member of the Victorville community.
Ahead of the grand opening, Superior Grocers initiated a soft opening on November 1st, allowing the company to acclimate to the local community, collect valuable feedback, and begin fostering relationships with the residents of Victorville.
"Today is a momentous day for Superior Grocers as we celebrate the grand opening of our Victorville store. We are truly honored to be welcomed into this wonderful community. Our team has worked diligently to ensure that Superior Grocers becomes not just a grocery store but a trusted partner in the daily lives of Victorville residents," said Richard Wardwell, President and CEO of Superior Grocers.
"We are excited to bring our commitment to quality, variety, and community engagement to Victorville, and we look forward to building lasting relationships with our new neighbors," Wardwell added.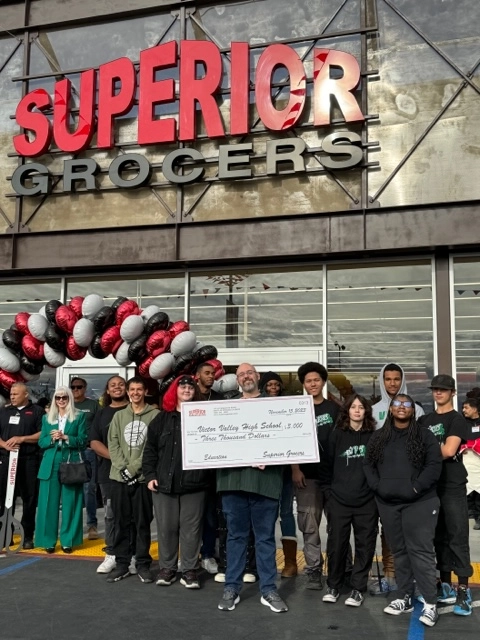 Community Commitment:
Superior Grocers donated to Victor Valley High School during the grand opening event.
Distinguished Guests:
The grand opening ceremony was attended by Victorville's Mayor, Debra Jones, and Councilmember, Bob Harriman, who shared in the excitement of welcoming Superior Grocers to the city. The support of local leadership underscores the company's dedication to becoming an integral part of the Victorville community.
Philanthropic Outreach:
In addition to supporting education, Superior Grocers demonstrated its commitment to social responsibility by making a charitable contribution to the Adrian Emerald Foundations. This organization plays a crucial role in bettering the lives of individuals in need, aligning with Superior Grocers' mission to give back to the communities it serves.
Related Article: What Motivates Consumers to Buy More Private-Label Products?
Store Highlights:
Fresh Produce Paradise: The expansive produce section showcases a wide variety of locally sourced and fresh produce. From vibrant fruits to crisp vegetables, Superior Grocers is committed to providing Victorville residents with the finest and freshest options.
Bakery Bliss: The bakery is a haven for those with a sweet tooth. From freshly baked bread to irresistible pastries, skilled bakers ensure every item is a treat for the senses.
Grocery Goodness: Superior Grocers is a one-stop shop for grocery needs. The aisles are stocked with diverse products, from pantry staples to specialty items. Quality and variety are at the heart of our grocery department.
Dedicated Meat and Seafood: The meat and seafood department is committed to delivering quality and freshness. From premium cuts to a wide selection of seafood, Superior Grocers ensures that customers can enjoy top-notch options for every culinary occasion.
Tortilleria: Made fresh in-store with care, their tortillas add a touch of tradition to every meal.
Hot Foods: Restaurant quality foods and a wide menu, giving all the choices to eat something different throughout the week.
Superior Grocers is one of Southern California's largest independently owned grocery chains. Founded in 1981, it operates 72 Southern California and Central Valley stores.