The Peruvian delegation, formed by 80 companies in the fruit and vegetable production sector, successfully closed its participation in the PMA Fresh Summit in New Orleans, LA with a projection in contracts of more than $ 260 million, according to the representatives of the Commission for the Promotion of Perú for Exports and Tourism (PromPerú).
Previously, the Peruvian delegation was present at trade fairs in New York, Hong Kong, Sao Paulo and Berlin. PMA Fresh Summit was the last activity of Super Foods Perú in 2017 and the beginning of new actions, this time aimed at final consumers.
Super Foods Perú is a brand created to promote products that have high nutritional values ​​and various qualities that make them beneficial for health. Their demand has been increasing worldwide due to the growing concern of consumers about their care and personal well-being. Thanks to its enormous biodiversity, Perú is considered a 'Super Foods Territory'.
Perú presented blueberries, avocados, tangerines, mangoes, asparagus, pomegranates and grapes in a natural way. Attendees also tasted culinary creations, whose main ingredients were the presented ingredients: mango pisco sour and blueberry mousse with roasted quinoa. They also served ceviche, causa, anticuchos, etc.
Related: Hispanic Attendance Doubles at PMA's 2017 Fresh Summit Expo
"This fair is one of the most important platforms for us, because the North American market is one of the most important for our export proposal. This time we came with fresh products in different presentations. In addition to having established more than 700 business contacts, a special approach to the final consumer was observed. We are very pleased to have exceeded the projections of $250 million in sales with the products we present at the fair. Our challenge now is to continue identifying new business opportunities and distribution channels in the North American market, "explained Víctor Sarabia, spokesperson and director of the Agribusiness Department of PromPerú.
Fresh pomegranates from Perú seek to conquer the U.S. market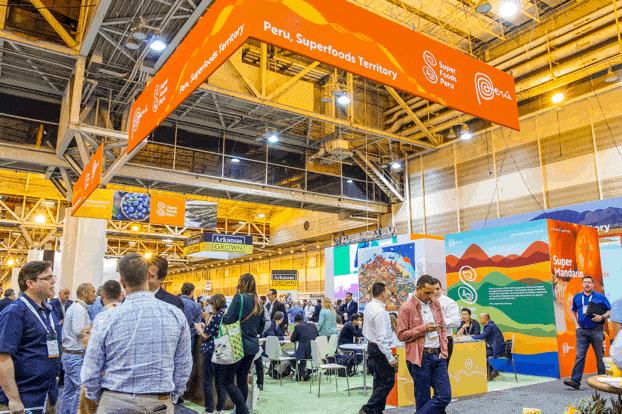 One of the most significant announcements during the PMA fair was presented by Rodolfo Pacheco, president of ProGranada, in reference to the first export campaign of whole fresh pomegranates to the United States, since only arils were exported until last year.
This represents an excellent opportunity for the production of pomegranate that expects a dramatic growth in the country. Pomegranates have an extraordinary nutritional value, (add comma) rich in potassium, magnesium, vitamins A, C and antioxidants. They are produced in abundance in the territories of La Libertad, Lima and Ica.
Representatives of the different groups of Super Foods received buyers, investors and different companies from different countries such as China, South Korea, Taiwan, Colombia, Mexico, Argentina, United Kingdom and the United States in the pavilion of more than 100 square meters.
Among the products presented at the fair, there was great demand for tangerines and grapes from Perú. There was also a high demand for avocados (avocados). Almost 40% of the fresh products exported to the United States are traded in the PMA Fresh Summit. These exports represent 45% of the Peruvian exports of products to the world.