With Nasdaq's Opening Bell Ceremony on Tuesday, March 29, PepsiCo leaders and Latina entrepreneurs celebrated the launch of Jefa-Owned, a national visibility campaign powered by the Juntos Crecemos platform to encourage more Latina-owned food and beverage small businesses to apply for the personalized business building support services.
Also unveiled was the first-ever Jefa-Owned neon sign designed by PepsiCo and limited-edition merchandise honoring businesses owned by a Latina boss designed in collaboration with Hija de tu Madre, a lifestyle brand founded by Latina entrepreneur Patty Delgado, who also established March 31 as National Jefa Day.
According to the 2020 State of Latino Entrepreneurship Report, Hispanic women represent 40% of all Latino-owned businesses (male and female), with 41% of Latina business owners reporting "large negative impacts" due to the pandemic. In addition, twice as many Latina-led companies experience closure compared to Latino-led (male only) businesses.
In response to the difficulties Hispanic businesses face due to the pandemic, PepsiCo launched the multi-faceted Juntos Crecemos platform in August 2021, aimed at strengthening Hispanic-owned businesses, specifically restaurants, bodegas, and carnicerías. The platform is part of PepsiCo's Racial Equality Journey Hispanic Initiative.
Nasdaq Opening Bell Celebration Photo Gallery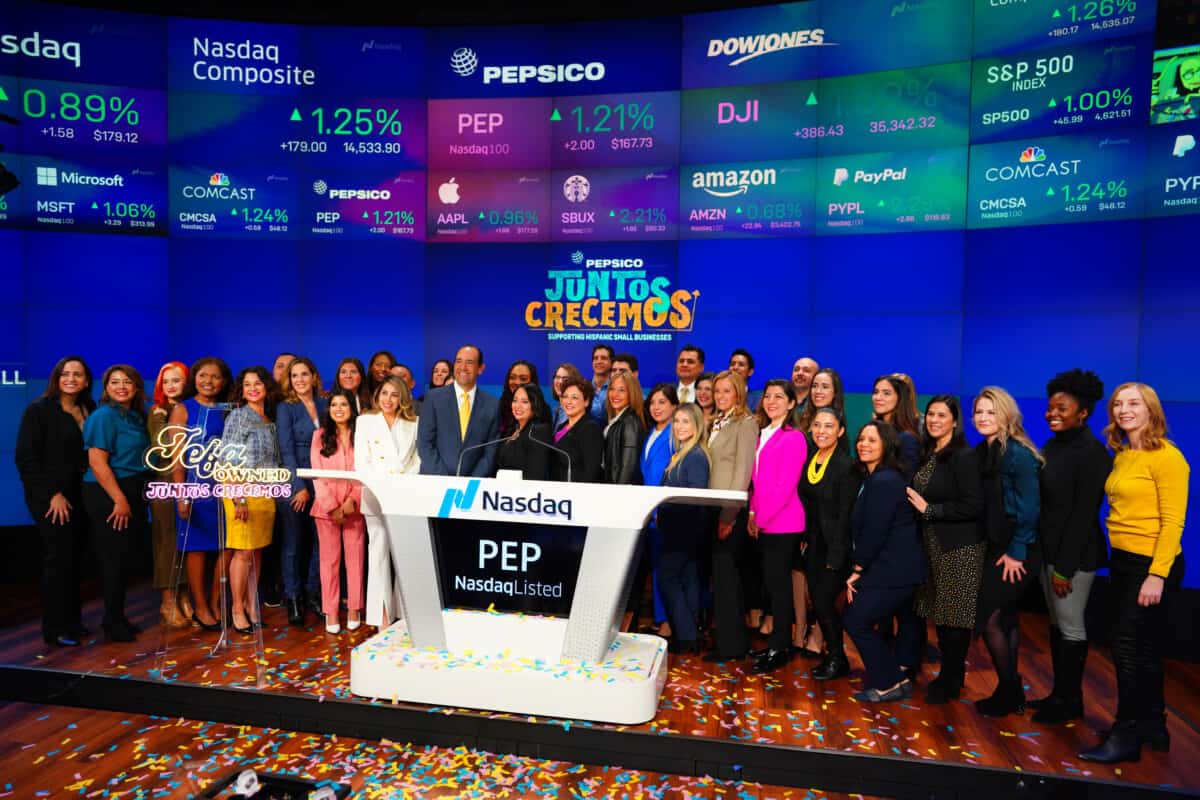 To learn more about the new campaign and the results of the Juntos Crecemos initiative, Abasto Media interviewed Antonio Escalona, Senior Vice President & General Manager, Hispanic Business Unit, PepsiCo Foods North America.
Abasto Media: What is this new PepsiCo campaign about, which also coincides with celebrating Women's History Month?
Antonio Escalona: In March, we are launching this national campaign, Jefa-Owned, to give visibility to those businesses owned by Latina women, who built those businesses from scratch in many cases. We want to provide them with personalized support that consists of helping them to digitize their business; it is a program we call the Hispanic Digital & Delivery Program.
AM: How can Latina business owners participate in this program?
AE: Business owners must go to PepsiCo's Juntos Crecemos website and register. The main requirement is that the business is a woman-owned food and beverage store, bodega, carnicería, or restaurant and that they can commit to a program that lasts an average of eight weeks of training and coaching.
The program offers consultations with experts on delivery logistics, technology, marketing, and search engine optimization. These are designed to help businesses create a viable digital presence to access more customers.
The first forty Hispanic businesswomen to complete the eight-week Hispanic Digital & Delivery Program will receive this neon Jefa-Owned sign, created to commemorate Women's History Month and the launch of this program.
Related Article: PepsiCo's New Juntos Crecemos Platform to Help Hispanic Small Businesses Grow
AM: In addition to the training program for Latina business owners, will PepsiCo also have limited edition Jefa-Owned merchandise available for purchase at the Hija de tu Madre online store?
AE: We came to New York to participate in the Nasdaq Opening Bell Ceremony, where PepsiCo is listed, and we wanted to send a very important message, inviting five women entrepreneurs who are part of the program and we also invited Patty Delgado, who has this business called Hija de Tu Madre, which precisely reflects that audacity, that courage, everything that being an entrepreneur implies, and here is PepsiCo supporting her.
To buy the merchandise that supports the Jefa-Owned businesses, you can visit the Hija de Tu Madre website, where you will find T-shirts, bags, and notebooks, among other items.
AM: What progress has the Juntos Crecemos platform made since its launch almost eight months ago?
AE: We made a multi-year commitment of at least five years that seeks to invest resources in different ways from PepsiCo and the PepsiCo Foundation. We've already started with 150 businesses in 13 different cities supporting them through a program called the PepsiCo Foundation's IMPACTO Hispanic Business Accelerator, which has provided $2 million in grants and business mentoring.
In 2023, we will announce the next group of businesses we will support, and the idea is to assist at least 500 enterprises over these five years.
Through the Hispanic Digital & Delivery Program for Hispanic businesses, 130 companies have participated to date, and the idea is to include many, many more. In different ways, we are looking to provide direct support to the businesses, but above all, visibility in the market so that the consumer recognizes the impact of that small restaurant or bodega.
Business owners interested in learning more about PepsiCo Juntos Crecemos can visit: https://pepsicojuntoscrecemos.com