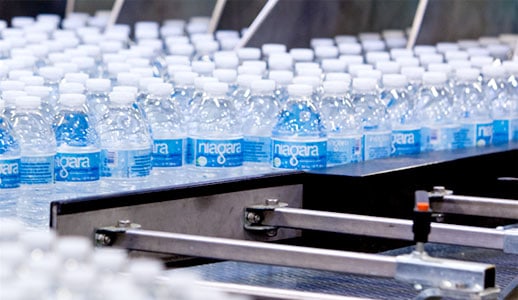 Niagara Bottling, one of the largest water bottlers in the United States, announced that it is recalling batches of water bottles that have been infected with the E. Coli bacteria.
The recall affected 14 brands of mineral water produced by the company in two Pennsylvania plants after the presence of E. coli was discovered in one of its contracted springs.
So far the company has not received complaints from their customers, but continues to withdraw part of their product on the market, as the contaminated water bottles were sold before the contamination was detected.
The affected brands are 7-Eleven, Acadia, Acme, Big Y, Best Yet, Morning Fresh, Niagara, Nature's Place, Pricerite, Shaw's, Shoprite, Superchill, Western Beef Blue and Wegman's.
The affected bottles, which come from the Hamburg and Allentown plants in Pennsylvania, have a code starting with an 'F' or an 'A'. The numbers following this letter indicate the production line number, followed by the production date number starting with the day, month and year year.
So far there have been no reports of bottled water related diseases. The company said its tests have "confirmed that there have been no problems or contamination by E. coli in products or spring water delivered to the bottling plant."
The company said its disinfection process would have kept the water out of the contamination.
"Despite this, once we were informed of the possible presence of E. coli, we immediately closed our operations, disinfected our bottling lines and initiated a voluntary recall as a precaution and as an interest in consumer safety" the company said in a statement.
It is recommended that consumers not to drink the affected water without boiling it first to kill bacteria. The company suggests using water from other brands. Niagara Bottling has stopped using this source because the operator did not notify it promptly.