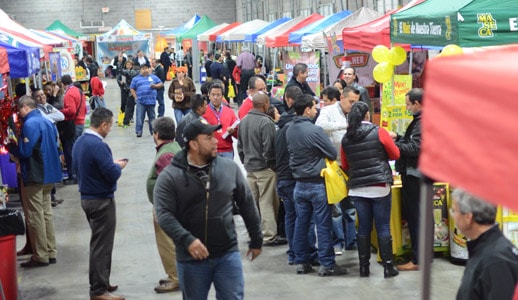 La Tortilleria Inc, one of the largest food distributors in the East coast held it's annual Fall Trade Show last Thursday, November 13th. The show once again was a record breaking success which brought together manufacturers, producers, brokers and hundreds of grocery stores owners and buyers.
The show which aims to provide a solid platform for the retail chain to connect suppliers and buyers was very successful. One of the goals for this fall event was to offer educational events, including seminars and topic-specific sessions, with exhibitions that showcase the latest products in the industry, including sales techniques to help the grocery store owner.
Every year La Tortilleria offers two trade-shows, one in the fall and the other in summer. One of the common elements for both shows is the customer appreciation gala dinner the night before.
This year, the gala dinner was held on Wednesday 12th which started at 6:00PM and ended around 10:00PM. This pre-show event is a great preamble for the manufacturers and producers to meet some of the high volume buyers in the industry in a relax atmosphere, where networking and camaraderie are the main components of the night.
This year's show was sponsored by the following companies: ACH Food, AlEn USA, Arizona Canning, Armour, Azteca Milling, Barcel , C.H. Guenther, CBI, Coca-Cola, Dos Amigos, Dr Pepper Snapple, Pepsico/Frito Lay, Pepsico/Gamesa, Hershey, Hormel, Hulco, In Zone, Interex, Juanita's Foods, Klass Time, La Moderna, La Morena, Malher, Manzela USA, Marquez Brothers, Maruchan, Mazuma, MDI, Mexilink, Minsa, Mojave, Nestle, Novamex, Otis, Palacios, Ricky Joy, Royal Oak, San Marcos, Tampico, Trenton Trading, Tuty USA, Unilever, Vasinee, Verde Valle, Vilore, Walker Foods and Zucrum Foods.
Abasto Magazine was present during the event and our photographer captured the intensity of the show in a series of images that can be seen at our Facebook page
For more information about La Tortilleria, please e-mail: [email protected] or call 866-773-0010