During its half-century of existence, the Mexican dairy company Alpura has focused on developing its business in the Valley of Mexico. Today, Grupo Alpura is shifting its strategic vision to grow outside the country's center, expanding not only to other Mexican states but also to its neighbor to the north, the United States, with excellent growth potential.
At the forefront of this development plan is Alpura's CEO, François Bouyra, a Frenchman who has lived in Mexico for 30 years and has extensive experience in management positions in the consumer industry.
Bouyra took over the leadership of Alpura Group in mid-2021 when the Covid pandemic was still causing severe problems, and the supply chain was experiencing costly disruptions. Amid these challenges, the dairy company's new CEO began charting a path for the next 50 years for Alpura to grow in territorial dominance and in dairy product innovation to meet the changing needs of a consumer hungry for new experiences.
Alpura is a company that has 10,000 employees, 113 dairy farms in different regions of Mexico, and around 138,000 head of cattle. Although 50 years ago, the company began producing exclusively fresh milk, it now has a complete range of dairy and plant-based products.
Abasto Magazine spoke with Bouyra during the recent Expo ANAM trade show held in Puebla, Mexico, to learn about his experience leading Alpura over the past 12 months.
Speaking perfect Spanish, the first thing Bouyra reveals is his great love for Mexico and its people. Although he is still a French citizen, he says that his heart is Mexican and that the most significant thing this land has given him is his children.
When he took over as CEO of Alpura during the pandemic, he once again experienced the great value of the people of Mexico.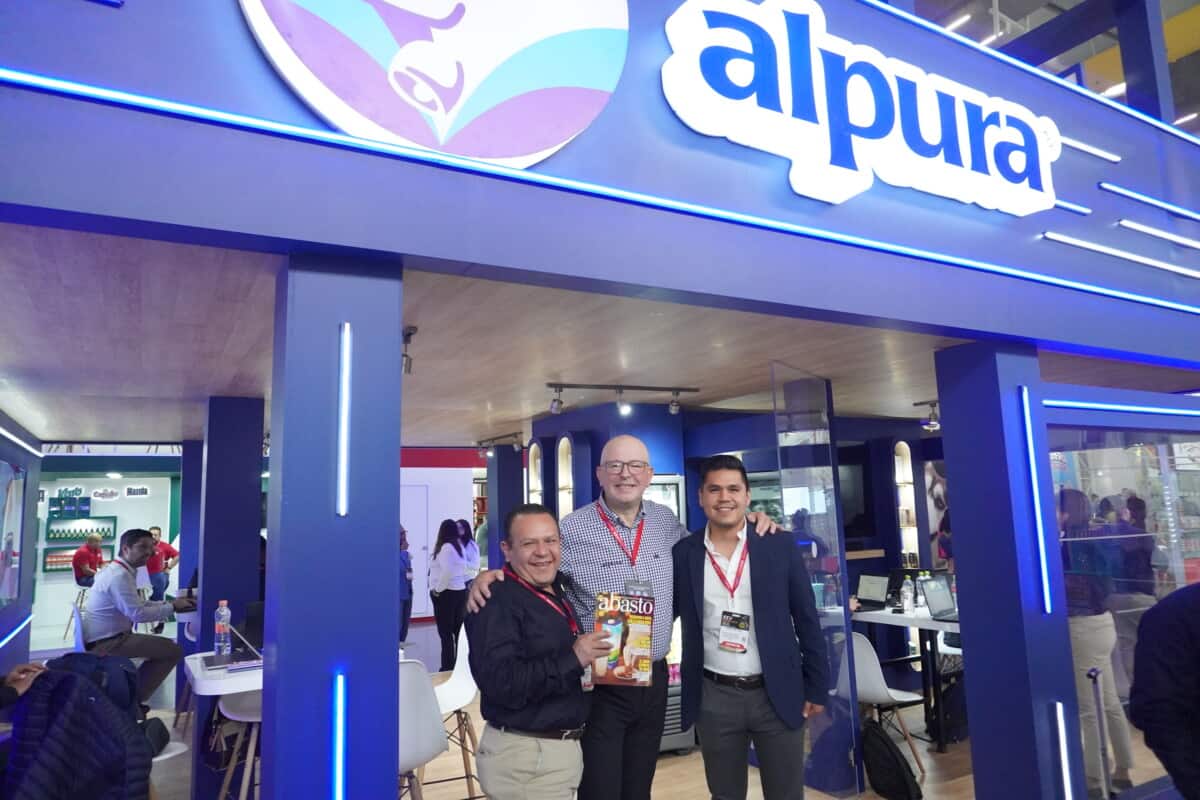 "We are a very Mexican company with products of prime necessity, and definitely, the first thing we had to achieve was a continuous supply of our products. So, human resources, industrial, manufacturing, marketing, and sales, we all put our heads together in order not to stop supplying. It was not easy, but we managed to consistently supply our products to the entire community in Mexico City and surrounding cities," said Bouyra.
He said they were able to maintain the supply chain thanks to the solidarity of everyone working in dairy production. "There was a deep sense of solidarity, which made the difference. Everything becomes easier when you have your raw material produced by these business partners."
Having overcome these difficult tests, Alpura is now concentrating on its growth plan. Bouyra says they are working on expanding into other Mexican states and the United States.
"If we think about the United States, many of our fellow countrymen believe in, trust and love Alpura. I was in Houston to talk with a hypothetical and very sure distributor of Alpura products in the United States because we want to offer the best of milk to our fellow countrymen there," Bouyra announced.
Alpura's CEO acknowledged that this expansion would mean a tremendous logistical, commercial, and marketing effort, but they are convinced they have "a precious sales opportunity in the United States." However, he preferred to keep the name of the potential distributor private.
He emphasized that products such as Alpura Cream and Skimmed Milk will be a great value proposition, and he expects them to be very successful in the United States, as they are already in Mexico.