Consumers in the U.S. favor their emotional well-being and the pleasure of enjoying chocolates and candy over the economic pressures caused by inflation. Confectionery category sales figures back this up; in 2022, they grew 11.1% over 2021 and 22.1% over 2019.
The State of Confectionery 2023 report, presented at the NCA's annual State of the Industry conference, provides confectionery category performance data and in-depth insights into evolving consumer attitudes and behaviors, the NCA said in a press release.
Supply chain disruption, inflation at 40-year highs, and lingering COVID-19 concerns continued to affect buying and consumption patterns for candies and chocolates in 2022. Consumers described life as "expensive" and "somewhat stressful."
The Market Situation in 2022
According to the fourth annual State of Treating report released by the National Confectioners Association (NCA), 81% of consumers view chocolates and candies as a fun part of life. Despite double-digit category inflation, 74% of consumers agree that confectionery remains affordable. However, 45% of consumers implemented one or more cost-saving measures in 2022, switching between types, brands, pack sizes, and stores.
The total confectionery category reached $42.6 billion in sales, driven by inflation reaching a 40-year high in 2022. Growth forecasts bring the entire category to $54.3 billion in 2027.
Related Article: Hispanic Candy National Association Promotes Latino Brands in the US
Specifically, chocolate sales rose 9.1% last year to $23.9 billion, candy sales grew 13.8% to $15.4 billion, and gum and mints rose 13.8% to $3.2 billion.
"With high favorability and permissibility scores, along with most consumers agreeing that confectionery is an affordable indulgence, chocolate, and candy sales grew despite economic pressures," said John Downs, president and CEO of NCA. "Consumers continue to indulge in chocolates and candies to enhance their emotional well-being, celebrate the holidays, and enjoy everyday moments."
Candy and snack indulgence occasions range from everyday treats for no particular reason to consumption at holidays or special celebrations, such as birthdays, travel, or movie nights.
Consumers report eating sweets on average 2.4 times a week, consistent with government data showing that Americans enjoy chocolates and candies two to three times a week, with an average of about 40 calories and only 1 teaspoon of added sugar per day.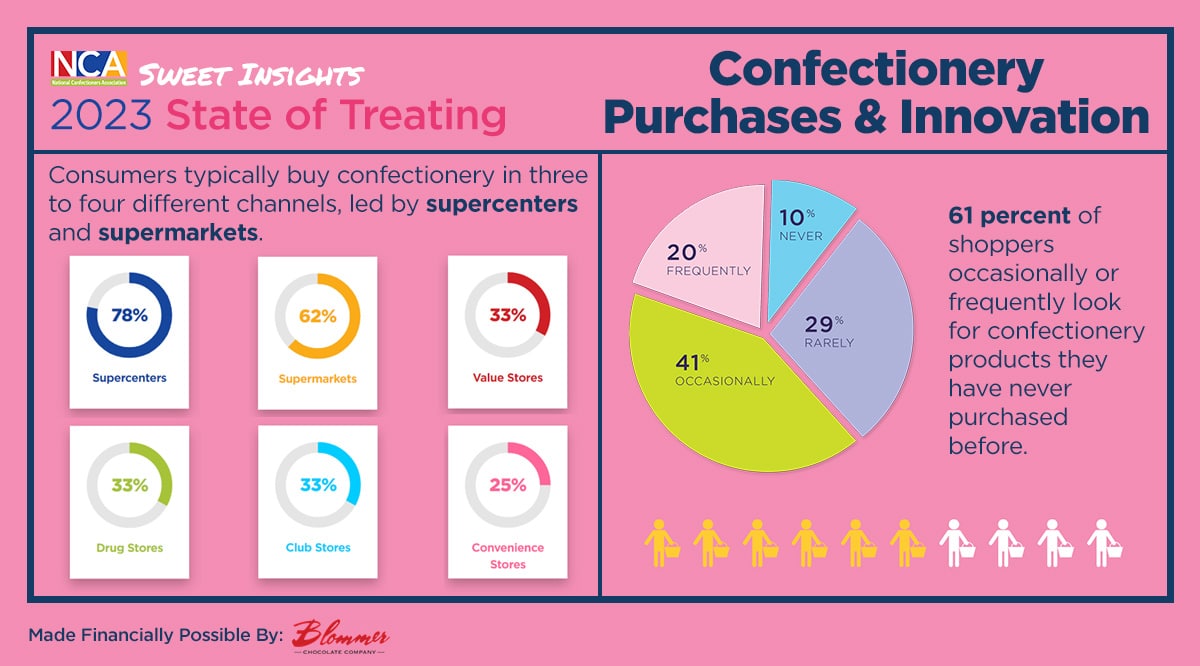 The Purchase of Confectionery Products
According to The State of Snacking annual report, in 2022, more people sought out promotions, while fewer credited secondary window displays with driving their purchases.
Consumers like "buy one get one free" offers and value-added packages best. Consumers say mood, price, and brand drive the confectionery purchase decision, with younger shoppers valuing mood the most and Boomers valuing brand the most.
Innovation in product line extensions and completely new items can drive engagement and sales growth, as 61% of shoppers occasionally or frequently seek out confectionery products they haven't tried before. Investing in pricing, eye-catching window displays, and tastings are the best ways to drive sales.
Consumers Purchasing Decisions
Seventy-nine percent of consumers agree that physical health and emotional well-being are interconnected, and 86% agree that occasionally indulging in chocolates and sweets is okay.
Seventy-eight percent believe that sharing and gifting confectionery products are great traditions.
Consumers buy chocolates and candies from three to four different distribution channels, led by supermarkets and superstores.
61% of shoppers look for confectionery products they have never bought before; innovation is essential.
59% of confectionery consumers have searched Facebook, YouTube, and Instagram for confectionery-related content.
Transparency is the currency of trust; 43% of consumers prefer to learn about a brand's environmental, social, and governance efforts through the packaging label.