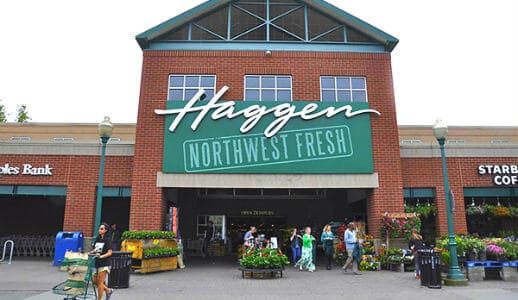 A federal bankruptcy court cleared the way for Haggen supermarket chain to sell 47 of its stores. 33 of these stores, which had been formerly owned by Albertsons LLC, and sold to Haggens less than a month ago, will actually be returned to Albertsons.
The court approved 47 purchase agreements for 25 locations in Southern California, as well as four stores in Nevada, Arizona, Oregon and Washington. That means that eight of the 55 stores that went up for bidding in the three-day auction aimed to raise $47 million, held earlier this month, are still awaiting court approval.
Most stores were sold to Albertsons, which plans to turn them into Albertsons or Safeway markets within the next 30 days.
The court approved the sale of four Haggen stores to Sprouts Farmers Market; four stores to Smart & Final; three stores to Tawa Inc.; and individual stores to Yoke's Market, Stater Brothers and Good Food Holdings.
The stores were offered up by Haggen Inc., which acquired units less than a year ago, when it was spun off as part of compulsory divestments in the Albertson-Safeway merger.
A spokesman for the Federal Trade Commission (FTC) said the agency did not object to the sale of new stores to Albertsons in cases where there was not a competing bidder.
Haggen stores operated under its own name until declaring bankruptcy in September.
The next important step in this chapter 11 bankruptcy proceeding is the proposed sale of 32 central Haggen stores. A hearing to discuss this potential auction is scheduled for Friday, December 4th. If the auction of central stores receives approval, it will take place on January 8.
The following is a list of stores that will Haggen will sell according to: Buyer, State, Store, and Metropolitan Areas.
Albertson's LLC, AZ, Lake Havasu – McCulloch Blvd, Lake Havasu
Albertson's LLC, AZ, Tucson – East Broadway Blvd, Tucson
Albertson's LLC, AZ, Tucson – N. Silverbell Road, Tucson
Smart & Final Stores LLC , CA, Laguna Niguel – Crown Valley Pkw, Laguna Niguel
Tustin Safe LLC, CA, Tustin – 17th St, Tustin
Albertson's LLC, CA, Tujunga – Foothill Blvd, Tujunga
Smart & Final LLC, CA, Diamond Bar – S. Diamond Bar Blvd, Diamond Bar
Albertson's LLC, CA, Saugus – Bouquet Canyon Rd, Saugus
Smart & Final LLC, CA, Burbank – W. Verdugo Ave, Burbank
Sprouts Farmers Market, CA, Los Angeles – Venice Blvd, Los Angeles
Regency Centers L.P., CA, Woodland Hills – Mulholland Dr, Woodland Hills
Albertson's LLC, CA, Bakersfield – Panama Lane, Bakersfield
Albertson's LLC, CA, Bakersfield – E. Stockdale Hwy Bakersfield
Albertson's LLC, CA, Rancho Cucamonga – Foothill Blvd, Rancho Cucamonga
Donahue Schriber Realty Grp, CA, Camarillo – Las Posas, Camarillo
Sprouts Farmers Market, CA, Simi Valley – Cochran, Simi Valley
Stater Bros. Markets, CA, Simi Valley – E. Los Angeles Ave, Simi Valley
Albertson's LLC, CA, Lompoc – N. 'H' St, Lompoc
Albertson's LLC, CA, Goleta – S. Turnpike Rd, Goleta
Sprouts Farmers Market, CA, Goleta – N. Fairview Ave, Goleta
Tawa, Inc., CA, Chula Vista – Telegraph Canyon Rd, Chula Vista
Smart & Final Stores LLC, CA, San Diego – University Ave, San Diego
Albertson's LLC, CA, El Cajon– Broadway St, El Cajon
Albertson's LLC, CA, La Mesa – Lake Murray Blvd, La Mesa
Albertson's LLC, CA, Rancho Bernardo – Rancho Bernardo Rd, Rancho Bernardo
Albertson's LLC, CA, San Diego – Highland Village Pl, San Diego
Tawa, Inc., CA, San Diego – Balboa Ave, San Diego
Good Food Holdings, CA, San Diego – W. Washington St, San Diego
Albertson's LLC, NV, Henderson – Bicentennial Pkwy, Henderson
Albertson's LLC, NV, Henderson – College Dr, Henderson
Albertson's LLC, NV, Henderson – N. Boulder Hwy, Henderson
Sprouts Farmer's Market, NV, Las Vegas – W. Lake Mead Blvd, Las Vegas
Tawa, Inc., OR, Beaverton – S.W. Hall, Beaverton
Albertson's LLC, OR, Baker City – Campbell St, Baker City
Albertson's LLC, OR, Springfield – Main St, Springfield
Albertson's LLC, OR, Ashland – Siskiyou Blvd, Ashland
Albertson's LLC, WA, Burien – First Ave. S, Burien
Albertson's LLC, WA, Renton – SE Petrovitsky Rd, Renton
Albertson's LLC, WA, Everett – Evergreen Wy, Everett
Albertson's LLC, WA, Renton – NE 4th Ave., Renton
Albertson's LLC, WA, Shoreline – Aurora Ave. N, Shoreline
Albertson's LLC, WA, Port Orchard – Bethel Rd. S.E., Port Orchard
Yoke's Foods, Inc., WA, Liberty Lake – N. Liberty Lake Rd, Liberty Lake
Albertson's LLC, WA, Spanaway/Tacoma – Pacific Ave. S, Spanaway/Tacoma
Albertson's LLC, WA, Gig Harbor – Point Fosdick Dr. NW, Gig Harbor
Albertson's LLC, WA, Puyallup – Canyon Rd. East, Puyallup
Albertson's LLC, WA, Milton – Milton Way, Milton