Halloween can look and feel a little different this year as people decide how they will celebrate it. Whether it's having fun from a distance, trick-or-treating, enjoying Halloween at home, or something in between.
A survey conducted by Morning Consult on behalf of the National Confectioners Association (NCA) found that 63% of adults believe that people will find creative, fun, and safe ways to celebrate the Halloween season this year.
Americans are looking forward to Halloween to add some normalcy and joy to what has been a very serious and uncertain time from the coronavirus pandemic.
In a poll conducted by The Harris Poll on behalf of the NCA, 74% of millennial moms and young parents say Halloween is more important than ever this year, the NCA reported in a press release.
"Consumers report that they will get creative throughout the month of October to ensure they can stay safe and still enjoy the Halloween season," said John Downs, president, and CEO of the National Confectioners Association. "The results of our research reveal a deep-seated enthusiasm for Halloween, even if it means that people have to rethink their approach this year due to the Covid-19 pandemic."
According to research by The Harris Poll, an overwhelming majority of respondents say they cannot imagine Halloween without chocolate and candy and trick-or-treating is irreplaceable, including 80% of the general public and 90% of mothers. millennial and young parents.
Related Article: How Candy Companies Prepare for Halloween in Times of Coronavirus
And according to an independent survey by Insight to Action, 70% of moms plan to celebrate the Halloween season with their kids this year.
"There will be regional differences across the country in terms of how communities choose to celebrate the Halloween season, but one thing is for sure: Halloween is going to happen," Downs said. "As we seek safety guidance from our public health leaders across the country, we want to share what we know about how people are approaching the Halloween season."
Harris Poll research found that 75% of Americans and 91% of millennial moms and young parents agree that chocolate and candy are an integral part of consumers' emotional well-being and play an important role in celebrations, especially on Halloween.
According to the National Health and Nutrition Examination Survey, people in the US enjoy chocolate and sweets 2-3 times a week, averaging 40 calories per day and only one teaspoon of added sugar per day, and that includes Halloween.
The Halloween season (the eight weeks leading up to October 31) accounts for about $ 4.6 billion in confectionery sales each year and a 2020 NCA market analysis shows that chocolate sales increased by approximately 4.5% since mid-March. 2020, compared to 2.2. % growth for all of 2019.
"Chocolate and candy have been very resilient in this Covid-19 environment," Downs said. "Consumers appreciate and value chocolate and sweets during these uncertain times because of their amazing ability to improve their mood and lighten their outlook."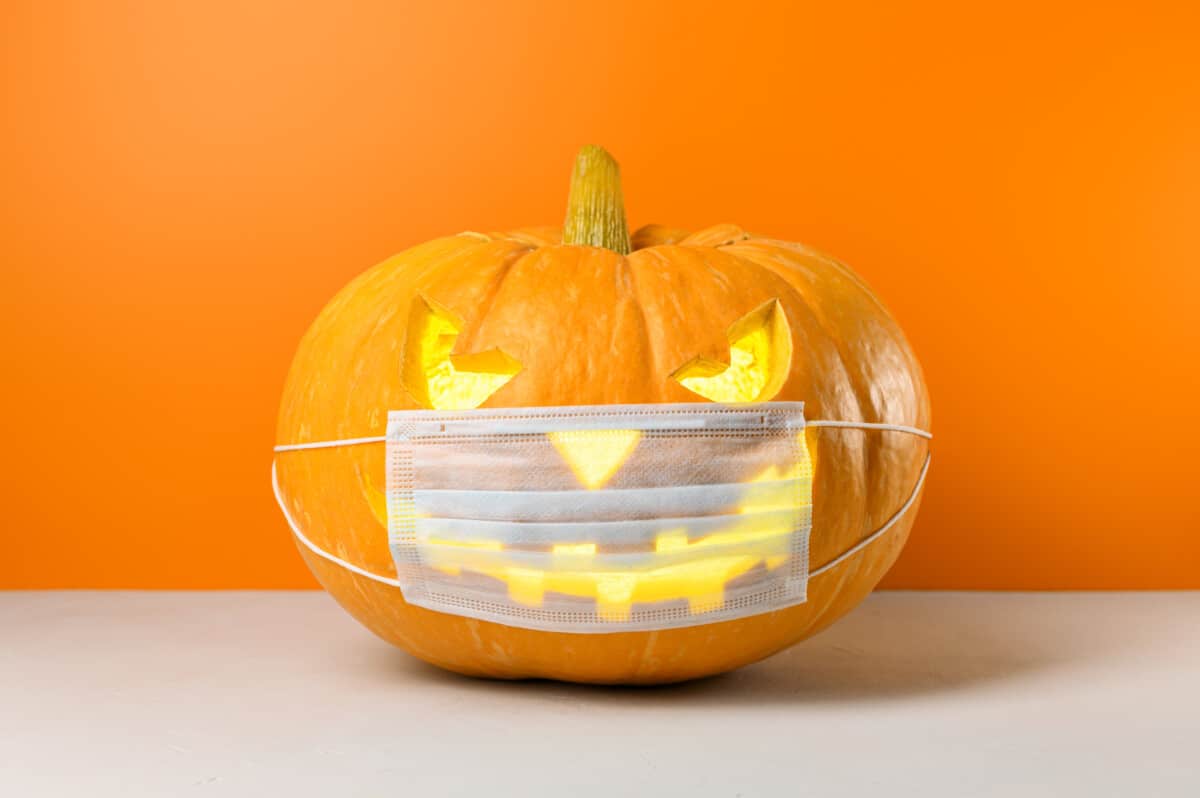 CDC's Recommendations for Celebrating Halloween
According to the guidelines from the Centers for Disease Control (CDC), many traditional Halloween activities can be high-risk for spreading viruses. The CDC said there are several safer, alternative ways to participate in Halloween. If you may have Covid-19 or you may have been exposed to someone with Covid-19, you should not participate in in-person Halloween festivities and should not give out candy to trick-or-treaters.
Lower risk activities
These lower-risk activities can be safe alternatives:
Carving or decorating pumpkins with members of your household and displaying them.
Carving or decorating pumpkins outside, at a safe distance, with neighbors or friends.
Decorating your house, apartment, or living space.
Doing a Halloween scavenger hunt where children are given lists of Halloween-themed things to look for while they walk outdoors from house to house admiring Halloween decorations at a distance.
Having a virtual Halloween costume contest.
Having a Halloween movie night with people you live with.
Having a scavenger hunt-style trick-or-treat search with your household members in or around your home rather than going house to house.
Moderate risk activities
Participating in one-way trick-or-treating, where individually wrapped goodie bags are lined up for families to grab and go while continuing to social distance (such as at the end of a driveway or at the edge of a yard).
If you are preparing goodie bags, wash your hands with soap and water for at least 20 seconds before and after preparing the bags.
Having a small group, outdoor, open-air costume parade where people are distanced more than 6 feet apart
Attending a costume party held outdoors where protective masks are used and people can remain more than 6 feet apart. A costume mask (such as for Halloween) is not a substitute for a cloth mask. A costume mask should not be used unless it is made of two or more layers of breathable fabric that covers the mouth and nose and doesn't leave gaps around the face.
Do not wear a costume mask over a protective cloth mask because it can be dangerous if the costume mask makes it hard to breathe. Instead, consider using a Halloween-themed cloth mask.
Going to an open-air, one-way, walk-through haunted forest where appropriate mask use is enforced, and people can remain more than 6 feet apart.
If screaming will likely occur, greater distancing is advised. The greater the distance, the lower the risk of spreading a respiratory virus.
Visiting pumpkin patches or orchards where people use hand sanitizer before touching pumpkins or picking apples, wearing masks is encouraged or enforced, and people are able to maintain social distancing.
Having an outdoor Halloween movie night with local family friends with people spaced at least 6 feet apart. If screaming will likely occur, greater distancing is advised. The greater the distance, the lower the risk of spreading a respiratory virus.
Higher risk activities
Avoid these higher-risk activities to help prevent the spread of the virus that causes Covid-19, the CDC recommends:
Participating in traditional trick-or-treating where treats are handed to children who go door to door.
Having trunk-or-treat where treats are handed out from trunks of cars lined up in large parking lots.
Attending crowded costume parties held indoors.
Going to an indoor haunted house where people may be crowded together and screaming.
Going on hayrides or tractor rides with people who are not in your household.
Using alcohol or drugs, which can cloud judgment and increase risky behaviors.
Traveling to a rural fall festival that is not in your community if you live in an area with community spread of COVID-19.