The recently opened Amazon Fresh store in Seattle is seeking to become the first supermarket in the world to earn Zero Carbon certification from the International Living Future Institute (ILFI), a leading nonprofit dedicated to advancing sustainable building practices.
Located in North Seattle, the 35,000 square-foot Amazon Fresh store will operate more sustainably, with more than a dozen improvements to the store's design expected to save nearly 185 tons of CO2 each year.
ILFI-certified buildings must be energy efficient, have all electricity provided by renewable energy, demonstrate a reduction in the embodied carbon of building materials, and prove that all carbon emissions associated with the manufacturing and construction process have been neutralized. ILFI will review 12 consecutive months of performance data to ensure the new store meets this standard to receive certification.
In addition, the new store contributes to Amazon's efforts to meet The Climate Pledge, the e-commerce giant's commitment to be a net-zero carbon business by 2040.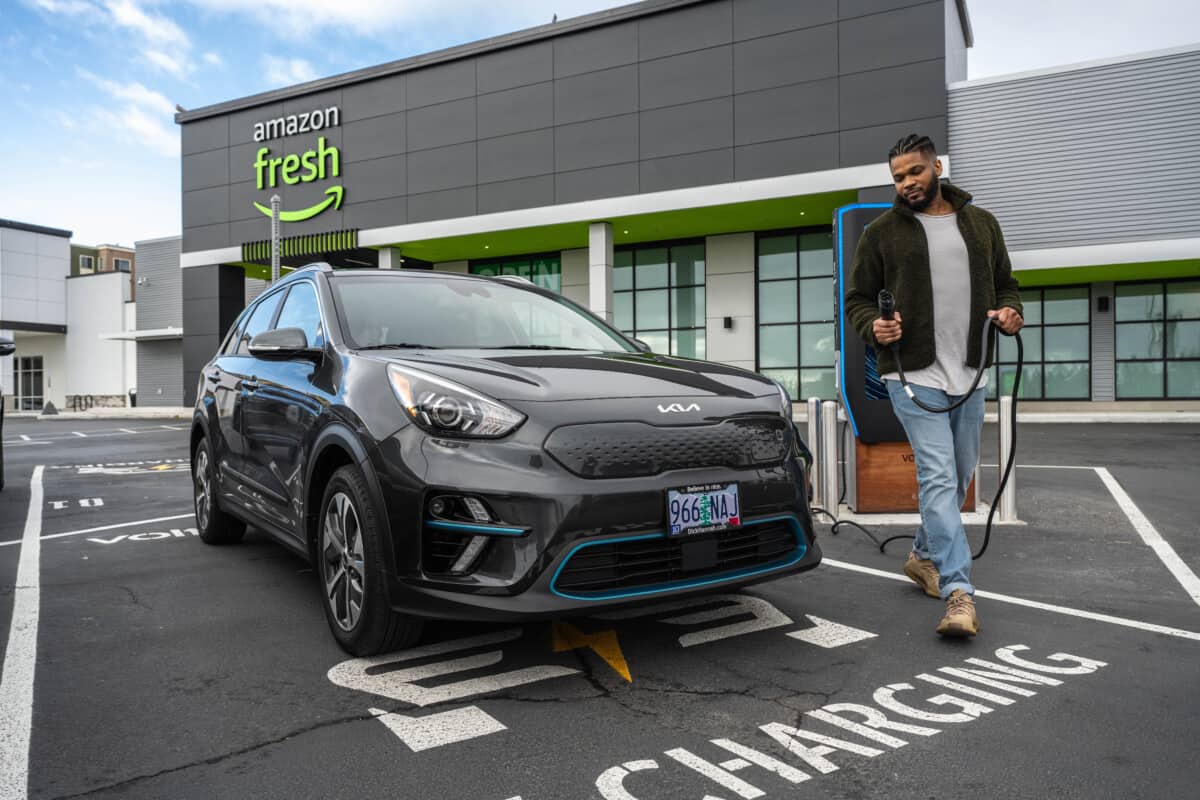 "In order to deliver on our commitments to The Climate Pledge, we must work together across all areas of our business to develop solutions to decarbonize," said Kara Hurst, vice president of Worldwide Sustainability at Amazon. "It's meaningful progress to open our latest Amazon Fresh Store seeking net-zero carbon certification. I'm proud of the store's innovation and technology to customers and employees and for the environment."
Related Article: Pedro Maldonado Adds Latin Flavor to Amazon
The store's new features are electric vehicle charging points, lower-carbon concrete floors to reduce emissions, fully electric kitchen space, water heaters to eliminate the need to burn fossil fuels inside the store, and additional doors to refrigeration cabinets to minimize energy consumption.
Customers shopping at the store will be able to choose from a variety of Climate Pledge Friendly products, ranging from food to household cleaning and beauty products. Also available are recently launched Fresh Brand Plant-Based products, such as almond milk, alternative ground beef, hamburgers, sausages, meatballs, and chicken nuggets.
This is Amazon Fresh's 26th supermarket and the fourth store to open in the greater Seattle area. It will feature Just Walk Out technology, which gives customers the option to bypass the checkout line and Alexa integration to help with the shopping list.