Ahold Delhaize reported strong third-quarter financial results with 114.7% growth in net consumer online sales in the U.S., and 12.4% growth in comparable sales. The company also announced new initiatives to consolidate its position as a leading local omnichannel retailer in the supermarket industry in 2021 and beyond.
The brand's performance was solid across the board, driven by growth at Food Lion and Giant Food, the Dutch retailer reported in a press release.
As part of its growth plan, the company said it will significantly increase online capacity, supply chain, and technology capabilities in its businesses. In 2020 and 2021 cumulatively, they will increase their online capacity by nearly 100 percent in the U.S. with an expansion to nearly 1,400 Click & Collect sites by 2021, doubling the locations from early 2020.
Ahold Delhaize operates the Food Lion, Giant Food (of Landover), GIANT Food Stores (of Carlisle), Hannaford, and Stop & Shop supermarket chains in the United States.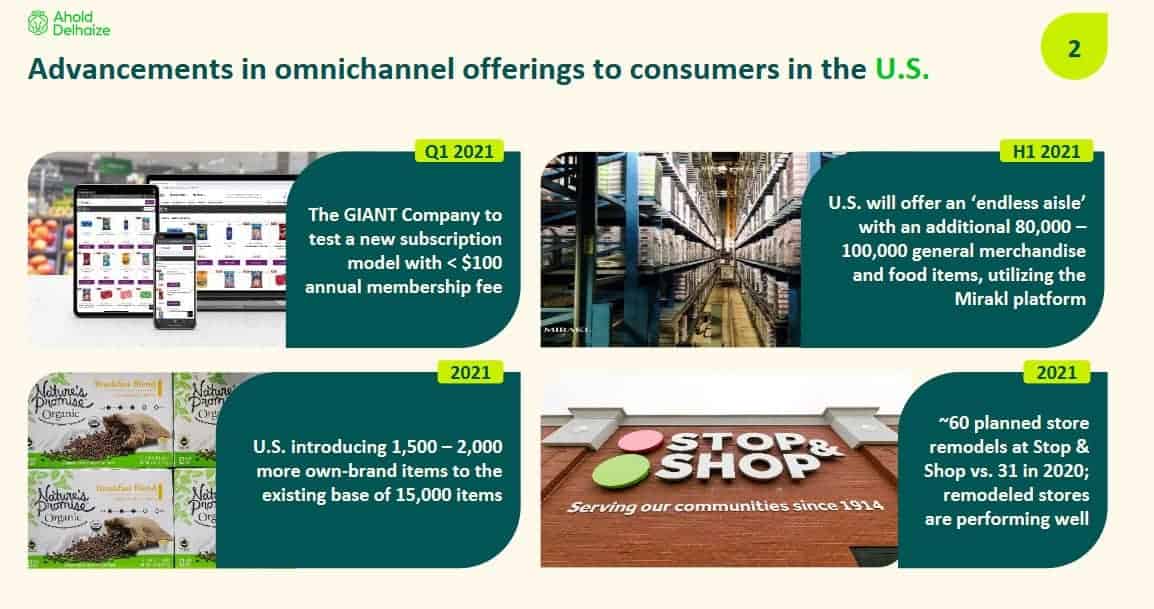 "As COVID-19 continues to impact our communities, I am increasingly proud of our teams' performance. In Q3, we sustained important investments in additional safety measures, enhanced associate pay and benefits," said Frans Muller, president and CEO of Ahold Delhaize.
"We continue to adapt to changes we are seeing in consumer shopping patterns and behavior. Over the coming years, we will invest in our business to solidify our position as an industry-leading local omnichannel retailer and increase our share of the consumer wallet. We will find ways to improve our online productivity and are on track to achieve the €1.9 billion cumulative cost savings target by 2021," added Muller.
Related Article: Ahold Delhaize USA to Invest $480 Million in Supply Chain Expansion
To better serve customers, the company said it is enhancing its U.S. supply chain capabilities by moving to a fully integrated self-distribution model starting in 2023; the first integrated distribution center of the transformation initiative will be launched in 2021.
In promoting omnichannel offerings to consumers, the U.S. grocery chains are focusing on improving subscription offerings. According to Ahold Delhaize, GIANT will test a new subscription offer in the first quarter of 2021, with an annual membership fee under $100, improved value proposition, and preferential delivery time slots.
Supermarkets will offer an "endless aisle" solution with an additional 80,000-100,000 general merchandise and food items in the first half of 2021, utilizing the Mirakl platform.
In 2021, they will also be launching 1,500-2,000 more own-brand items, growing from the existing base of 15,000 items.
In addition, the Stop & Shop remodeling program will accelerate, with approximately 60 additional supermarkets in 2021 versus 31 in 2020.