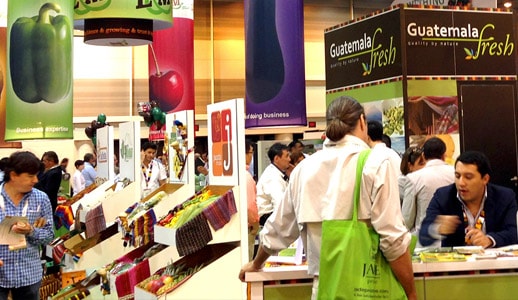 The largest international and agricultural trade-show in Central America is coming soon with dynamic changes and more business than ever. The Agritrade Expo & Conference involves a large number of renowned companies looking to showcase their products expand their businesses to a worldwide audience.
The seventeenth edition of Agritrade Expo & Conference, to be held on March 12th and 13th 2015, in Santo Domingo del Cerro, La Antigua Guatemala, will bring together producers and exporters in Central America with international buyers from supermarket chains, wholesalers, importers, distributors, investors; from the US, Mexico, Central America, the Caribbean and Europe.
Among others, the presence of service, logistics and supply companies that belong to productive chain of the export sector, we provide the educational tools to focus on how optimize their marketing efforts.
The main sectors present in Agritrade Expo & Conference 2015 are: vegetables, fruits, differentiated products, ornamental plants, foliage and flowers, processed agricultural products and much more.
The event will showcase a floor with over 160 booths, business conferences and provide the networking with over 100 international buyers from Europe, the Caribbean, North and Central America; plus there will be several conference programs on specialized topics of the highest standards and optional touristic tours.
When: March 12-13, 205
Where: Santo Domingo del Cerro, Guatemala
For more information visit: www.agritradecentralamerica.org or write [email protected]