Today Sofrito is often referred to as a sauce used as a base in Spanish, Italian, Portuguese and Latin American cooking. Over time, as Sofrito spread from its Spaniard origin to other countries, the recipe underwent regional changes and began to acquire different variations in taste depending on the regions it was cooked.
Every meal begins with a good sofrito (dressing). It's the foundation of everything dish. It's probably the most intimate part of a recipe. Although the recipe is passed down from generation to generation, each cook always adds his or her own personal touch every time.
Origin and History of Sofrito
The first mention of sofrito "Sofregit" comes from the Catalan region of Spain during Medieval times, with the first reference of sofrito cooking dating back to the 1400s.
The Royal Spanish Academy describes it as a "condiment that is added to a stew composed of various ingredients fried in oil, such as onion and garlic."
Sofrito, which basically means "lightly fried", was a technique Spaniards had for cooking onions. The cooking of these onions (sometimes with salt pork) was accomplished by cooking cooking over slow low heat for a long period of time in order to preserve the onions. 
The onion should sweat in olive oil to give its flavor and sweetness. The addition of garlic and leeks came with the union of the old and new world. Sofrito came to America to marry the pepper and tomato. And that's how we ended up making sofrito.
Spanish explorers brought this cooking method with them on their travels to South America and the Caribbean. Over time variations of Sofrito showed up in not just the Caribbean but also the Dominican Republic, parts of Mexico, Cuba, France, Italy, Portugal, and the Philippines.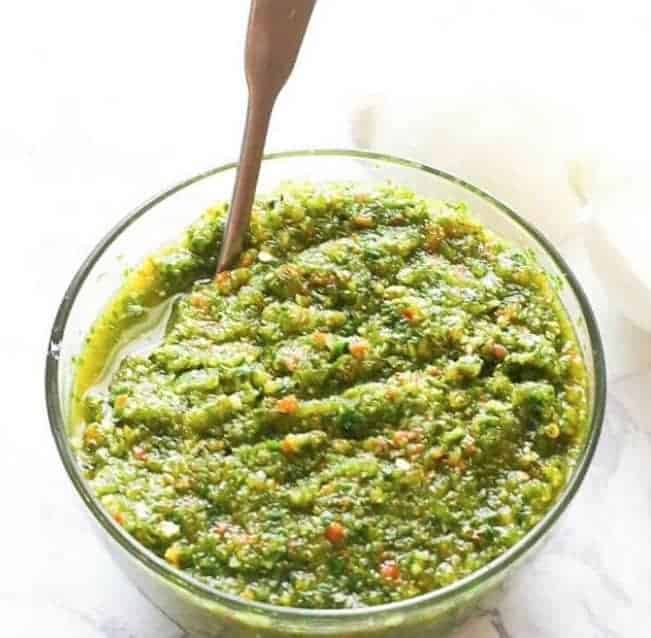 In Spain, some add green pepper, saffron, other "ñoras", chorizo pepper, paprika and / or tomato. In the south, it's similar to Cuban cuisine, garlic, oregano, brandy or sherry, and laurel. There is also a version with grated tomato that is cooked over low heat to get all its flavor.
The French gave the name "the mother of salsas" to the salsa that was a combination of other salsas, which is why it is said that sofrito is the mother of the Hispanic kitchen.
How to make sofrito 
While you can purchase a canned version of sofrito many people want to know how to make their own. However, with so many versions of this sauce available you need to know what version of the sauce you want to make, as the taste will differ slightly from one version of the recipe to another. 
If you are looking for a slight spicer version of sofrito then you may want to try either the Puerto Rican or Mexican versions of this sauce. If you want more of a tang then you may want to make the Dominican version. The version you choose is going to determine the taste.
The video below shows you how to make sofrito. This is a fairly traditional sofrito recipe with little to no-frills. It's a straight forward good old' sofrito recipe that delivers bold garden-fresh flavors.
What is sofrito used for?
Sofrito can be used in an almost endless number of dishes. It is often used in seafood dishes such as fish, clams, muscles, shrimp, and crayfish. It is also used in chicken dishes, with tofu, rice, or pasta, and is sometimes used as a topping on eggs or steak.
Depending on the recipe Sofrito is used at the beginning of recipe, near the end, or as warmed and used as a topping.
Ingredients to prepare sofrito

sauce
Chopping three or a few ingredients correctly sets the basis for enhancing any dish.
In Perú, sofrito carries oil, white onion, and even garlic to make something as simple as white rice. Try it and think of me! If you add yellow chili to it, you will not need anything else! They call it "refrito" or dressing and they also make it with lard, garlic, red onion, chili, and tomato. In the kitchen, they add "guisador" or "mishquina", a seasoning with turmeric, similar to Indian curry.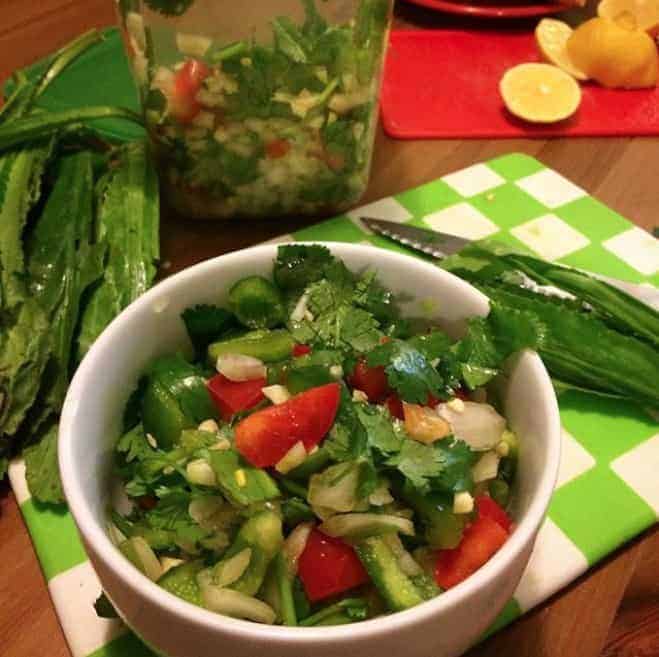 As a Puerto Rican, I do it in the food processor. Similar to what a Dominican, Cuban and some friends from Colombia, Venezuela, Panama and even some from Yucatan. I put 15-20 sweet peppers (chili peppers or however you like it), with non-spicy seeds. Then, white or red onion, cubanelle pepper, red pepper, a bunch of coriander, a bit of cilantro and a pinch of fresh or dried oregano (my grandfather used oregano brujo). I mix and freeze it so that it will stay in "stock." I pour tomato into the sofrito, achiote, and laurel, leaving me with a "mojo criollo" to cook any seafood. How delicious!
If we continue this Latin American journey, Nicaragua puts chiltomas, which is what they call peppers, and a splash of lemon or white vinegar. Pay attention and keep on medium temperature, so they can sweat and not turn brown. The most important thing when cooking is patience so that the flavors can manifest in their environment.
In Mexico, they call it collection and it can contain garlic, onion, chili pepper, serrano or jalapeño, cumin and sometimes chives (onion of cambray), tomatoes, achiote, epazote or cilantro, chile guajillo, morita or wide. As I write this, I think about shrimp devil or veracruzanos with this sauce … and I feel hungry, let's continue.
In Costa Rica, they add celery to the mixture of garlic, onion, sweet pepper and cilantro. In Chile, it's something as simple as onions, green and red peppers, oregano, cumin, and some chili. They also do it on the coast of Panama, like in the Bahamas and some Jamaican cuisines, with goat chili or goat pepper.
Some Venezuelans and Bolivians call it ahogado, just like in Colombia, where they also call it hogao. In Ecuador, it is called rehash and it has oil, garlic, paiteña onion (similar to red), cumin, achiote, oregano, salt and sometimes even yellow pepper.
What's certain is that there is no correct or incorrect way, but nothing compares with one made at the moment.
Sofrito Recipes Suggestions
If you want to try a couple of recipes using Sofrito, then here are a couple of recipes you may enjoy.
Sofrito chicken recipe
This is a great dinner recipe for the entire family when served with a salad and rice.
Ingredients:
1 Tablespoon Vegetable Oil
Sea salt and pepper to taste
1 whole chicken cut into 8 pieces
½ cup Sofrito
½ cup Chicken broth (low sodium optional)
Directions
Preheat oven to 400
In a large skillet heat oil on high heat. Season chicken with salt and pepper and place in pan skin side down until golden crisp (about 8 minutes). 
Now flip the chicken over and add sofrito and chicken broth and gently stir together to mix flavors. 
Move the chicken to the oven and bake for until chicken is cooked completely through (about 25 minutes).
Transfer chicken to a platter. Tilt skillet and spoon off any excess fat and oil and then spoon the sauce over the chicken.
If you want extra sauce you can warm a cup of sofrito sauce and pour that over the chicken or serve separately. 
Spanish sofrito recipe
This recipe is a modern version of the Spanish Sofrito Recipe.
Ingredients
1 medium-sized white onion (finely diced)
2 Cloves of Garlic (diced)
1 Sweet Green Pepper (diced)
6 diced tomatoes
1 Teaspoon sweet Spanish Paprika
3 Tablespoons virgin olive oil 
½ Teaspoon salt
Directions
In a medium-size saucepan pour the 3 tablespoons of virgin olive oil and heat. Add onions and saute over medium or low heat until the onions are semi-roasted. 
Add the green peppers and cook for an additional 5 minutes. Add diced garlic, paprika and salt and then cook for another minute or so. 
Now add the tomatoes and cook for another 10 to 15 minutes stirring occasionally with a wooden spoon until the juice from the tomatoes is reduced and the sauce thickens. Allow cooling.
You can refrigerate this sauce for 5 days or place in zip lock bags and freeze for up to 6 months. 
Some people like sofrito so much they make a double, triple, or quadruple batch and freeze it so they have it on hand.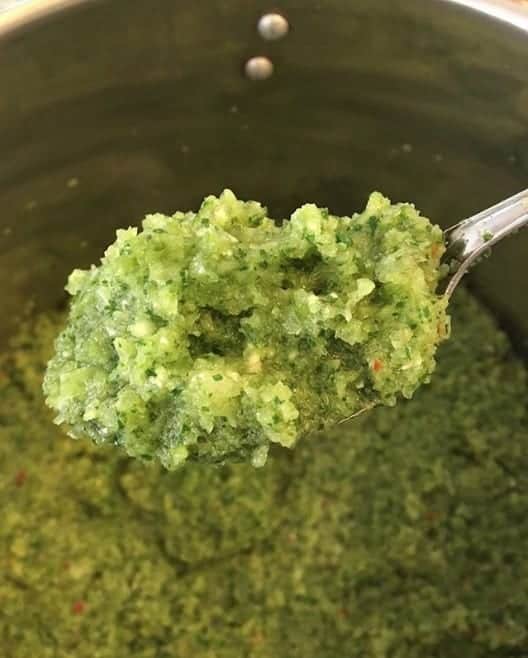 Sofrito eggs benedict 
This recipe is made just like eggs benedict only you replace the Hollandaise sauce with Sofrito
1 English Muffin halved and toasted
2 Poached Eggs
2 Slices of Canadian bacon warmed
Warm sofrito sauce
Set the toasted muffin on a plate along with the Canadian bacon and poached eggs and sofrito sauce over the eggs and enjoy.
For other sofrito recipes surf the Internet or use your imagination.
Other names for Sofrito
Sofrito is called by a number of different names. Here is a brief look at some other versions of this sauce.
Recaito is what Sofrito goes by in Puerto Rico. The Puerto Rican version of Sofrito includes the herb Culantro and sweet chili peppers called Dulces.
Sazon is the Dominican name for Sofrito. It uses vinegar and annatto (a condiment made from the seeds of the Achiote fruit.) 
Cuba still calls Sofrito, it's original. Their version is made adding red bell peppers and diced ham.
The French version of sofrito is Mirepoix
In Italy, it is known as Battuto
Refogado is the name sofrito goes by in Portugal 
In Latin American is still called Sofrito.
Doreen Colondres is a celebrity chef. Author of the book The Kitchen Does not Bite. Follow her on Facebook and Instagram @DoreenColondres and visit www.LaCocinaNoMuerde.com, www.TheKitchenDoesntBite.com