Rock Week, an event declared as "National Tourist Interest" by the Ministry of Tourism of Argentina and created by the Park Hyatt of Mendoza and Monteviejo Winery, has been awarded with gold in the Best of Global Award 2018. This contest, organized by Great Wine Capitals, recognizes the best wine tourism events worldwide, rewarding those who have distinguished themselves for their excellence in art, culture, sustainability and wine.
Among those activities that take place a week in April, is the Masters of Food & Wine Rock Edition. A gastronomy and wine event that was born in California and that has become an icon of the gourmet universe in Mendoza, has brought together more than 20 chefs and 25 Mendoza wineries, along with an acoustic show under the stars.
In this gastronomic festival inspired by rock icons, flavors find rhythm and the perfect pairing.
Last year, I had the immense honor of participating and designing a recipe with the name of the song "Amores Lejanos" ("Distant Lovers") by the Argentinean band Enanitos Verdes and pair it with a wine from bassist Felipe Staiti together with the winemaker from Monteviejo, Marcelo Pellereti. It was an unforgettable experience to cook for 400 people.
After enjoying that great night of the gastronomic festival with the appetizer as the acoustic show, we traveled to the Monteviejo vineyard in the Uco Valley on the official day of the Wine Rock. The chefs, as well as the assistants, enjoyed the "main dish," a fusion of rock, wine, art and gastronomy, surrounded by one of the best views in the world: the landscape of the Andes mountain range.
This year, Wine Rock attendees will enjoy an extensive agenda of activities that promises to last all day and night.
If this coming April you want to savor a unique experience in the world, visit the Park Hyatt Mendoza or Bodegas Monteviejo for more information. Remember that traveling to gastronomic destinations is the trend now. Start "cooking" your fun holidays.
Recipe for Distant Lovers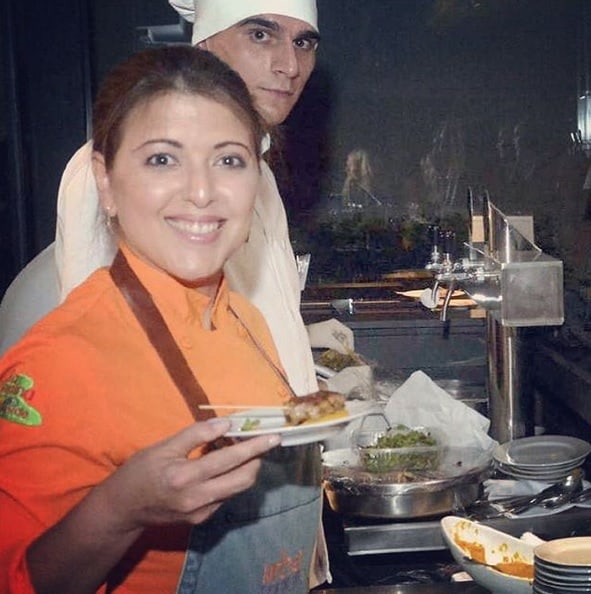 Ingredients
Pork meat
Garlic
Salt and pepper
Chile serrano
Cilantro
Seasonal squash and squash from the area
For the salsa:
Oranges (for juice and grating)
Soy sauce
Agave honey
Preparation
For the hamburgers: season the pork meat with salt, pepper, fresh garlic (how you like it), a touch of cilantro and a bit of serrano chile (take out the seeds to reduce the spice). Mix well and form the hamburger.
For the orange salsa: add orange juice, orange grating, soy sauce and agave honey. Reduce until caramelizing and have achieved the glaze.
For mashed potatoes: make a pumpkin puree (pumpkin or seasonal) in a traditional way.
Form the lollipop with the hamburger and serve with the glaze and puree.
Doreen Colondres is a celebrity chef. Author of the book The Kitchen Does not Bite. Follow her on Facebook and Instagram @DoreenColondres and visit www.LaCocinaNoMuerde.com, www.TheKitchenDoesntBite.com