The most important call beer drinkers can make for the Big Game on Sunday, February 2nd may not be a pass or a punt but a call for a safe ride home.
In a retail promotion during the run-up to the Big Game, fans who fill out their Big Game Boxes and choose the right numbers after each quarter will have the chance to win Uber codes that escalate in value by quarter for use when making the right choice after game day celebrations.
With its strong commitment to responsible beer consumption, Heineken and Heineken 0.0 can be a part of the biggest game of the year while ensuring good times at the party and safe times when the party's over.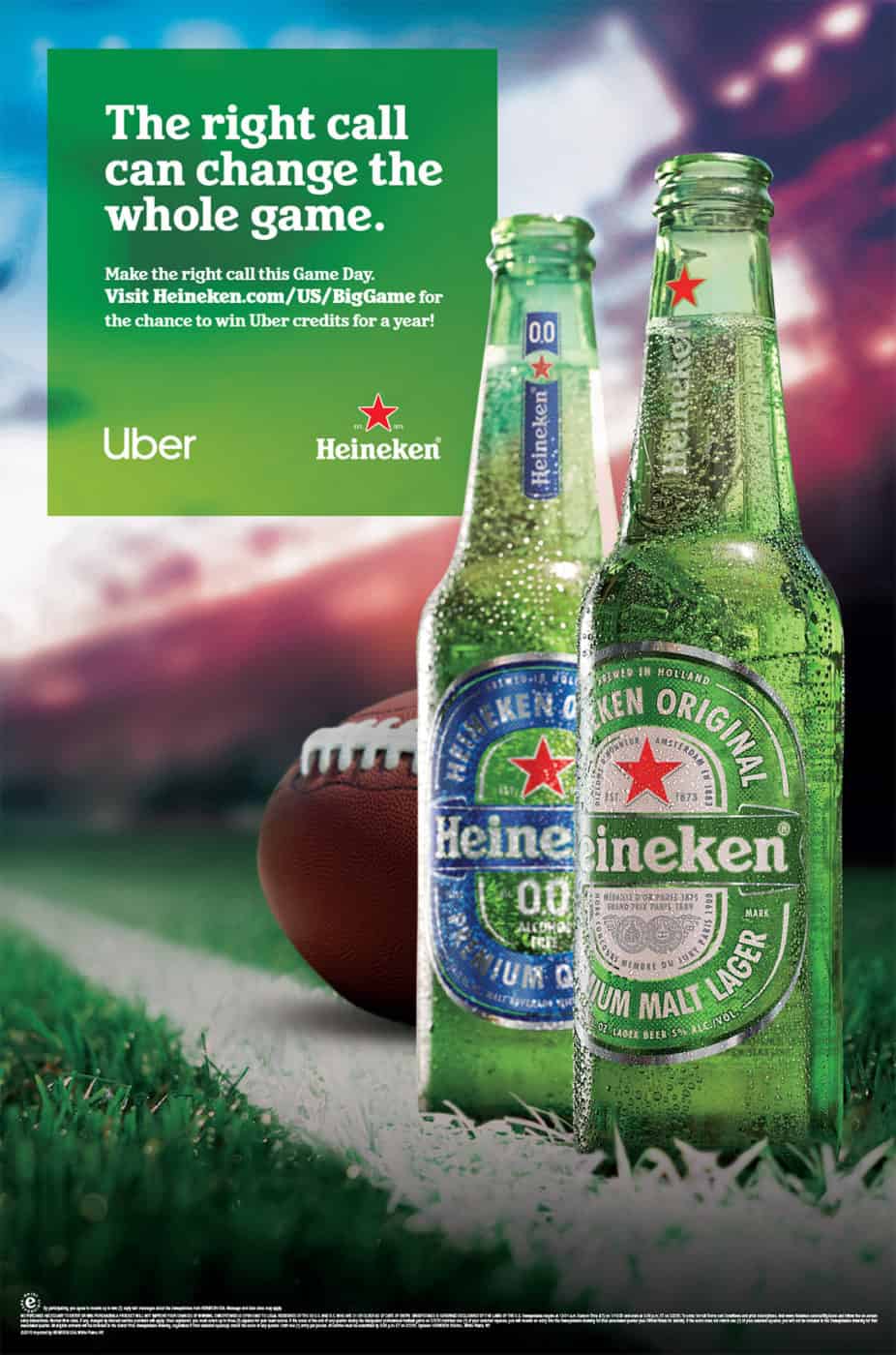 "Heineken is partnering with Uber to help fans make the right call on game day with safe rides," says Meredith Kiss, Brand Manager, Heineken USA.
"With 55% of Americans liking the spectacle and party surrounding the game more than the game itself, we think Heineken and Heineken 0.0, our newest great tasting beer without the alcohol, belong at the center of the action," continues Kiss. "We are excited to partner with Uber to provide added benefit to our consumers."
The integrated promotion fits into a key beer selling period when the Big Game viewing occasion drives the sale of larger packs and combined purchase of beer and snacks to raise basket ring.
Related Article: Heineken Helps Regrow California's Forests One Tree at a Time
High-impact on- and off-premise POS and social media will drive consumers to a URL where, in addition to the Uber codes, beer consumers have a chance to win one of four grand prizes for $2,500 in Uber credits.
Retail theater in the form of cooler decals, tuck cards, shelf wobblers, and shelf blades, along with on-premise beer posters and table tents will increase visibility and drive shopper engagement.
While there will be many calls during the Big Game, it's the call for Heineken and Uber that can change the whole game.