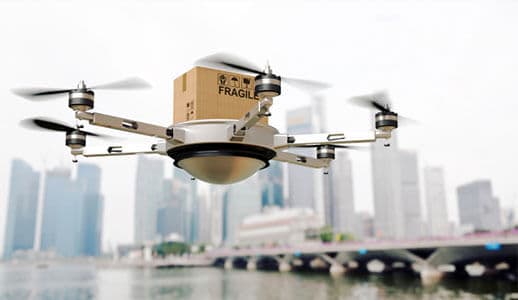 Walmart doesn't want to be left behind in the battle for home delivery orders. The supermarket giant has just announced that it applied for authorization from US regulators to test unmanned aircraft for deliveries, withdrawals and inventory reviews in warehouses.
This is a clear sign that Walmart plans to compete with Amazon in the use of technology for fulfilling online orders.
According to reports, for several months the world's largest retailer has been testing small, unmanned aircraft systems known as drones. The company now seeks to make its first studies available to the public.
Apparently, Walmart wants to see if it's possible to use these devices from delivery trucks to cover the final stages of delivery to the buyer's home.
"The drones have great potential to connect our network of stores and distribution centers," Walmart said.
Walmart, which plans to use drones manufactured by the Chinese firm DJI SZ Technology Co. Ltd., requested permission from the Federal Aviation Administration (FAA) to investigate the use of aircraft in "deliveries to customers at Walmart facilities as well as private homes."
In addition, Walmart seeks to use the drones for reviewing truck inventory when away from the warehouses. The drones would be used for completing other tasks to streamline its distribution system as well.
Walmart, Amazon, Google: Battle of the Drones
The move comes at a time when Amazon.com Inc, Google and other companies are testing aircraft with the expectation that the FAA will soon establish standards for widespread commercial use.
"The drones have great potential to connect our network of stores and distribution centers," the company said. "70% of the US population has one of our stores within five miles, so the possibilities for serving our customers' orders with drones are unique and very interesting."
The FAA Deputy Administrator Michael Whitaker said in June that the agency expects to complete the regulations within the next 12 months. This is faster than previously expected.