The egrocery or online grocery market in the U.S. declined 3.1% in September versus last year, ending the month with $7.5 billion in sales, according to the latest monthly Brick Meets Click/Mercatus Grocery Shopping Survey fielded September 29-30, 2023.
Brick Meets Click is an analytics and strategic insight firm that connects today's grocery business with tomorrow's needs. Mercatus helps leading grocers get back in charge of their eCommerce experience, empowering them to deliver exceptional retailer-branded, end-to-end online shopping, from store to door.
Declines in September eGrocery in order frequency and spending per order contributed to the drop. At the same time, an expanded base of monthly users softened the slip in overall sales and signaled continued interest in buying groceries online.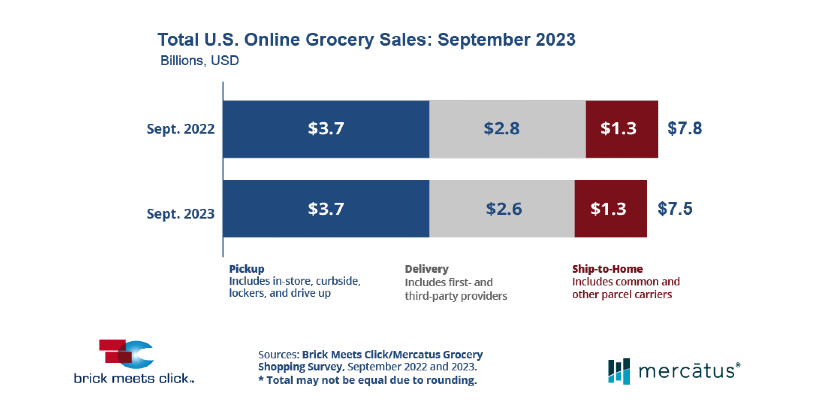 Most of the sales decline was driven by contractions in order frequency as the average number of orders per monthly active user (MAU) fell 8% versus a year ago. September 2023 finished at 2.31, the lowest order rate since the COVID-19 pandemic disrupted grocery shopping patterns.
And, while September's order frequency remains above pre-COVID levels, it was only about 14% higher than the 2.03 orders per month posted in August 2019.
The drop in overall order frequency resulted from shifts in shopper behavior. The share of MAUs who completed only one order during the month jumped to nearly 37%, the highest level since pre-COVID. At the same time, the share of MAUs making three or more orders contracted 370 bps on a year-over-year basis, continuing a downward trend observed between 2022 and 2021.
The downward movement in order frequency impacted most retail formats to varying degrees. Mass retailers experienced a 4% decline in order frequency among their MAU base. In comparison, Amazon's pure-play segments dropped 7% and Supermarkets fell nearly 13% in September versus a year ago.
Related Article: Store Owners: How to Sell More online
Egrocery Sales Receiving Methods
All three receiving methods, Pickup, Delivery, and Ship-to-Home, experienced growth in their respective MAU bases as the total number of households completing at least one order during the month jumped almost 11% compared to September 2022. This jump offset the order frequency decline and drove a nearly 2% gain in total order volume. The Supermarket MAU base expanded by just under 1%, while the Mass MAU base, led by Walmart, surged 20% compared to a year ago.
Pickup posted its highest household penetration during September, climbing to 59% of MAUs, driven by increased reach in all households but the youngest (<30) age group. Meanwhile, Delivery and Ship-to-Home experienced contractions in penetration versus last year, finishing at 39% and 40%, respectively.
The overall average order value (AOV) fell almost 5% as MAU's spending per order across all three receiving methods was constrained compared to the prior year. Pickup posted the largest AOV decline, while Ship-to-Home dropped slightly, and Delivery remained flat versus September 2022. Supermarkets fared better than Mass on this measure; Supermarket AOV held steady versus last year, while Mass AOV was down 9%. It's worth noting, however, that Mass performance was likely impacted by the dramatic growth in its MAU base as new customers spend significantly less than more established ones.
September's softer sales slightly shifted the share of sales toward Pickup. While Delivery and Ship[1]to-Home both contracted, slipping to 34.9% and 16.7%, respectively in September 2023, Pickup sales share climbed 110 bps to 48.4% for the month.
"Both Pickup and Walmart are growing share in today's market for a range of reasons," stated David Bishop, Partner at Brick Meets Click. "Each helps customers who are searching for ways to save money while Pickup provides more flexibility as to when an order is received by the customer compared to Delivery."
More About Egrocery Shopping
Cross-shopping rates between Grocery (which includes Supermarket and Hard Discount retailers) and Mass continued to climb, increasing 40 basis points versus last year to finish the month at 28%. The gap in repeat rates between these two formats was halved versus September 2022 as the share of Grocery customers who indicated that they are significantly or very likely to use the same service next month slipped 340 bps to 52%, while for Mass, it dropped 860 bps to 57%.
"Motivating customers to shop with you again online may be challenging – especially when many households are trying to stretch a buck – but attracting new ones is even harder," said Sylvain Perrier, President and CEO, Mercatus. "To compete more effectively, in addition to promoting more types of money-saving offers such as loyalty rewards, bundled deals, or other promotions, grocers can emphasize the quality, service, and convenience they offer that big[1]box retailers don't."
Online sales across all formats accounted for 12.6% of total weekly grocery spending during the last week of September, climbing 160 bps versus the previous year. The combined contribution of Pickup and Delivery, since most conventional supermarkets don't offer Ship-to[1]Home, rose 140 bps to finish the month at 10.5% due to weaker results in the Delivery segment.
About this consumer research
The Brick Meets Click/Mercatus Grocery Shopping Survey is an independent research initiative created and conducted by Brick Meets Click and sponsored by Mercatus. Brick Meets Click surveyed on September 28-29, 2023, with 1,754 adults, 18 years and older, participating in the household's grocery shopping.
The three receiving methods for online grocery orders are defined as follows:
Delivery includes orders from a first- or third-party provider like Instacart, Shipt, or the retailer's employees.
Pickup includes orders customers receive inside or outside a store or at a designated location/locker.
Ship-to-Home includes orders that are received via common or contract carriers like
FedEx, UPS, USPS, etc.