When it comes to starting a CBD business there is a lot of misconception and confusion about everything that goes into setting it up.
The CBD industry's growing trend has prompted entrepreneurs to start CBD businesses everywhere. If that is you, you may have a hard time understanding the legality, rules, and regulations that have been put into place for CBD businesses.
That's why we will simplify them for you as well as give you tips on how to start a CBD business and everything you need to know to get started.
What is a CBD Business?
A CBD business is a store or company that sells or distributes CBD products. These products could be oils, edibles, vape concentrates, topicals, tinctures or any other product that contains CBD as an ingredient.
The Truth About CBD Business And Opportunities
It's time to take advantage of the CBD market expansion. Now is the best time to take your share of the CBD market. The reason is that the demand for CBD products has exponentially increased over the recent years.
This is a billion-dollar industry and according to experts, the industry can grow more than 700% by the end of 2020. Therefore, the industry also has great potential for new businesses. All you need to do is start today.
In the United States, the public is fairly well educated about the properties of this oil. Credit goes to reports published in many newspapers.
In fact, thousands of research studies have been conducted to discover the incredible benefits of CBD. The product is useful for both humans and animals.
Hemp CBD business legal map
Are you wondering where CBD business is thriving or could thrive? This map shows where CBD consumer products are accepted and somehow allowed. Read this article to learn more.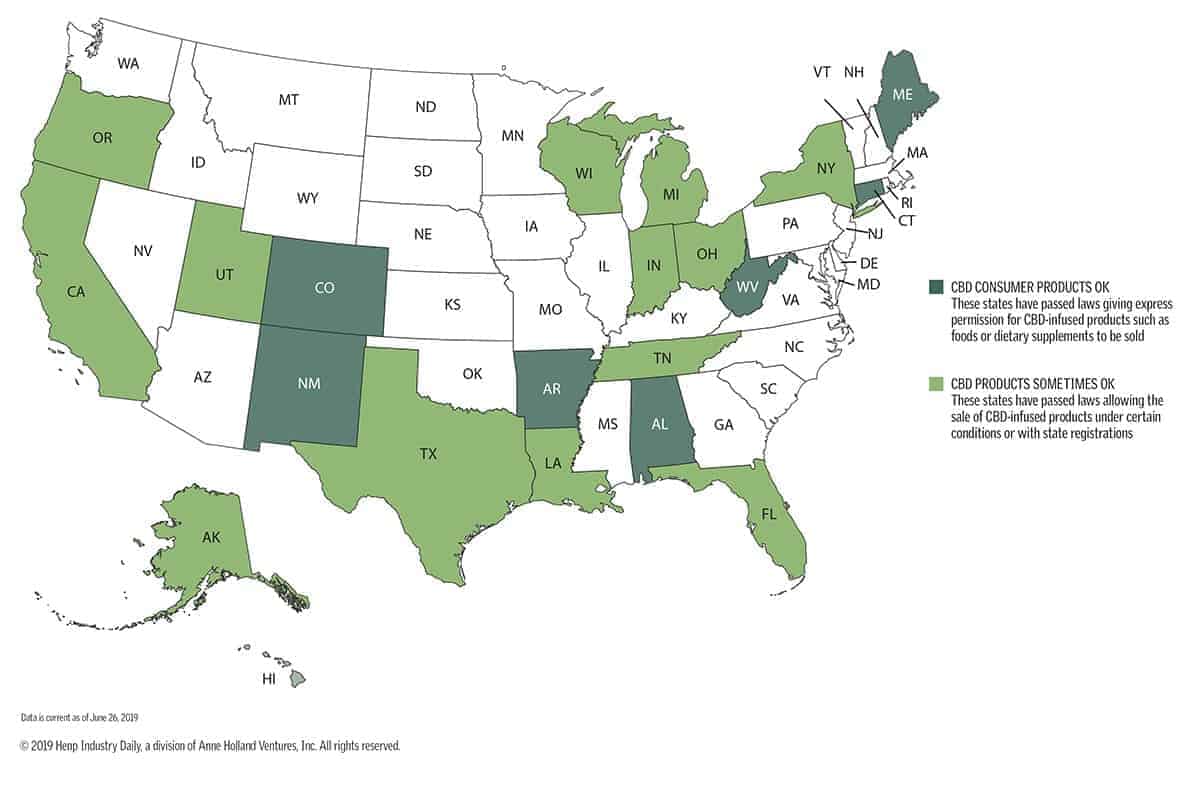 Why start a CBD business?
CBD, a naturally occurring chemical, is being consumed more than ever by people who prefer alternative medicine and it's quickly going mainstream.
CBD has been hype as a miracle cure for almost everything. The largest survey of Cannabidiol consumption showed that the most common reasons people used CBD were to treat insomnia, depression, anxiety, and joint pain, according to Dr. Perry Solomon, the Chief Medical Officer of HelloMD.
42% of CBD users said they had stopped using traditional medications such as Tylenol pain relievers or prescription medications such as Vicodin and had switched to using cannabis instead.
8% percent said they found the products to be "very or extremely effective." Only 3% or less found that the product was ineffective or only slightly effective.
This switch and preference for a natural alternative (CBD) are what is making this industry a gold mind for entrepreneurs. As more people find the benefits of CBD, the more mainstream it will become and soon the demand for this product will skyrocket.

Types of businesses that sell CBD
You can sell CBD products to different types of customers. However, make sure the demand is high enough. Below are some industries that buy CBD products:
Medical professionals
Health food stores
Cafes and bakeries
Cannabis smokers and dispensary stores.
Veterinary clinics
Launch your own products in the market.
If you are interested in having your on CBD brand, you may consider formulating your own products. In other words, you can launch your own CBD supplements to the market. Below are some ideas you can explore:
Groceries, such as coffee, candy, and drinks.
Hairdressing and cosmetic products.
Anti-aging products
Powder Supplement
Pet trees
Flavored tinctures
Beverages
Essential oil blends
Related Article: Kroger to begin selling CBD products in 17 states
How to start a CBD business
Starting a CBD business includes all the hard work and effort to launch any other company in addition to the uncertainty of a changing regulatory landscape (and all the accompanying issues). However, in an incipient industry that is expected to experience explosive growth, today's heavy work could be worth tomorrow.
Cory Slovik, owner of Core Roots CBD started his company after experiencing firsthand what he said. They were the healing properties of the cannabinoid.
"I used to be a snowboard professional … and I was always sore, my muscles were constantly in agonizing pain. I tried the CBD and it helped me tremendously," Slovik said. "Then, years later, cannabis … began to reach the forefront, and there was research and data that supported everything I felt on the mountain."
Slovik soon launched the Core Roots CBD, seeing a business opportunity and a way to help others. People treat their pain. He said starting a CBD company is like any other business, in addition to a lot of additional steps.
"It's like any other business; there are steps and procedures you must follow to get insurance and write a business plan," Slovik said. said. "But in this space, you have to verify everything two and three times, know your market and jump through regulatory hoops."
10 steps to starting a CBD business
The founder of Joy Organics shares the 10 steps to starting your own CBD business.
CBD rules and regulations
When it comes to selling CBD the line of legality is might be more confusing than you might expect. Let's take a look at some of the important rules and regulations.
Most social media sites don't allow advertising: CBD brands on some social media platforms are prohibited to buy ad space. That means you are going to a harder time getting the word out as you could be banned. However, normal users can post about CBD products. That is why the role of influencers in the CBD industry plays a big role when it comes to marketing your product.
CBD comes from the Hemp plant: Hemp, by federal law, cannot contain more than 0.3 percent THC (tetrahydrocannabinol). Anything above 0.3% will be classified as marijuana. The Drug Enforcement Administration will consider your product federally illegal.
If your CBD comes from a marijuana plant, it's illegal.
You can buy CBD under federal law but some states still have legal restrictions on the possession of CBD.
Selling on popular online sites can be somewhat difficult: Popular e-Commerce sites such as Amazon or eBay allow online certain CBD products.
You must get it from an authorized seller: Your CBD provider, producer must be authorized. If they are not, you could face fines and even jail time.
Maintain chain of custody: If you are a producer of CBD, it is recommended that you implement chain-of-custody and seed-to-sale tracking for each CBD batch used to produce a given CBD product. Batch Tracking is when you track all of the products from the seeds planted in the ground to the products we consume. While not required by law, this is particularly important in the CBD industry to keep your records should you ever need to answer to anyone and transparency.
Watch for changes: Make sure monitoring the latest laws and regulation changes of this industry so you're ready to comply with them and avoid any legal troubles.
Learn everything about the FDA regulation of cannabis and cannabis-derived products.
Challenges facing CBD businesses
Most challenges revolve around legal matters. If you want to start a CBD business, you should be aware of the following difficulties:
Banking and capital: The fluctuating regulatory landscape makes banks hesitant to do business with hemp businesses
Insurance: Elevated prices and hard to find
Payment processing: High fees are common
What to expect
It is likely that the early stages of the widespread use of cannabis in consumer products produce many early adopters and industry leaders.
However, cannabis is still in the beginning phase of the life cycle of the industry, which consists of a phase of growth, reorganization, maturity and, later, a possible fall.
Nonetheless, being successful within a growing industry requires a mindful study of the market and taking calculated risks. If that is you and want to conquer the CBD industry, your time is now.