Are you looking to attend the United Fresh 2020 Convention & Expo this year? We cover everything you'll need to know about this renowned fresh produce trade show.
Whether you are a brand looking to exhibit your products to potential buyers or a business looking to discover the newest fresh produce trends, United Fresh 2020 is the place to be.
Read on to learn all about this three-day event of amazing produce exhibits, innovation, enhanced networking, B2B partner meetings, education, and more!


United Fresh Convention & Expo
Each year the United Fresh Produce Association hosts a Convention & Expo. Their aim, to help establish new connections, increase business opportunities, and boost sales for businesses in the fresh produce industry. Innovative and wide-ranging fresh produce dominate this annual event.
What Is The United Fresh Produce Association?
United Fresh is a vertically-integrated trade association that brings together companies across every segment of the fresh produce supply chain, including growers, shippers, fresh-cut processors, importers, wholesalers, distributors, retailers, foodservice operators, industry suppliers, and allied associations.
United Fresh unites our industry with a common purpose – to build long-term value for our members and grow produce consumption.
Location
The United Fresh Convention & Expo 2020 will be held at the San Diego Convention Center in San Diego, CA, June 16-19, 2020.
Dates
The trade show takes place from June 17 from 10:00 am to 4:00 pm and June 18 from 11:00 am to 3:00 pm.
United Fresh Show
Watch this short clip for a small inside look at the event.
Why Attend the United Fresh Show
Here are just a few reasons you want to consider attending United Fresh 2020.
Explore the newest fresh produce, better-for-you products, and the tech innovations that support growth, development, promotion, transportation, and expansion across the supply chain over two days.

United FreshMKT Expo and United FreshTEC Expo bring together the most comprehensive global view of the fresh produce industry. Maximize your value, time, effort, and exposure over two days in a single expo hall.

Change the way you do business through interactive partner events, VIP experiences, education, entertainment, and an energized expo experience, the United Fresh 2020 Convention & Expo will deliver energy, content and unforgettable business experience for veteran attendees and newcomers alike.

Connect with thousands of industry accelerators. From family businesses to global corporations, United Fresh brings together members across every segment of the supply chain to build relationships, so you can grow together.

Engage quality attendees and exhibitors, create lasting impressions, and stay ahead of the competition by changing the way you network at United Fresh 2020.

Ticket prices attendees
These are the prices per ticket for United Fresh Show 2020.
All Access Package: United Member: $1,095 | Non-member:$1,395
Trade Show Expo Pass: United Member: $500 | Non-member:$800
Spouse/Guest All Access Package: United Member: $495 | Non-member:$595
Note: The prices above are for registration before May 15, 2020. Prices are subject to change as the event nears.
Register for the event here.
Related Article: United Fresh Opens Registration Season for June 2020 Convention & Expo
Why Exhibit At The United Fresh Expo
Here are some reasons you would want to consider bringing your brand to this produce show.
Unique floor plan incorporating destinations across the show floor, enhancing every exhibitor's impact on attendees.

Retailers, wholesalers, food service companies and new channel buyers are expecting to discover the latest in fresh foods innovations in San Diego through new products, experiences, and connections that will fuel their industry's growth and advancement.

Top executives in production, operations, and fresh-cut processing will be looking to discover the technology that makes fresh possible. If there's a better way to harvest, package, process, trace, or deliver fresh produce, these investing decision-makers will be looking to find it at the United Fresh Convention & Expo 2020.

The United Fresh Show will showcase the most creative new items, fresh food trends, and emerging technologies.
The United Fresh Expo by the numbers
If you are an exhibitor, this is what you can expect from the expo this year.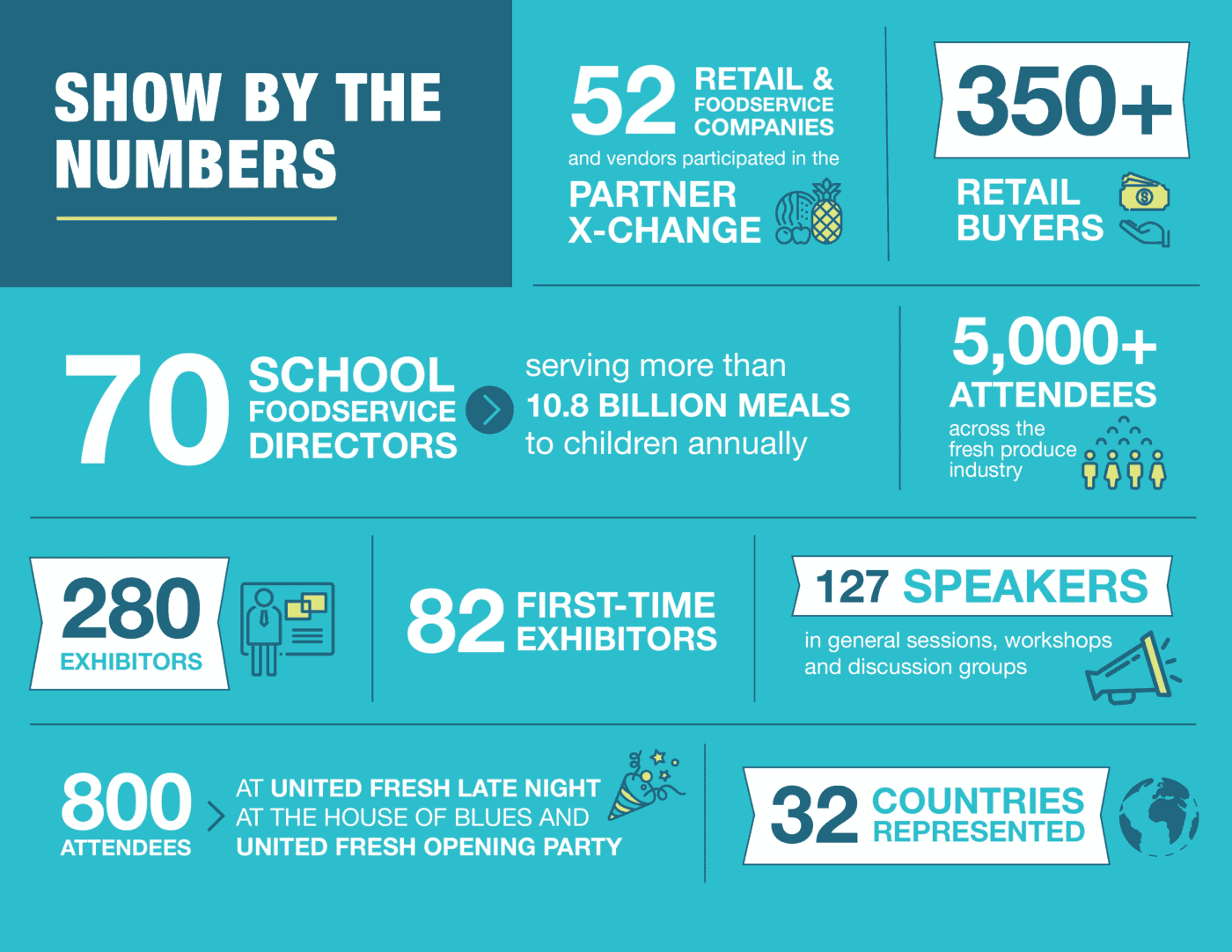 Exhibitors United Fresh: 3 options
If you want to register a booth, these are the options United Fresh offers.
United FreshMKT: Features the latest in fresh produce innovation, as well as a new focus on prepared meal solutions, convenient snack items, fresh juices, salsas, soups, and dips.

United FreshTEC: Designed to highlight the most innovative technologies bringing food from farm to table, including innovations in mechanical harvesting, robotics, packing, packaging, and food safety.

United Fresh Business Suites offer the ability to conduct private meetings with your customers and prospects directly on the show floor.

Mexican Pavilion designed to bring together Buyers and Mexican growers to give them a chance to meet and exchange their needs and offerings. This event will be attended by multiple Mexican agribusiness companies exhibiting a wide variety of Mexican fresh produce. They already have the following retail/foodservice buyers lined up to participate in 2020 – Albertsons, Allegiance Retail Services, Avendra, Big Y, Costco Wholesale, Danaco Solutions, Gelson's Markets, Hy-Vee, Kroger, McDonalds, Publix, Spartan Nash, Tops, US Foods, Wakefern, Walmart, and Wegmans.  Stay tuned for more in January!
Exhibitor booth prices
Prices for options 1 and 2 above:
Per 10'x10' unit: Member: $3,700 | Non-member: $4,300 (An additional corner fee of $300 is required for each exposed corner in your booth).
Prices for option 3 above:
20' x 25' Suite with display area: Member – $21,600 | Non-member – $25,200
15' x 20' Suite without display area: Member – $14,400 | Non-member – $16,800
Prices for option 4 above:
$3,000 US$ (contact Natalia Gamarra for more details – see info below)
Reserve your exhibitor booth here.
For more information about floorplans, space suggestions, and help to complete reservation information, contact John Toner (English) at 202-303-3424 or Natalia Gamarra (Spanish) 202-303-3435.
Important information
To become a member, learn more about the United Fresh Produce Association and how your company can benefit from membership contact Miriam Wolk (English) VP of Member Services at 202-303-3410 or Natalia Gamarra (Spanish) 202-303-3435
International Opportunities
Attendees looking to do business internationally should plan to visit the new International Trade Center on the expo floor and attend the International Reception.
International Trade Center
Meet with representatives from trade commissioners and consuls from around the globe to discuss import and export opportunities, as well as other avenues in which you can partner with the produce industry in their countries.
Visit the International Trade Center if you're seeking to:
Connect foreign companies to US companies and vice verse – Retailers, Wholesalers, Importers, Shipping Lines, Service Providers, Marketing Agencies, and everyone else in the fresh produce supply chain
Solicit information about what is needed and their expertise
Create educational programs and opportunities to connect
Facilitate discussion and engagement to reduce trade barriers
A resource to understand the protocol to export to the US market
Enable connections to USDA and other governmental resources that enable trade
Provide support, information, and access to a wide range of buyers
Deliver return on investment to our members based on their location and necessity
International Reception
All international guests from outside of the USA, as well as friends from within, are invited to join in this reception bringing members and friends together from across the globe.
For more information about the international opportunities available, contact Natalia Gamarra M.S.M., Manager, International Member Relations at [email protected] or 202-303-3435. Se Habla Español.