Isadora is the # 1 bag of beans brand in Mexico, made with homemade recipes and without preservatives.
Isadora beans are the richest, freshly cooked and vacuum-packed without preservatives. Try them on your own or add your personal touch.
Learn why Isadora beans are a great ally in the kitchen and also why they make a great product to sell and increase your sales and profits.
For more information, contact Isadora directly
Isadora beans product line
Meet the product line of Isadora Beans. There's a wide variety and they are ready to please you right out of the pouch!
Original recipe refried beans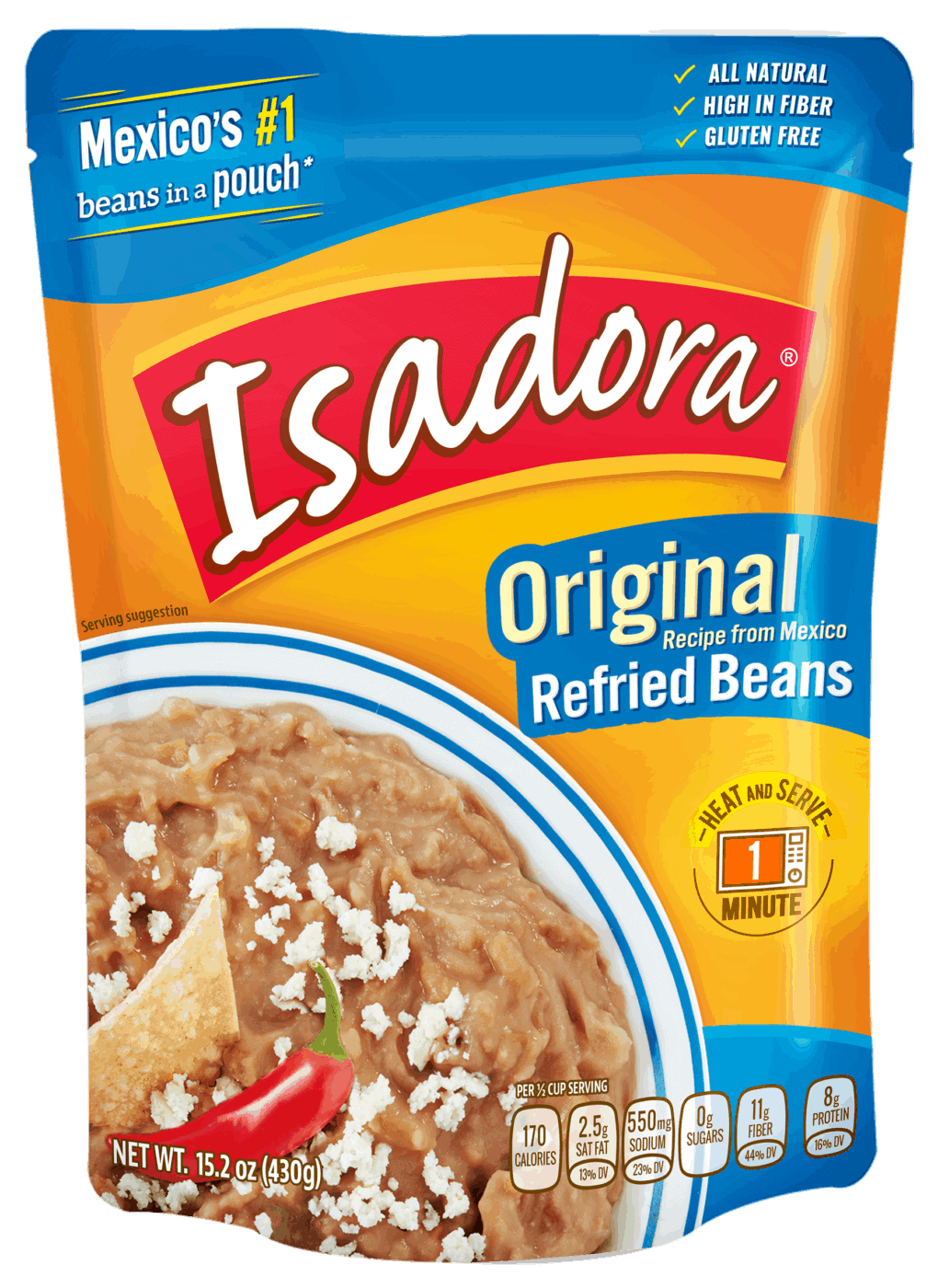 This variety, grown in the Mexican state of Zacatecas, is the most consumed in Mexico. It has a soft, al-dente texture and the delicious flavor of homemade beans, done with very little oil and a touch of onion and spices. Try them on their own or combine them with your favorite dishes.
Mayocoba refried beans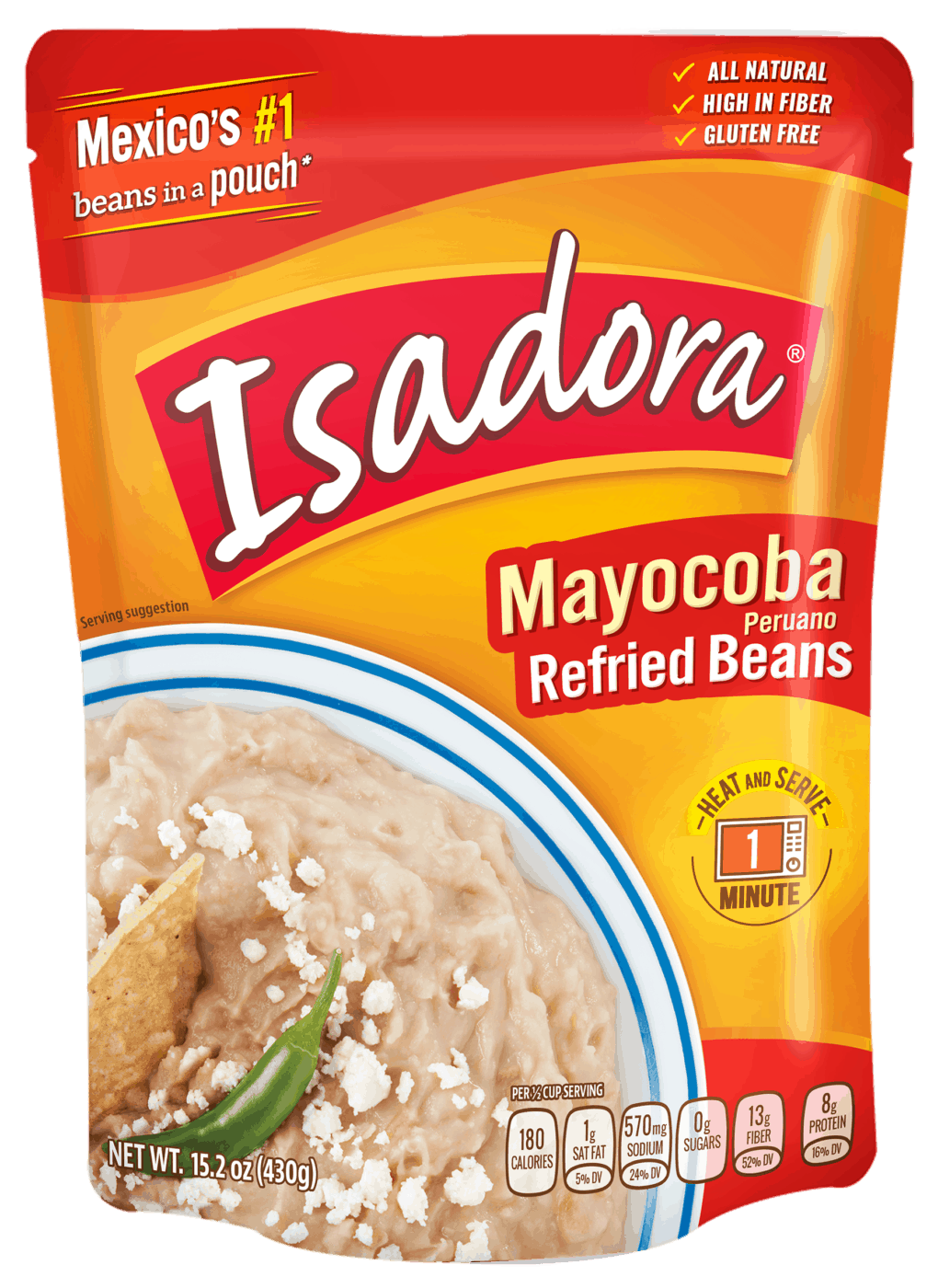 This variety, harvested in Sinaloa, Sonora, and Nayarit, is the favorite of western Mexico. These beans have a light color and a creamy texture that makes them ideal for typical enfrijoladas, enchiladas, and other Mexican dishes.
Black refried beans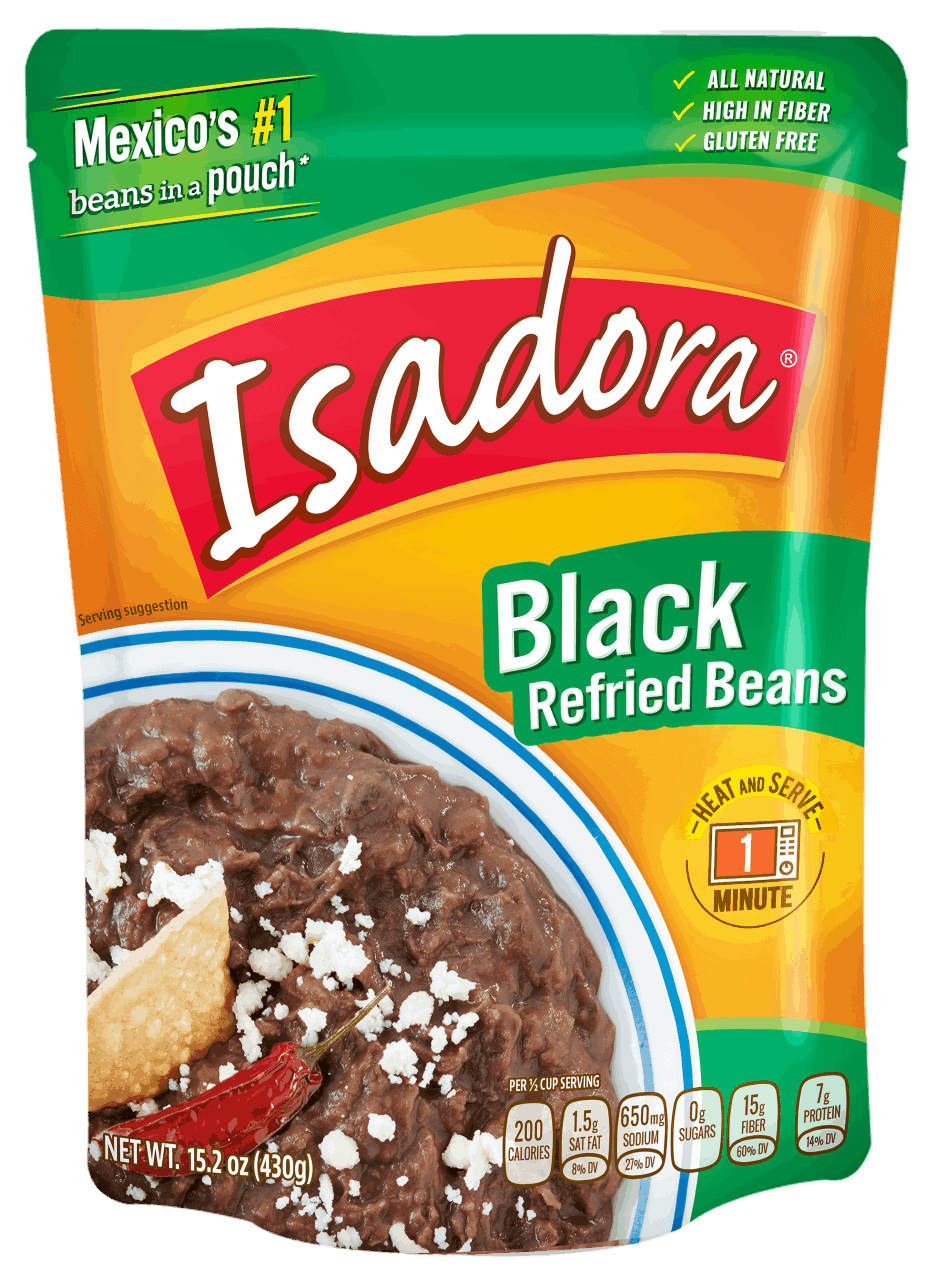 Grown in Zacatecas and Durango, black beans are a delicacy, representative of Mexican cuisine. They are mostly consumed in southern Mexico and are great for soups and sandwiches.
Low fat refried beans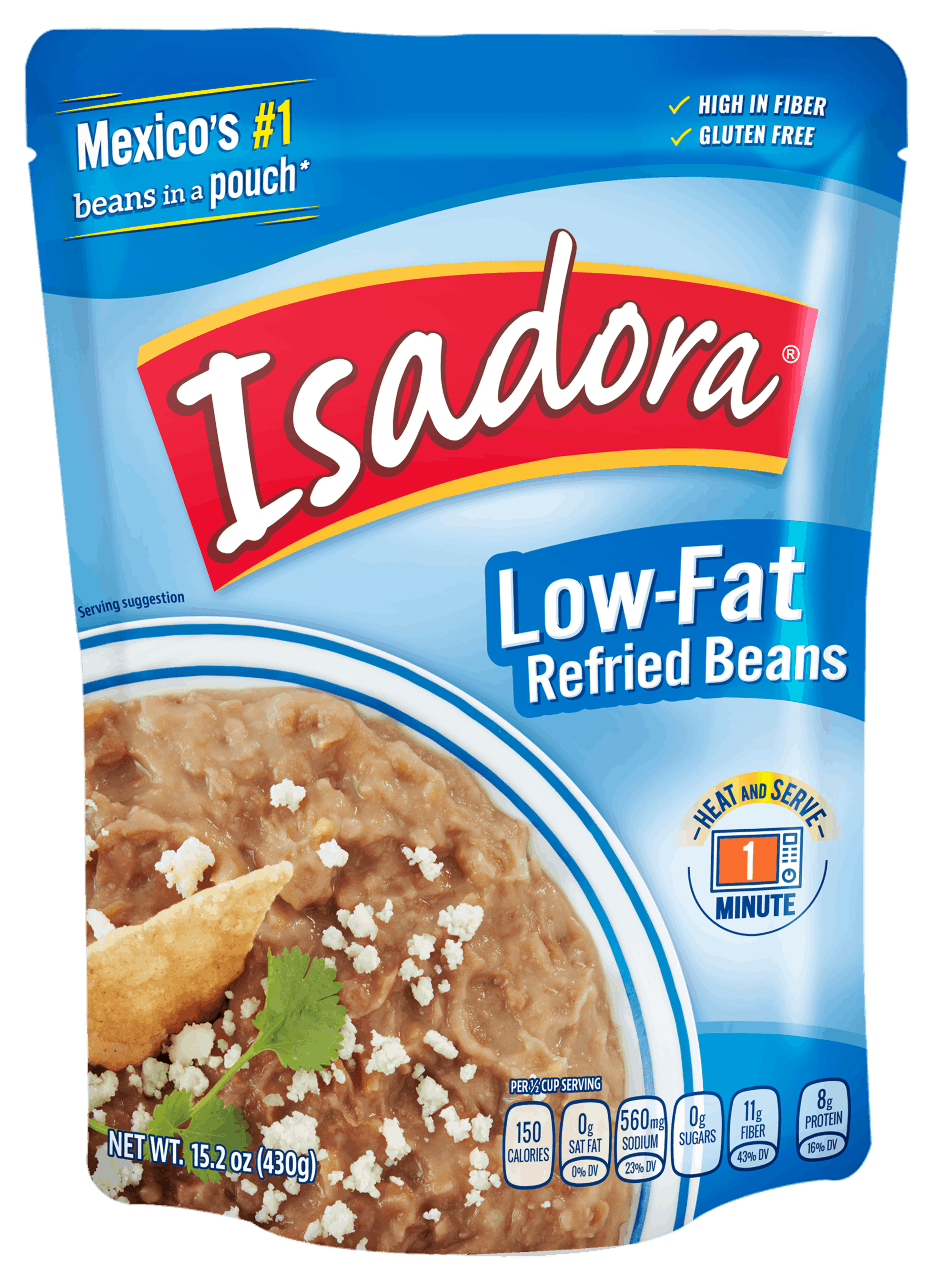 Our original low-fat recipe keeps the tasty flavor of pinto beans without adding any fat or shortening since the beans are fried in their own, natural oils. They're high in fiber and are ideal to supplement balanced diets.
Tex-Mex refried beans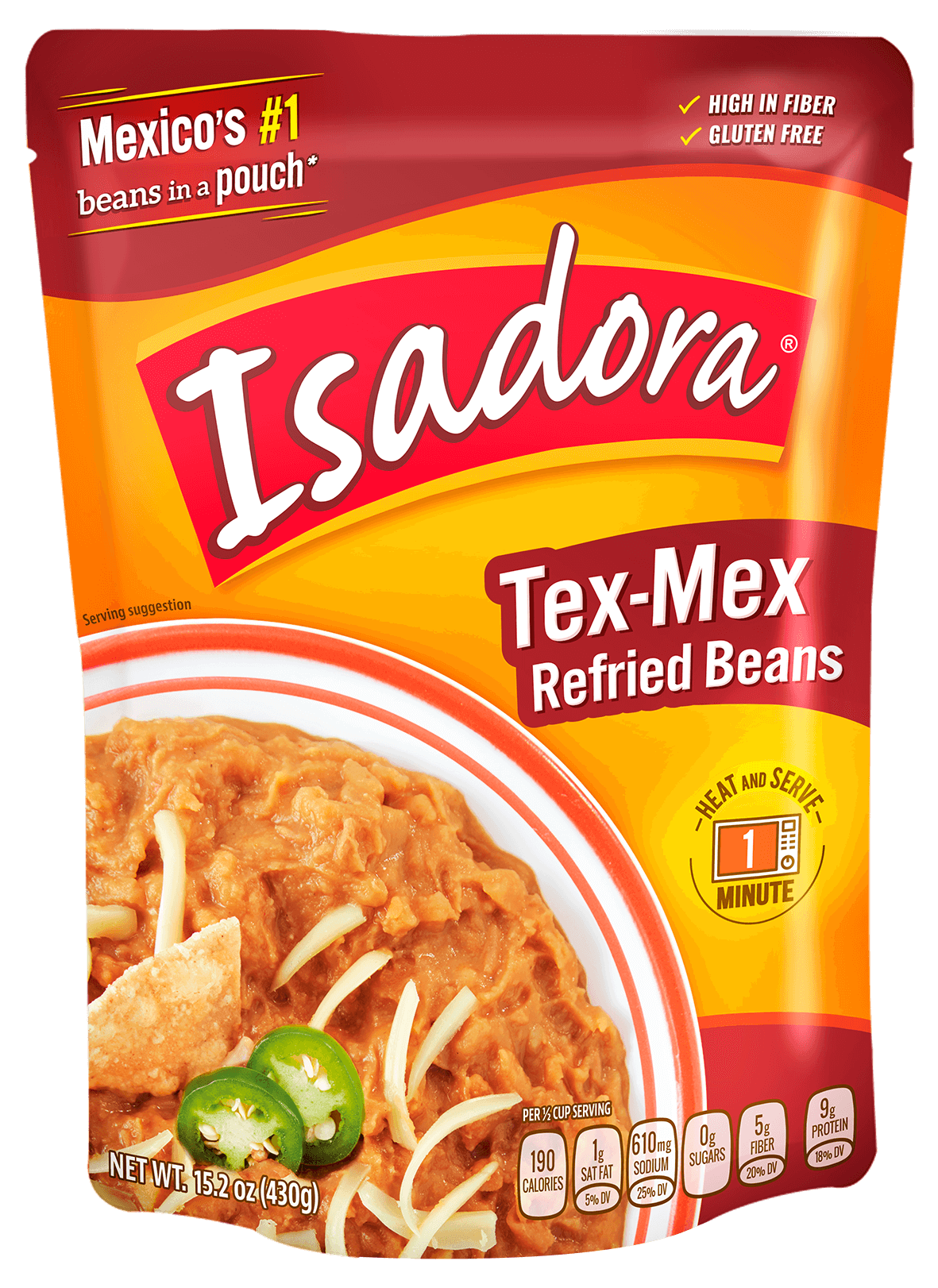 With the same passion as always, we made a perfect combination of refried beans and Tex-Mex, creating a very, very special flavor with an incredible texture. Perfect for anything from a simple dinner to a Super Bowl game night.
Health and well-being for your whole family
Not only are they delicious, but are also incredibly nutritious. Discover the benefits these beans bring to your body to keep you healthy.
Cholesterol free: Isadora beans do not contain cholesterol, which helps reduce blood pressure and the likelihood of heart disease.
Dietary fiber: Thanks to the high content of fiber and water in Isadora Beans, you'll feel full more quickly and longer, reducing your daily caloric intake. Consuming foods that are rich in fiber will aid in digestion and can help prevent diseases such as obesity, diabetes and colon cancer.
Energy source: Beans are carbohydrates high in fiber. Consuming them consistently will give your body the energy it needs to perform your daily activities.
No added preservatives: Isadora Beans are free of any preservatives. The beans are packaged in high-tech, specially-designed pouches ready to be sterilized. This way we make sure you get a product with flavor and texture like no other.
Perfect for every occasion: Thanks to their delicious flavor and high-quality nutrients, beans are present in every Mexican household. They can be part of any daily diet and they are typically present at every family gathering.
Nutritional information
Proteins: Half a cup of Isadora beans contains up to 8 grams of protein. Just as much as a whole egg!
Fiber: A cup of Isadora beans has up to 16 grams of fiber, more than half of the daily recommended intake for adults.
Iron: Isadora is rich in iron, an essential mineral to our blood cells. A cup of beans provides at least 20% of the daily recommended intake.
Antioxidants: Isadora has a high antioxidant concentration, helping your body prevent free radicals.
On a diet?: Isadora is your ally. Thanks to its high fiber and water content, our beans will satisfy you faster and for a longer period of time, reducing your daily calorie intake.
Do you have doubts or comments?
We want to hear from you! Contact us and leave us your thoughts and comments about our products.
---
CONTACT INFORMATION
If you want to sell or distribute Isadora Beans, contact us:
Phone: +1 (214) 438 1160
Email: [email protected]
Website: www.isadorabeans.com
Follow them on Facebook and Twitter
EXCLUSIVE PROMOTIONS FOR YOUR STORE!
---
To find out about other "Hot Products" in Abasto, visit our Product Showcase section