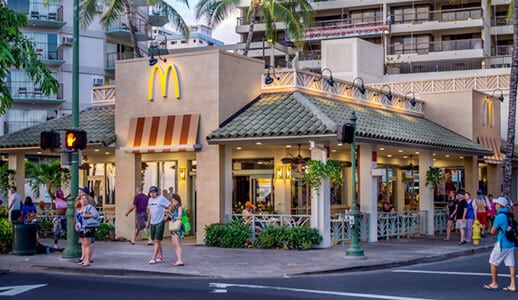 After several months of negative results, McDonald's Corp said revenue and its third-quarter profit beat Wall Street expectations. This positive turn is due to the fact that same-store sales at US restaurants rose for the first time in two years.
The fast food giant made a profit of 1.3 billion, or $ 1.40 per share, topping the 1.07 billion, or $1.09 per share, a year earlier. Revenues fell 5.3% to 6.62 billion, but would have increased by 7% if not for the impact of foreign exchange.
McDonald's: Global Comparable Sales Increase
In the US market, global comparable sales at McDonald's restaurants increased 0.9%, beating analysts' forecasts of a drop of 0.2%. McDonalds said it was the first quarterly rise in this figure in two years.
Global comparable sales increased 4%, well above the 1.9% increase that analysts anticipated.
The fast food chain is struggling to turn around its battered US business. McDonald's has taken a series of measures, such as offering breakfast all day, reducing the menu and allowing regional markets to develop their own products and place more emphasis on the quality and freshness of the ingredients.
The chain has said it wants to replace its value menu, due to the increasing cost for ingredients such as meat and cheese, which is threatening profits.
McDonald's has to make up for lost ground as it continues to compete with successful brands such as Chipotle, Panera Bread and Shake Shack.
In the last year, sales decreased 3.3%, resulting in a drop in clientele. McDonald's recognizes that it has not kept pace with changing tastes and that the service has been affected by several additions in the menu.