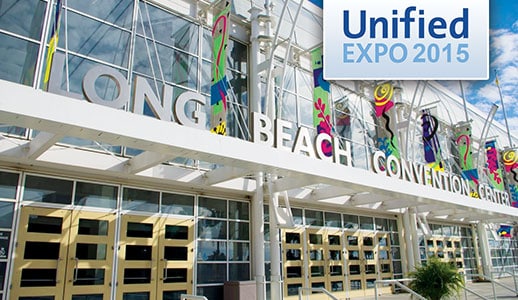 In recent years, the Unified EXPO has become the most important commercial showcase on the United States West Coast. The event successfully brings together major industry suppliers with the country's chains and distribution companies.
Frank Delgado and why the Unified EXPO Grows Each Year
The annual event, organized by Unified Grocers, has had a rapid increase in sales. In fact, the EXPO has achieved double-digit growth year after year, thanks to massive participation from customers.
According to Frank Delgado, purchasing manager of Hispanic and ethnic Unified Grocers products, in the past, Unified EXPO, held on August 19 and 20 in Long Beach Convention Center, Long Beach, California, experienced a 26% increase in sales from the previous year.
"Every year we see high growth in the Show. This demonstrates that the event is a success because we receive customers from all over the West Coast and the Midwest to buy products," said Delgado in an interview with ABASTO. "This is the perfect place for large chains and large or small manufacturers to meet and do business directly. "
2015 Reports a Record Number of Booths
This year's event featured a record number of 971 booths of industry suppliers and Unified product and service departments. It is a significant number considering that in 2014, only 800 exhibitors participated.
At this event, conferences are held where experts present the latest innovations in retail technology, as well as new trends in the following categories: natural, gourmet and ethnic foods; fruits and vegetables; and other aspects of the food industry.
 Mobile and Digital Marketing Planning also presented the latest solutions in retail technology.
According to Delgado, who has extensive experience in the Hispanic business sector and is part of Unified Grocers since 1987, Unified EXPO has experienced significant growth, particularly with the increased presence of Hispanic products.
This year, he said, a total of 90 companies at Unified EXPO were Hispanic. This figure represents 10% of the exhibitors. This number does not include other large companies such as Nestlé, Unilever and Colgate, who also offer products in their portfolios directed towards the Latin segment.
Unified EXPO: Reaching Out to Hispanics
Unified Grocers, considered one of the most important distribution companies of the West Coast, decided to expand services to the Hispanic sector in order to meet the growing demand in this segment.
According to Frank Delgado, until 1999, Hispanic products were included within the category of "Specialty Foods." Nonetheless, in order to successfully serve customers and to be competitive in the market, the company decided to create the Hispanic Division.
"By creating this division, not only could we provide better customer service and offer our customers everything they needed, but we also experienced accelerated growth, as sales increased 10%, " he said. "We saw we had to change our approach to the market. We were doing it by adjusting margins, buying more products to meet customer demand, "concluded Mr. Frank Delgado.